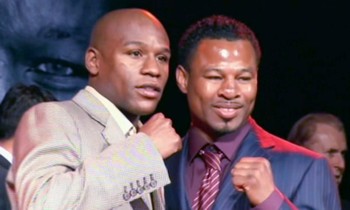 By Vivek Wallace: On this very last day of April, 2010, the world of boxing sits firmly on the cusp of not only its biggest event of the year thus far, but potentially the most memorable one as well. Each year, the first day of April reminds us how much of a 'fool' we can truly be. If a certain fighter from Pomona, California has his way, the first day of May could find many of us playing that role of the fool yet again, as the script he plans to write exclusively targets the non-believer.
According to that script, the day of May 1st has been officially reserved for the first professional loss of undefeated welterweight Floyd Mayweather jr. Quite an interesting proposition coming from a man who's 38 and returning from his longest career layoff. Some may choose to question the credibility of such a proposition, but where things become intriguing is that when you look at the level of opposition Floyd Mayweather jr. has faced, although his resume is far from weak, most would argue that none of his opponents were quite on the level of the one he now stands in front of. That one caption makes for a very intriguing subplot, as both men realize that despite a very decorated history filled with several titles and accolades, their individual paths to supremacy led them to the same stage which they will now share..
That stage has been set for quite some time, and despite the politics and monetary issues that separated them over the years, fight fans are being reminded that there's no bad time for a good fight. In Shane Mosley, you have one of the most prolific fighters of this era, and arguably the history of the sport. His speed, power, heart, and tenacity have made him a fan favorite for years. His nickname 'Sugar' is one that holds a lot of weight in the sport, but his wide shoulders have carried the load quite well, earning him the right to bear the name. In Floyd Mayweather jr., the plot thickens. In talent, you have virtually every attribute one could ever seek in a fighter, capped off with a few extra trimmings that many could do without. Mayweather has proven to be one of those dynamic personalities that you'll only see grace the sport once per generation.
Years ago it was Mike Tyson with the bad boy image and transcendent personality. Prior to him, it was Muhammad Ali. Although Mayweather wears that new-age swagga quite well to represent for this era, there's one major difference between he and Ali that doesn't always sit too well. At his best, Ali was known to float like a butterfly and sting like a bee. Mayweather, on the other hand, chooses to use his words outside the ring to sting like a bee, but in the heat of the battle is where he typically opts to float like a butterfly. This often leads many to wonder how good that self-proclaimed "best" boxer in the history of the sport really is.
On Saturday night, this question could very well be answered when Shane Mosley enters the one place in his life that has been a sanctuary, literally shielding him away from a string of personal problems that continue to haunt him. Legal battles in the family and criminal court division's do little for him but occupy space in his mind. Such a combination of concerns can't be too helpful standing across from a man known to play mind games, yet the possibility also exist that those troubling concerns could subsequently catapult him to greater heights, allowing him to find stability in a world that remains shaky at best.
For one man, the mission is solely about re-establishing recognition he felt should have never been taken away. For the other, it's a matter of earning the respect of those who simply never gave it. Despite the constant facades, these two truths make it safe to say that neither man truly likes the location of his legacy. For the one more eager to change that place in history, the opportunity to seize the moment will come this Saturday night.
Stay tuned.
(OFFICIAL PREDICTION TO BE POSTED TOMORROW MORNING RIGHT HERE ON EASTSIDE BOXING)
(Vivek Wallace can be reached at vivexemail@yahoo.com, 954-292-7346, Youtube (VIVEK1251), Twitter (VIVEK747), Facebook, and Myspace).