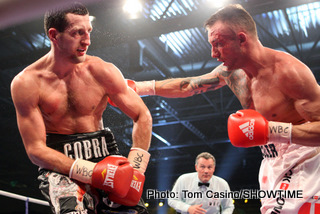 by James Slater – One of the great things about the "Super-Six" tournament, is the way a fighter, even if he loses a bout, is not out of the tournament. Twice now, two favourites to win the Boxing Classic have lost and been criticised for doing so, only to bounce back in their very next "Super-Six" outing. Last night's winner over Carl Froch, Mikkel Kessler, lost to Andre Ward, yet now he is back amongst the picks to win the tournament. And Andre Dirrell, who dropped a close decision to Froch in a disappointing affair, came back to hand Arthur Abraham his first pro loss.
Former WBC 168-pound champ Froch, who lost in a war with Kessler last night, now has the chance to come roaring back in his own dramatic way when he boxes his third fight in the tourney. And, like a true champion, "The Cobra" has vowed to do just that.
"I'll be back. I'll definitely be back," Froch said. "I'm still in the tournament and will still get the chance to win the [WBC] belt back. I've got to beat Arthur Abraham in my next fight to get to the semi-finals of the tournament.."
And though Froch, now 26-1(20) will almost certainly be an underdog in the eyes of many when he enters the ring against the tough and very dangerous Armenian, no-one can write off the 32-year-old and his chances of doing what Kessler and Dirrell did. But in facing "King" Arthur, will Froch be facing the one man in the whole "Super-Six" tournament who has the best chance of KO'ing him?
The Kessler fight was always going to be a tough one for Froch (indeed, for both fighters), but the Abraham fight, due to the style of the former middleweight champ, looks to be even tougher. Quite simply, though Froch's own punching power and sheer hardness – both mentally and physically – will give him a shot at beating Abraham, I fear for Froch if he holds his hands as low as he did last night. Again and again, Kessler got home with right hands to the head (not with impunity, it must be said), and though Froch took them there is no guarantee he will be able to do so against Abraham.
As former "Super-Six" participant Jermain Taylor can attest, Abraham's right hand to the head is brutal; not only that, but he needs to land just one to get the job done. Chances are, unless he somehow tightens up his less than airtight defence, Froch will get hit by Abraham's best punch. Thus far, Froch's amazing chin has held him in good stead, but how many of Abraham's bombs will he be hit with and how many of them will his beard stand up to?
The possible advantage the fight being held in his hometown of Nottingham may bring him aside (and there is still a chance Froch-Abraham could take place in Germany), Froch appears to have one hell of an uphill battle awaiting him. Sure, this could both inspire and bring out the best in Froch, but another thing that springs to mind is how soon the fight will take place. Set for August 21st, the Abraham fight will come a mere four months after the brutal and draining battle Froch had last night – a fight that is sure to have taken something from him (Kessler too for that matter).
We've already seen two quite amazing comebacks take place during the six months that "Super-Six" has been going, yet if Froch CAN bounce back and defeat Abraham we will be witness to an even greater one.
Interestingly, on the issue of the venue for Froch-Abraham, Froch has made it clear he will not face Abraham anywhere other than his home country.
According to a news article on The Sporting Life, Froch said the following:
"I'm adamant that the next fight, with Arthur Abraham, will be taking place in Britain. I won't be fighting in Germany, it's as simple as that. It would mean me pulling out of the tournament if they forced me to fight in Berlin.
"I want to get that straight from the start: it has already been agreed that I will fight back at home. It has been agreed with Ken Hersham (of Showtime)."
We will have to see what happens, because promoter for Abraham, Wilfred Sauerland, very much wants the fight to take place in Germany and says any agreement Froch had was merely for the bout to take place in Europe.
It sure would be a shame if Froch were pushed into making good his threat of pulling out of the tournament.