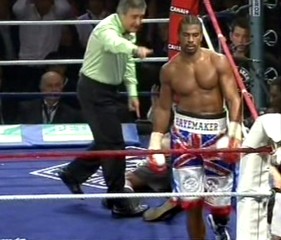 by Stuart Young – David Haye does battle with mandatory challenger John Ruiz this Saturday night at Manchester's MEN Arena, England. It will be Haye's first defence of the WBA heavyweight crown he won when outpointing Russian giant Nikolai Valuev in Nuremberg, Germany, in November of last year.
Here in England the fight has been dubbed "Lord of the Ring" by Sky Sports TV, who are promoting the bout on PPV TV as the first Heavyweight title fight to be held on British soil since Lennox Lewis stopped Frans Botha in double-quick time in a two round demolition job back in 2000.
The challenger, Ruiz 38, is seen as a durable heavyweight with a career record of W44 (30 KO's) L8 D1, he can boast he is a former two-time WBA heavyweight world champion, but perhaps is best known on this side of the Atlantic for being the opponent of Roy Jones when he was to make history in becoming the first former-middleweight champion to win a version of the heavyweight title in more than 100 years when he put on a virtuoso performance to outsmart, outclass and outpoint Ruiz on a historic night back in 2003..
On a more positive note, and somewhat surprisingly for a continent laden with such a talent rich fight history, Ruiz is the first American of Latin American descent to reign as heavyweight champion.
Having solid, if not spectacular wins over foe's such as Hasim Rahman and Andrew Golota, Ruiz also went 1-1-1 in a trilogy with Evander Holyfield a few years back, he has been stopped only once in a pro career that started way back to 1992, that was a 1st round TKO when he was caught cold by the fists of power-punching New Zealander David Tua in 1996, although more recent form has seen him lose twice on points to former Haye 'victim' Nikolai Valuev.
Competing in what will be his 11th world title fight you could say Ruiz has been around the block more times than a pimped-up car, or maybe it's just me that thinks he has been hanging around the heavyweight landscape like a bad smell for what seems like eons!
Never the most entertaining of boxers, Ruiz has an effective if somewhat controversial technique, a combination of jab-jab, clinch and grapple seem to be the order of the day and its easy to see why his fighting style has never really caught the imagination of fight-fans across the globe or endeared him to the masses, but in most cases it's proved effective enough to get the job done.
He will no doubt try to implement his familiar style & smother Haye's 'work' come fight night, trying to disrupt his rhythm & concentration with clinches and rough-house tactics, Ruiz stated earlier this week "That is my gameplan, to fight him and stay on him and make sure that he is in for a long one here" he remarked "Twelve rounds is a long time to be running around and that means I know I am going to get my opportunity."
Haye, as always is certainly not lacking confidence "He's not going to be expecting what I'm going to do, how fast I'm going to be, how quick I'm going to be, how quick I'm going to punch, he'll be sickened by how hard he gets hit, he's not going to be expect to be hit as hard and as often as I am going to dish out – and after the first round, he'll realise that!"
One inch taller than Ruiz, with an matching reach of 78″ Haye 29, stands 6ft 3 and roughly 220lb, Haye seems to be maturing nicely into a fully-fledged heavyweight, lean and sculpted at the weight, Haye carries a right hand with all the power of a wrecking-ball and its clear he isn't expecting the fight to go the distance "I expect Ruiz to come with a solid gameplan, but I feel whatever he brings to the table I will find a way to counteract that and beat him – and not just beat him, but beat him spectacularly and knock him out."
Ruiz is a similar weight having weighed in at 227lb for his last contest – a 7th round TKO victory over journeyman Adnan Serin, and although he possesses more experience than the champion, his last seven fights read:- W3 L3, with 1 no-contest. The no-contest coming against James Toney in a bout where he was dropped and effectively beaten on all the scorecards only for James Toney to fail a post fight drugs test where he tested positive for a banned substance.
Hardly the type of form to strike fear into an opponent is it?
More tellingly Ruiz remarked, "I don't consider myself as someone maybe with a lot of talent, but I do consider myself as someone with a lot of determination"
Unfortunately for Ruiz, determination can only carry you so far in this sport & that alone won't be enough to defeat a prime David Haye. Haye is far too quick, mobile, young and powerful for Ruiz at this, or any, stage of his career & Haye should get him out of there before Ruiz hears the bell that signals the start of round 7 and hopefully go on to challenge one of the Klitschko brothers in a fight that could reignite this stagnant division.
As Michael Buffer would say "Let's get ready to rumble"
Questions:- e-mail: boxingchat121@hotmail.co.uk