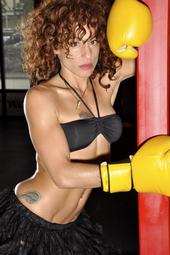 By Ron Scarfone – At a time when the depth of talent in women's boxing has never been better, the popularity of the feminine side of the sport still wanes. One of the reasons for this is that legitimate contenders are often bypassed by the multitude of so-called world champions who make title defenses against undeserving challengers and are able to retain their title(s) when facing better opposition due to biased judging. Ina Menzer, who holds three featherweight titles of the WBC, WBO, and WIBF, had the worst performance of her career in a rematch against Esther Schouten that took place in Germany. The country lived up to its poor reputation by awarding the victory to one of their own despite the fact that Schouten dominated the fight. Schouten lost by a highly controversial majority decision.
Before Menzer's rematch against Schouten, Menzer defended her titles against Franchesca "The Chosen One" Alcanter. This is a fitting nickname for Alcanter considering she was chosen (i.e. handpicked) for this world championship fight. Alcanter's record was a mediocre 18-8-1, 9 KOs. The vast majority of her wins came against opponents with losing records and the only two opponents that she defeated with winning records were barely over .500. Menzer won by unanimous decision against Alcanter, despite the fact that Alcanter usually lost by knockout whenever she stepped up in competition.
Menzer's most recent title defense was against Ramona Kuehne. Both wore Reyes gloves, but Kuehne did most of the damage and caused massive swelling around Menzer's left eye.. A right hook to the head by Menzer cut Kuehne above her left eye in round six. Referee Daniel Van de Wiele wasted no time in pausing the action to have the ringside doctor examine the cut. The doctor recommended that the fight be stopped and Menzer was awarded the victory by TKO. There seems to be a double standard because of the preferential treatment that boxers from Germany receive. During Ina Menzer's title defense against Sandy Tsagouris, there was an inadvertent clash of heads in round five which caused a cut above Menzer's right eye that was bleeding even more profusely than the cut that Kuehne sustained in her fight against Menzer. Nevertheless, the ringside doctor allowed the fight to continue. Blood was pouring down Menzer's face during the fight, but Menzer won by unanimous decision.
While Menzer has shown her vulnerabilities in her recent fights, Stacey Reile vividly showed her abilities in her opponent's home state of Texas against Crystal Delgado who was an undefeated contender. In addition to the disadvantage of fighting on the road with the possibility of biased judging, Reile had to move up a weight class to face the super featherweight Delgado. Reile took the fight out of the judges' hands and won by TKO in the sixth and final round. It was an action-packed fight that could have been chosen for Fight of the Year in 2009 for women's boxing. Reile knocked Delgado down with a left hook to the head. Delgado got up, but could not continue and the referee waved off the fight. Reile subsequently improved her rating on BoxRec as the No. 2 female featherweight and held that position for several months.
There is only one letter that differs between the words "belt" and "best." However, it is a big difference when it comes to boxing because having a belt does not necessarily mean being the best. There are other belt holders in the featherweight division who are not as good as Reile such as WBA champion Hyun-Mi Choi (No. 5 BoxRec) and IFBA champion Hyo-Min Kim (No. 10 BoxRec). Reile is currently rated the No. 3 female featherweight in the world by BoxRec and is a champion caliber boxer, even though she does not have a belt. The top two Canadian featherweights, Lindsay Garbatt and Jeannine Garside, are rated by BoxRec at No. 2 and No. 4 respectively. They will fight in April 2010 for the vacant WIBA featherweight title. BoxRec rates Menzer as the No. 1 featherweight.
If Menzer does not want to fulfill her obligations as WIBF champion, then she should be stripped of the title so that others can have an opportunity to fight for it. Reile is the No. 1 ranked contender in the WIBF and deserving of a title shot for that belt. The WIBF should do the right thing and have some control over who their champions fight. If Menzer refuses to give Reile a rematch, then it may be because she is scared of Reile and Universum Box-Promotion has too much power and influence over the sanctioning bodies. What is the significance of being the No. 1 ranked contender if there is no title shot as a result of that ranking? How many voluntary title defenses does Menzer get before she has to make a mandatory defense against the top contenders in her weight class?
Reile believes that Universum Box-Promotion wanted her to be at a disadvantage for her title fight against Menzer in May 2008. The promotional company which is based in Germany is owned by Klaus-Peter Kohl. Kohl is also Menzer's manager. Universum never sent her a letter of invitation in order for Reile's trainer Jorge Rubio to obtain a visa. As a result, Reile had to find another trainer who would be able to work her corner on short notice. Reile also believes that Menzer intentionally targeted her ears throughout their fight. Menzer threw and landed a punch to Reile's left ear after the bell rang that ended the third round. Referee Daniel Van de Wiele interfered by patting Reile under her arm to prevent her from falling down. Reile believes that the referee did this because he knew that if she fell down from the late hit, Menzer could have been disqualified or at least given a point deduction. Reile should have been winning the fight, but was not winning on the scorecards of the biased judges who scored every round for Menzer. Reile was not the same after the third round because her eardrum was ruptured due to the late hit by Menzer. The fight was controversially stopped in the fourth round and Menzer was awarded the win by TKO.
Reile wants to prove that Menzer's win against her was a fluke. The fight was not judged and officiated fairly and impartially. In order for Menzer to be considered a true champion, she must defend her titles against Reile because she is currently the No. 1 ranked contender in the world and the best available boxer for Menzer to fight. Will Menzer remain a protected paper champion or will the top contender Reile get the rematch she deserves? Photo used with permission from D. Francis and Randall Jones of Nine5Four Magazine.