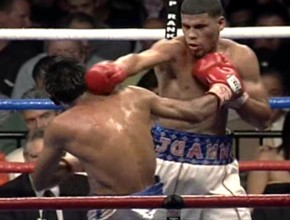 by James Slater – Ultra-exciting puncher Juan Manuel Lopez will have his featherweight debut on January 23rd, as he challenges WBO 126-pound ruler Steven Luevano. The bomber who blasted out around 20 of his super-bantamweight opponents on the way to becoming the WBO ruler at 122-pounds, had a much tougher time than expected last time out, as he barely survived the determined challenge of Rogers Mtagwa (who, of course, faces future-planned Lopez foe Yuriorkis Gamboa on the Jan. 23rd bill in New York).
Hanging on when desperately hurt in the final round of an absolute thriller, the southpaw from Puerto Rico somehow made it through and kept his perfect record. The title was given up, however, as the 26-year-old made it clear he had struggled to make 122 for the last time – even saying how his weight draining had made the Mtagwa fight tougher than it should have been. Now, against the talented and durable Luevano, also a lefty, Lopez is looking at grabbing his second "world" title, as well as getting himself another KO.
But while a devastating KO over the WBO champ who will be making his sixth defence would be highly impressive as well as a performance that would go a ways towards making fans forget about his almighty struggle with Mtagwa, it will likely prove hard for Lopez to get one.. Never stopped in almost 40 pro fights, 28-year-old Luevano will not let his title go without a real war. Not in any way as big a puncher as "Juanma" at, 37-1-1(15), the Californian can rumble nonetheless.
Luevano will also be the natural featherweight, the man who has proven himself at the weight. Both men, according to BoxRec, are the exact same height at 5'7″ and they both have an identical reach at 69." An excellent match-up then, but who do you like?
Luevano is a good boxer and he can also attack the body well. Having fought all different styles of opponents and having also boxed as a pro since 2000 (five years before Lopez made his debut), Luevano is as experienced as can be. The champion has been caught and hurt before in a couple of fights, but he has shown how he can dig deep and hang tough. But can he do this with Lopez, by far the biggest hitter he will ever have faced?
Aside from the draw he was held to three fights ago, by Mario Santiago, and the 2005 points loss to Martin Honorio (who, incidentally, went on to out-point Mtagwa), Luevano has won and kept any blemish to his record at bay since. The 28-year-old did suffer some kind of injury to his torso back in May of this year, which enforced the longest layoff of his career, but he last fought as recently as August (after an absence of ten months) and he won a 7th-round DQ over Bernabe Concepcion (who he was supposed to have faced in May). There is no reason to believe Luevano will not be at his best for the Lopez clash.
And he will need to be. As in any Lopez fight, a quick KO win for the 27-0 Puerto Rican is a distinct possibility; even at the new weight. But I feel the defending champion will see it through some early rough patches, perhaps even having to haul himself off the canvas, before his spirited effort sees him to the final bell – only for him to lose a decision. Lopez will win himself his second title, but his KO-win column will stay as it is, at 24.