LAS VEGAS—Don King and Mike Tyson have reunited. Tyson has joined the broadcast team to add color commentary to King's "Halloween Thrilla" fight card Saturday (Oct. 31) from Treasure Island Hotel & Casino in Las Vegas. The exciting five-fight undercard will be offered globally on pay per view for $5.99 at www.DonKingTV.com beginning at 6 p.m. ET/3 p.m. PT/10 p.m. GMT. The legendary former undisputed heavyweight champion, whose greatest years were spent with King, was the youngest man to win the WBC, WBA and IBF world titles. Tyson went on to become one of best heavyweight boxers in history..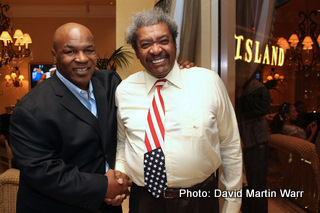 "Oh what a glorious day," said King. "My prodigal son has returned. It may be Halloween, but this is no trick. This will be a treat for boxing fans around the world. Mike is more than one of the greatest heavyweight champions in boxing history. He is a boxing historian, and nobody can break a fight down like Iron Mike."
Tyson will join blow-by-blow announcer James "Smitty" Smith and analyst Ken Miller at ringside.
It's not TV…it's DonKingTV.com on Halloween Night! Check out a preview of Fright Night action at
http://www.donking.com/events09/championship-boxing-10-31-09/ppv-index.php.
The World's Greatest Promoter started DonKingTV.com in March of 2008, accomplishing another first in the world of boxing by starting his own network via the Internet. He featured Cory Spinks and Devon Alexander live in separate bouts for free from St. Louis, Mo. That event garnered attention from 195 countries around the world. Fans logged in via the Internet to watch the fight live. From Albania to Zagreb, boxing fans were able to watch a fight live that was taking place in the U.S.A.'s Midwest.
Halloween Thrilla—a true Don King extravaganza, live from Las Vegas, the city where dreams are made. The event will bring a ringside view of the event for a global audience, complete with Don King and celebrities in the world of entertainment watching at ringside. Don King believes that the Internet is the way to give the fans what they want and is the shape of things to come. It is the marriage of technology and sport, giving sports fans more choices.
King said, "DonKingTV.com is the people's network. Your voice needs to be heard. Let your voice be heard. I want all the bloggers and all the boxing fans around the world to help me to help you in bringing boxing back to the people. I am a promoter of the people, for the people, by the people, and my magic lies in my people ties. Join me on a treasure hunt at Treasure Island. Your dreams, too, can come true. Find your pot of gold at the TI."
WBC USNBC HEAVYWEIGHT CHAMPIONSHIP/WORLD ELIMINATION BOUT
A WBC elimination bout will be featured on pay per view with WBC No. 3-ranked contender Ray "The Rainman" Austin (27-4-4, 17 KOs), from Cleveland, taking on former top-ranked heavyweight DaVarryl "Touch of Sleep" Williamson (26-5, 22 KOs), from Denver. The USNBC heavyweight title will also be on the line in this match.
THREE UNDEFEATED FUTURE STARS ALSO INCLUDED ON PPV
Highly touted and undefeated welterweight "King" James De La Rosa (19-0, 12 KOs), a Mexican fighting out of San Benito, Texas; undefeated super welterweight Nelson Linares (18-0-1, 11 KOs), from Venezuela; and undefeated freedom-fighting lightweight prospect Angelo "La Cobra" Santana (6-0, 4 KOs), from Cuba now fighting out of Miami, will all be featured on the pay-per-view telecast.
De La Rosa will be taking on Lenin "Volcano" Arroyo (20-10-1, 4 KOs), from Armenia, in a 10-round welterweight attraction. Super welterweight sensation Linares will be facing Archak "Shark Attack" TerMeliksetian (16-7, 13 KOs) of Fairview, N.J., in a scheduled 10-round clash. Santana will be featured in a six-round lightweight match against Miguel "Silky Smooth" Gonzalez, from Cleveland.
Prior to the Austin-Williamson 12-round heavyweight bout, boxing fans will also be treated to rising heavyweight knockout artist Bermane "B-Ware" Stiverne (17-1-1, 16 KOs), from Miami, Fla. Stiverne, who has a devastating right-handed knockout punch, will be taking on Jerry "Big Daddy" Butler (8-6-1, 8 KOs), from Nassau, Bahamas, in an eight-round affair.