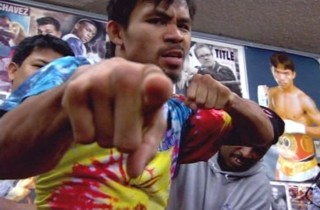 by Vivek Wallace – This weeks 'Call Em Out Fridays' segment initiates a 3-part series leading up to the most anticipated fight of the year. A few weeks ago we saw the return of a man, (Floyd Mayweather jr.), who many not long ago viewed as perhaps the perennial pound-for-pound king. Although his return sparked a major flame in the sport, as it relates to his P4P status, the heat generated from the Filipino warrior on deck this week has arguably helped that notion go up in smoke. When you analyze the past work of Manny Pacquiao, his history blazes a trail that leaves him standing atop the painful rubbish he left behind. Early poverty stricken days have been replaced with not only riches, but the results necessary to maintain it. What's truly remarkable about Manny Pacquiao is that for such a little man, there's no obstacle too big, as his heart has proven time and time again to be bigger. Early adversity in his career saw him lose in a devastating KO fashion, but with a nation of supporters at his back, he marched on. After suffering defeat to Mexican icon Erik Morales, he found a way to rise yet again, by not only avenging that loss, but also taking apart Marco Antonio Barrera and more barely escaping the jaws of Juan Manuel Marquez. As his name grew larger and the stakes grew higher, he was presented the opportunity to measure his worth against global phenoms Oscar De La Hoya and Ricky Hatton. Here we stand months later, and now that he has those two major obstacles in his rear view mirror, the Filipino's finest has decided to once again up the ante by taking on arguably the most powerful welterweight in the game today – Puerto Rican Miguel Cotto..
Legend has it that no matter how big the bird, fate always creates at least one cloud too high for it to touch. For the ever-so-talented Roy Jones Jr., it was Antonio Tarver. For Mike Tyson, it was Evander Holyfield. Throughout the many decades of the sport we've seen some remarkable talents, but only a precious few have been spared this brutal reality. Some would argue that Juan Manuel Marquez represents that particular 'cloud' in the storied career of Manny Pacquiao, but his biggest supporters are acutely aware that if Marquez wasn't that man, the talented Filipino may very well have met his match this time around. I'm sure his critics would like to agree, but if the past is any indication, those words will almost assuredly fall flat, as few within the realm of his size can adequately handle this type of arsenal. Deadly speed, middleweight type power, vastly improving footwork, and a much feared southpaw stance to serve as a cherry on top! Sure, many have been stronger….the last few were even said to be bigger….but when the initial bell rang, it wasn't too long before the final one sounded in either event. Such success on the big stage has made it near impossible to pick against Pacquiao, because it seems that no matter how high the stakes are, the effort to move beyond them stand just as tall.
Recently, head trainer Freddie Roach spoke of the beaming popularity surrounding Manny Pacquiao, and how, (in his estimation), even Mike Tyson never reached that level of admiration from the fans. Promoter Bob Arum followed that lead in saying in so many words that neither Muhammad Ali, or Oscar De la Hoya enjoyed this level of global admiration. Some would adamantly debate those arguments, but few can deny the fact that anyone whose name can even be categorically placed in such a sentence has to be something beyond special. To the people of the Philippines, Manny Pacquiao has in fact transcended sports and became a symbol for life itself. America has recently seen two globally iconic figures in the NBA's Michael Jordan and Pro Golf's Tiger Woods. It would be hard to completely agree with the sentiments of Freddie Roach and Bob Arum, but as powerful as Jordan and Woods are, no question, they represent a more fractional legacy, wherein Pacquiao is basically the face of his entire country. An entitlement that few around the globe have ever carried. Such accomplishments are quite grand on a humanitarian level, but as it relates to sports, before the final chapter in his book is written, Pacquiao may very well be able to re-write the memories and perform an ultimate act to in fact surpass the actions of Jordan and Woods. To win a 7th world title in a 7th weight division would be the NBA equivalence of surpassing Phil Jackson's 10-time world championship status. An insurmountable victory that historical odds say will never leave the record books. So, with both the pressure and the spotlight on, Pacquiao prepares himself to bridge the gap and bring his career perspective full circle and score yet another victory for his beloved homeland. Can Manny Pacquiao answer the call of duty on November 14th? Can Manny Pacquiao bring victory to an emotionally defeated nation? Can Manny Pacquiao prove to the world that little shoulders can carry heavy loads? The answer to each of those questions…..yes……why? Because in the end of this article, just like the beginning states……there's simply "NO TIME BETTER THAN THE PRESENT".
(Check out Vivek Wallace's take on the current troubles surrounding Team Pacquiao – http://www.youtube.com/watch?v=gjZ5ImeVILI )
(Vivek Wallace can be reached at vivexemail@yahoo.com, 954-292-7346, Youtube (VIVEK1251), Twitter (VIVEK747), www.vivekwallace.com, Facebook/Myspace).