WBA Super-Middleweight Champion Mikkel Kessler (41-1, 31 KOs) welcomed some special visitors to the Max-Schmeling-Gym today. With local football club Hertha Berlin hosting Brondby IF for the return leg of their Europa League qualification clash, Kessler invited the Danish journalists to show them his new training camp base. "The facilities at the Max-Schmeling-Gym are great," Kessler said. "I really like Berlin. It is a great city. Training has been going well, too. I will be in perfect shape for the fight against Perdomo.."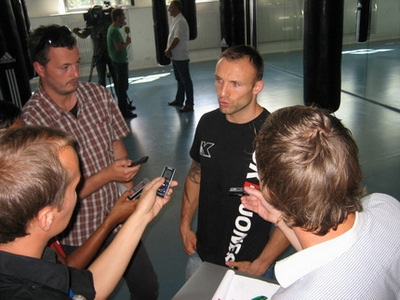 On September 12, Kessler will defend his title against mandatory challenger Gusmyl Perdomo (16-2, 10 KOs) in front of what will be a sell-out crowd at MCH Herning. U.S. premium TV network SHOWTIME will be airing the fight on a special Saturday primetime edition of ShoBox: The New Generation at 10 p.m. ET/PT (same day tape delay). Kessler is slated to participate in the hotly-anticipated Super Six World Boxing classic, with a first-round meeting with Andre Ward coming up on November 21. Ward will also be in action on September 12, taking on Shelby Pudwill (also on SHOWTIME). "I am not thinking about Ward or the Super Six now," Kessler added. "It will be a fantastic tournament, but I need to defeat Perdomo first. That is why my full focus is on him."
Chris Meyer, General Manager of Team Sauerland, has no doubts that Kessler will leave the ring victorious. "We are looking forward to staging our first-ever fight night in Denmark," he said. "I am sure that Mikkel will take care of business and beat Perdomo."
After fulfilling numerous interview and photo requests, Kessler then left for the football stadium to watch the Berlin-Brondby match. "A good friend of mine plays for Brondby and he invited me to come and watch," he said. "I look forward to seeing a good match."
Abraham vs Taylor in Berlin´s O2 World
BERLIN (Aug. 26, 2009) – Team Sauerland and the Anschutz Entertainment Group are pleased to announce that King Arthur Abraham and Jermain Taylor will open SHOWTIME Sports® hotly-anticipated Super Six World Boxing Classic in Berlin´s famous O2 World on October 17. Further information will be announced during a press conference in Berlin on Thursday, September 3. Invitations will be distributed shortly.
The event is promoted by Sauerland Event and DiBella Entertainment. The Super Six World Boxing Classic is being presented by SHOWTIME Sports in association with Sauerland Event, Gary Shaw Productions, Hennessy Sports, DiBella Entertainment and Goossen Tutor Promotions.
MANNY QUEZADA RE-UPS WITH GOOSSEN TUTOR
LOS ANGELES (Aug. 26, 2009) – From obscurity to world heavyweight title contender. That in a nutshell describes the career path that Manny Quezada has taken since teaming up with Goossen Tutor Promotions back in 2005.
A combination of that past success and future potential prompted the 31-year old Wasco, Calif. heavyweight of Mexican descent known as "El Toro" to sign an extension of his promotional agreement with the Sherman Oaks, Calif.-based company, Dan Goossen, President, announced today.
"We are extremely proud of the dedication and progress that Manny Quezada has made as a boxer and delighted that we will continue to promote him as a member of the Goossen Tutor family," Goossen said.
"Manny has worked extremely hard since joining us and has experienced tremendous growth as a boxer while training with my brother, Joe. In Cristobal Arreola and Eddie Chambers we have two top-ranked heavyweights preparing to fight for the Heavyweight Championship. Another big win or two and Manny will get his opportunity to follow in his stablemates' footsteps as well."
Quezada (28-4, 18 KOs) was recently ranked the No. 4 heavyweight contender by the World Boxing Council (WBC) in the aftermath of his 17th consecutive and most impressive win — a first-round destruction of highly-regarded Travis Walker in the third defense of his WBC CABOFE Heavyweight Title.
"I was thrilled to sign an extension with Dan and Goossen Tutor," Quezada exclaimed. "I'm very proud of where I'm at right now coming from a very little town. It's unheard of for someone coming from such a small town to accomplish what I have. There's still a lot of work to be done, but I have the best team to get it done and I will. I want to thank Dan and Joe Goossen for their confidence and hard work with me.
"I'm going to work harder than ever in the gym, with my immediate goal to keep moving up in the rankings and making a name for myself with the fans. They like knockouts and that's what I like to deliver. I see really big things happening for us in 2010."