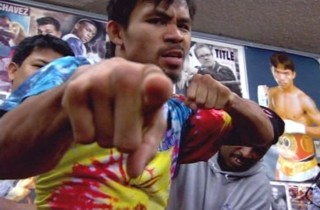 By Bong Paredes – If you are a young and aspiring Filipino boxer, chances are, you pattern your fight game after Manny Pacquiao and to a lesser extent some might say they look at guys like Gerry Penalosa, Nonito Donaire and Brian Viloria for inspiration. But about ninety nine percent of them will almost always look at Pacquiao as the fighter they will try to emulate. After all, who wouldn't want to be like Pacquiao? The guy is the best pound for pound boxer in the world today. These days, if a fighter is in the 135-147 lb. neighborhood, and they just got off a big win, they call out Pacquiao because not only is he the best boxer but one of the top draws as well. So it's completely understandable for an aspiring Filipino boxer to look up to him, look at what he's accomplished and think that if he can do it, I can as well..
It's a great story, yes. But I have a little problem with that. Yes, Pacquiao came from humble beginnings (like most of us Filipinos). Yes, he's a hard worker and he got to where he is because of his impeccable work ethic, and that is a pre requisite for anyone in any field to succeed so that I'm all for. But what people seem to not take into consideration is that Pacquiao is a freak of nature. He has this uncanny combination of speed and power, unbelievable cardio and an aggression that is unparalleled. There are hundreds of boxers out there that are very aggressive but if they get hit flush, they hesitate (something Bernabe Concepcion found out about a week ago). Now I'm not saying it's a weakness because that is a natural human response, to stay away from the stressor, regardless if it's a conscious effort or not. Pac is a rarity in that regard. He might have tapered down a little bit when JMM was peppering him with counters and uppercuts in both of their fights but Pac was still considerably aggressive that he still gave JMM fits. Again, not everyone possesses these attributes. This is why I think most Filipino boxers get smashed when they get in the ring with world class fighters.
It's not the fault of the boxers and their trainers because they are just following the formula that has worked for Pacquiao and some of the earlier Filipino ring legends like Flash Elorde and Rolando Navarette. I can also say that some of the Filipino trainers need to learn from trainers outside the country because what I've noticed in some of our gyms is that most of the trainers are either former pro boxers or amateur boxers and as much I have the utmost respect for anyone brave enough to step into the ring, they don't necessary translate into good trainers. And a great number of trainers in the Philippines fit that mold.
Filipinos are brave fighters and will give their all but I just hate seeing promising boxers like Boom Boom Bautista not reaching their full potential because they get in the ring with a top level fighter too soon and being too brave for their own good. I know Boom Boom is still young and can still rebound but I doubt if he'll be as good as we initially thought he would be. Was he as determined as Pac? Yes. Was he as hardworking? It seems like. Was he as powerful? Not really. Was he as fast? Not even close. What am I getting into? We cannot be all like Pacquiao. If you love the sport and want to be successful and you need to emulate someone, make sure that it's a fighter that closely resembles what you can potentially do based on your physical attributes. It might be an oversimplification but it's true. There are a lot of fighters out there that we can watch. Gerry Penalosa is one, he's not as entertaining as Pac but he is a much better boxer. If more of our boxers approach the game the way Gerry does, then we'll have more elite fighters. Take Jimrex Jaca for example. He could've been something special. He has decent skills, nice hand speed. Good instincts and decent power. If he took the Penalosa counter punching, slipping and sliding route, he could have been something special. But what did he do? He came in against Marquez like a house on fire and tried to knock him out the way Pac would and we all know how that worked out for him.
I would love nothing more than see another Filipino succeed in boxing and no I'm not hating on anyone. Filipino boxers and trainers need to raise their level of awareness because bravado alone just won't cut it. Jeff Lacy might be one of the gutsiest boxers I know but that didn't do him any favor against the likes of Joe Calzaghe and Roy Jones Jr.
I guess that's the reason we haven't had a lot of success in the amateur boxing circuits as well even with the deep talent pool the Philippines has. It might be a cliché but the concept of the game is to hit and not be hit. A face first approach works for some guys like Pacquiao but it's not for everyone and our Filipino brothers should keep that in mind.
All comments are welcome. You can email me at bgparedes@gmail.com or you can visit http://theprodigy7.wordpress.com. Thanks!