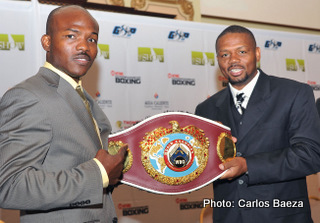 By Vivek Wallace: This weeks 'C.E.O. Fridays' segment shines the spotlight on two men who find themselves firmly planted in a very odd predicament. Odd in the following sense….If one were to say that the Campbell/Bradley showdown pairs one man who stands at the doorstep of greatness, against the other who is one bad performance from being exposed, many would interpret that the first example was referring to Timothy Bradley, while the second was a tip to Nate Campbell. Oddly enough, what makes this fight intriguing is the fact that it could conceivably be the exact opposite. Confused? Allow me to explain…Thought you'd never ask….In Timothy Bradley, we have a young man who has been highly touted for quite some time. Physique of a miniature Mr. Universe, determination of troop in combat who's clip is down to three bullets, and the attitude of warrior. Of all the things he does possess, it's the one thing he doesn't which may ultimately come back to haunt him. And the trouble is, that one thing (experience) will come at a high premium because the man he'll stand across from has it in heavy abundance..
When we look at the resume of Timothy Bradley, the first thing to pop out is the fact that there aren't too many names on it that have stood on the world stage. Bradley performed well enough to go across the pond and secure a strap from Junior Witter on his home turf, but despite his record and reputation, few would call Witter a 'top-of-the-food-chain' type fighter. After winning that strap across the pond, Bradley came back home to the United States, and after a bout with Edner Cherry, he again entered the ring against an opponent who many consider slightly above the average of the sport, however, categorically challenged, as he (Kendall Holt) has yet to truly prove his mettle consistently against the likes of world class competition as well. For Bradley, Holt was a good barometer, and in the showdown between the two, the heart of both men were tested early and often. In the end, Bradley came out on top, but it was a somewhat narrow margin as he found himself on the canvas for the first time in his career early on, and once again towards the end. It was a bittersweet moment for him, as many loved the heart he displayed, while in contrast, there was a huge contingent that were left wondering how he would truly hold up against the likes of a top tier fighter. For a glimpse of the closest action he has seen against that type of challenge….enter Nate Campbell….A man who prides himself on being less favored, but highly blessed. Campbell's story isn't one for the fairy-tales. After surviving a foster home childhood and not stepping in the ring professionally until the ripe age of 27, needless to say, the path he took to reach this stage was far from a scenic route. Perhaps those rough edges obtained over the years is what ultimately smoothed him out, but as it relates to the ring, Campbell is a challenger who thinks like a champion. Being positive is something that Campbell learned very early in life, but unfortunately, that's something that hasn't quite rubbed off on many of the fight fans who will tune in Saturday night to watch him go to work.
For many fight fans, despite the fact that he put up a career defining performance against Juan Diaz to become the oldest first-time lightweight champion in the history of the sport, it's the classless loss to Peden a few years back that haunts Campbell. In February of this year he had another setback of sorts when he was unable to defend his unified lightweight titles for failure to make weight, but in many ways, that episode shed light on exactly what makes Nate, Nate. With all the chips stacked up against him and little support to rally him on, Campbell showed anyone willing to watch that he's willing to dig in and find a way to win by any ethical means necessary. That truth sets the stage quite brilliantly, because in Bradley we have a man with much potential and as many questions; while with Campbell we have a man that many think has less potential, who may actually have fewer questions to be answered. The jr. welterweight division has recently become a loaded deck like it's neighbor to the north (welterweight class), and this Saturdays showdown between Campbell and Bradley will go a long way in narrowing the scope. It doesn't take a rocket scientist to know that the tension between these two men have created a bitter chemistry, but one thing for sure…..in an era that has seen competition in the jr. welterweight division multiply, the only way to add ones self to the equation is to subtract the man who stands in the way. Is a 'Desert Storm' enough to conquer a 'Galaxxy Warrior'? I'm not quite sure, but you'd have to be out of this world to not tune in when it's time to find out.
Tune in Saturday Night on SHOWTIME at 9pm est.
(Vivek Wallace can be reached at vivexemail@yahoo.com, 954-292-7346, Facebook, Twitter, and www.vivekwallace.com).