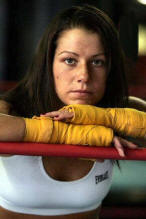 28.07.09 – by Geoffrey Ciani – I was recently afforded the opportunity to conduct a brief interview with "The Real Million Dollar Baby", Maureen Shea. Here's what she had to say:
Q: Hi Maureen. How are preparations going for your August 1 fight?
A: Oh, they've been great. I've been getting some great sparring in. I have two sparring partners who I have been sparring with. One of them is Eilon Kedem, who is a teammate and stable mate of mine who actually fought on a recent card in Rye Brook, and I also have Alicia Ashley who is a teammate of mine managed by the same manager, Luigi Olcese. Eilon fought almost two weeks ago, so last week I had three sparring sessions with Alicia and then today was my last sparring session with her, and I feel wonderful. I work with nutritionist Robert Ferguson, and he has been a key component to my team. Also my strength coach who works on my speed agility and power is Vincent Sullivan. Nobody really knows Vinny because he's not in the boxing world, but I have been with him doing strength training for seven years. This is the most consistent we have ever been together. They are two huge components to my team along with Hector Roca.
Q: In your last fight, you got your first shot at the title and you lost a unanimous decision against WBA super featherweight champion Kina Malpartida. Can you tell us a little bit about that fight.
A: Sure. There was a lot of things going on heading into that fight. First, I found out two or three weeks out from that fight that my trainer Hector Roca would not be in my corner. My sparring partner Eilon actually had a contract to fight in Belgium and Hector had committed to that fight before mine came to the table, so Hector went out to Belgium and I did not have him during fight week and I did not have him there for the fight. Mentally, it was very tough going into this fight not having him there. Even coming into the ring, Hector and I normally work the mitts before I go out there, and not having him there, my rhythm was kind of off because my whole corner wasn't there. In the third or fourth round, I got hit at the end of the bell with a straight right hand that landed, and the punch affected me. When I got back to my corner, my manager Luigi was working my corner and he was saying things to me, and I couldn't understand , because when you're trained for seven years by one person and then, in the most important fight of your life, another person is there giving you instructions, you're like "What"? (laughs). So I did not really understand what was being said and I was sort searching for Hector's voice. Then I went out there and did whatever I could to make the adjustments myself without any real direction. Also, in the sixth round I went into a clinch—and I did not know this happened until after the fight—she must have caught my ear and I heard a noise in my head, and as a fighter you stay focused, and when you hear a noise what do you do?—you keep fighting. After the fight I found out I had a perforated ear drum. The doctor later said that probably happened during that moment in the sixth, so I fought the final four rounds without my equilibrium. Anyway, there were a lot of things happening in that fight, and I'm very spiritual and I try and believe that everything happens for a reason, and for whatever reason, I was not meant to win that fight. I'd like a rematch. That's up to my management, but there were a lot of things happening going into that fight which had an impact on the outcome.
Q: So that was your first fight without Hector in your corner?
A: Yes, but you know, I am not one to make excuses. You know what? There has to be a victor, and that night was her night—that's the bottom line.
Q: When I first saw you fight, it was on the under card of Duddy-Bonsante, and that's when I first learned that you helped Hillary Swank prepare for her role in Clint Eastwood's award-winning film, Million Dollar Baby. How did you get involved in that and can you share a little bit about your experiences?
A: Absolutely. Actually, it was Hector Roca who was sought out to train her for the role and he paired me off with Hillary. One of the reasons was that her role was based on a fighter from the 126 pound weight class, and I had fought in the amateurs at 125. The other reason Hector chose me is because I have a lot of control with sparring partners inside the ring. I've sparred white collar women, I've sparred with kids, young girls, young boys, teenagers, and I'm able to control the output without letting go of my punches, which helps a lot when you are trying to work on something. When I began working with her, the first thing I told her was, "Listen, you can trust me. I know you think I sound crazy right now, but you'll see. When you hit me, you have to trust me." And when she hit me—hard—she got nervous, and said, "I'm sorry, I'm sorry!" and Hector started screaming at her and I said, "Listen, I told you, you can trust me. I'm not going to retaliate. Trust me." And from then on, she did. Basically, I would just pressure her a lot and throw a lot of punches but control my hands without letting them go hard. That's something I was able to do throughout the sparring sessions, and we trained for about six months while sparring three or four times a week. That was a great experience for me, just working with her. It taught me a lot, too, as a person.
Q: Now do you think that experience, working with Clint Eastwood's movie, helped your career in any way?
A: Absolutely. It brought me instant international fame. I was in People Magazine, I was in Life & Style, and I was in all these things—and I remember people were calling me because I was focused with training. I wasn't following up on the attention that was going on with me, because that's not who I am. I just continued doing what I do and being who I am. My cousin called me from California and said, "Do you know you're in People Magazine?" They had no idea. A friend of mine was coming over from Puerto Rico and he was on the plane, and they showed CNN and there I was, training. I did the E! True Holywood Story with Hillary Swank, which aired all the time, and I'm always getting calls about that. It definitely put me out there, and my story out there, because people were looking at me and they would say, "Well she doesn't look like a fighter." I get that a lot. Then people started becoming curious about me, and they were researching me, and I remember I had constant hits on my website. Actually, after that experience, I had to put up a website and then tons of people started to e-mail me, and I met so many wonderful people because of that experience that have still stayed with me throughout my career.
Q: Do you see any similarities between your career and that of the fictitious Maggie Fitzgerald from the movie?
A: There are definitely some parallels. When I first came to the gym, and the guys would start looking at me like, "Who's this girl?" Nobody took me seriously. You kind of have to pay your dues and earn your respect. I had guys who would flirt with me and pass me their numbers, and I would ignore them. On my birthday—that's funny because in the movie she's in the gym on her birthday—I was in the gym on my birthday. To me, it was just another day and I wanted something—I wanted to learn how to box. For me at the time, in the movie she avoided her family—she was alone. For me, I was going through an abusive relationship and I was hiding it from people, so I was going through something on my own. So I shared that with Hillary leading up to the movie. I saw that movie once at the premiere and then once again, and I couldn't watch it because there was so much of emotional attachment between me and her character. My parents—not that they didn't support me—but my father told me, "You can't box, go to school, and work, and when you're living in my house, you have to go to school and work. And boxing's just not going to happen." I said, "Well I'm gonna make it happen.", and I did, and I proved them wrong. I don't have the kind of family that she had in the movie, where they were vicious and malicious and didn't really care about her. Thank God with my parents, they may not agree with my boxing, but they definitely support me and never want me to get into that ring unless I'm fully prepared—emotionally from them, too. They try and go to every fight—if they can be there, they're there. I also think there are a lot of similarities between Clint Eastwood's character and Hector Roca, my trainer. Clint Eastwood was like a father to her and Hector is like a father to me. Hector said the first thing to me when I first came into the gym—"She doesn't look like a fighter." I remember he put me in the ring to spar with one of his female fighters at the time, and he said to Luigi, "My fighter is going to kick the shit out of your fighter." I got into the ring and it didn't happen. They thought, because of the way that I looked, that I was going to be an easy walk-over, and I wasn't. From then on, Hector took me under his wing, but at first, he hadn't been interested in training me and I think it was because the way that I looked.
Q: How did you first become involved with boxing?
A: I really never knew anything about boxing until I was sixteen years old and I was at a friend's house and the father had friends over watching the Holyfield-Tyson fight. Suddenly, they started screaming in the living room because Tyson had just bitten Holyfield's ear. So we all run into the living room and I'm like, "Oh my God! He just bit his ear. What is this?" They told me it was boxing, and I couldn't believe as I watched everything that went on afterwards. After that, when boxing was on TV I started to watch it. I never took an interest for myself though, personally, but when I found myself in an abusive relationship when I was seventeen years old—he broke me mentally, physically, and emotionally. I had a lot of displaced anger and a lot of rage. I was kicked out of high school and wound up having to go to a public school, and I just had a lot of anger inside and did not know how to let it out. So I went to a gym and was approached about working out. So I started sparring and working out, and after a few months, I realized that through boxing I found the strength inside me that I could do anything. I overcame the obstacles in the gym, ignoring things guys were saying to me, by focusing on one particular thing—boxing. I was able to get out of that abusive relationship and I fell in love with the sport.
Q: What was your proudest moment as a professional boxer?
A: There's so many of them….hmmm. Fighting at the Garden was huge for me. I actually fought on my dad's birthday, it was the evening before St. Paddy's Day—and the energy in the Garden was just incredible. You know, you were there. It was the first time, and seeing my dad there, even though he wasn't 100% behind my boxing, but I wore "Happy Birthday Dad" on the back of my skirt. Just seeing the fans afterwards and having people coming up to me and telling me I was an incredible fighter—that first fight in the Garden was a jumping off point for people to see me and my skills as a fighter. I was very proud to get in there and earn people's respect—not just because I'm a woman, but because I was looked at as a fellow athlete and a boxer.
Q: What is your ultimate goal in your career?
A: I want to ultimately become a world champion. Right now, I'll shoot for just one, in one weight class. I can still fight at 122, so ideally I'd love to win titles in all three weight classes—WBC, WBA, IBF at 122, 126, and 130. I'd like to help pave the way for females, not just in boxing, but in sports in general and in life. I have a lot of people who e-mail me and say that I'm an inspiration and I believe I can become a true inspiration when I meet my goals. I just want people to see that if you put your mind to something you can do anything you want. I have had a lot of trials and tribulations in my life and obstacles to overcome, but if I always stay true to who I am and respect myself—and with that, respect will come to you. Being able to share my story and change at least one person's life and, personally, becoming a world champion and leaving my mark and my name in the sport forever.
Q: Is there anything else you would like to say to your fans, Maureen?
A: My fans mean so much to me. A lot of them are coming out to Connecticut and staying there this Saturday. These people are using their hard-earned money to come support me and I appreciate that so much. I know they know it. I appreciate my fans because so often, they are the voices that I need to hear. I'm human, and we all have our moments, and they always seem to reach out at just the right time. I am so lucky to have such a wonderful support system to walk along side of me on my journey. It really means a lot to me.
To contact Ciani:
ciaaaani@yahoo.com
To read more by Ciani please visit The Mushroom Mag:
http://www.eatthemushroom.com/mag