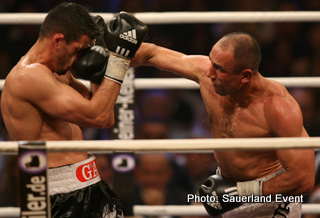 Undefeated IBF Middleweight Champion King Arthur Abraham scored another spectacular victory as he stopped Mahir Oral in the tenth round. It spelled the 30th win in as many fights for the hard-hitting 29-year-old (24 KOs), who pleased a sell-out crowd of 6,000 fans in Berlin´s Max-Schmeling-Halle with a strong performance and several knock-downs. Oral was off to the better start though, making good use of his jab and trying to exploit his advantage in reach. King Arthur started out defensively. "I am a rather slow starter," he explained. "Sometimes it takes a little longer until I really get going. That is why I wanted to let Oral attack early doors. But then I gave my best and gave the right answers."
King Arthur turned it on from the fourth round on, creating more pressure with his jab. A hard series of punches, including a right to the chin, dusted his opponent for the first time. "He can really punch hard," Oral said. "I tried to remain on my feet but I could only see stars in my head. But I did not want to disappoint the many fans that had joined me from Hamburg so I got back up.."
Oral survived the round but found himself on the canvas again in the fifth, even though referee Earl Brown did not give him a count. Abraham kept connecting with several strong right hands and also fired in strong combinations. In the sixth round, a right hook to the head sent Oral down again. "I was really impressed about Mahir´s ability to take a punch," Ulli Wegner said. "It also fascinated the fans. But our strategy worked. We let him attack in the early stages and then made the most of our chances." After a quiet seventh round, King Arthur put Oral under pressure again with his right in the eighth. There was no stopping Abraham in the tenth when he scored three more knock-downs before Oral´s coach Hans-Jurgen Witte threw the towel.
It remains yet to be seen whether King Arthur will keep fighting at middleweight or move up to super-middleweight. Manager Wilfried Sauerland said he will analyse the situation in the next weeks. Abraham would not mind moving up. "I would like to fight at super-middleweight," he said. "There are a lot of interesting opponents. And I could certainly eat more roast potatoes ahead of the fights."
Meanwhile, Sebastian Sylvester is the IBF`s new number two in the middleweight division after clinching a unanimous points victory over former world title contender Lajuan Simon. At the end of 12 rounds, Sylvester was ahead 116:112, 115:113 and 117:111. "One could see that Sebastian has improved his mobility a lot," coach Karsten Rower said. "His jab kept landing and he deserved to win."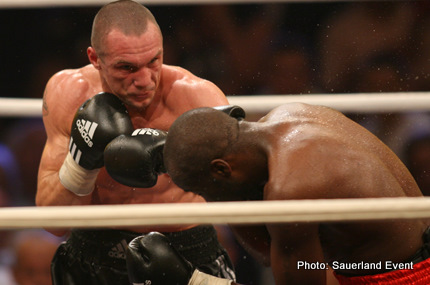 It was a difficult fight for the IBF International Champion, a fight that required good tactical skills and concentration. Sylvester got the better of his opponent early doors, making good use of his left-right combinations against Simon, who had an advantage in reach. The American had difficulties to score with his jab against the mobile Sylvester. The Hurricane landed a straight left to the head in the third and also connected with a nice right as well as a left hook to the head in the fourth. "Even though there was much at stake I did not put myself under too much pressure," he said. "And that paid. My right did not connect as much as I would have liked to, but the left was on target often." Sylvester´s analysis was a fitting one – with the fight progressing, it would get harder and harder to hit Simon with his right.
Simon, who had spent 12 rounds in the ring with King Arthur in March, could not really expose Sylvester, whose defence stood tall. He punched a lot, but most of his attacks were absorbed by the German´s defence. Sylvester fought more efficiently and gained an edge on the judges´ scorecards. Simon remained on the front foot, though, upping pressure in the later rounds. But he was not able to turn his activity into clear hits. At the end of 12 rounds, Sylvester was ahead on all three cards.
On the undercard, IBF Intercontinental Cruiserweight Champion Enad Licina retained his title with a unanimous points victory over Ignacio Esparza, Alexander Frenkel stopped Rodolfo De Dominicis in the third round and Leonard Bundu defended his EU Welterweight Title with a points victory over Frank Shabani.