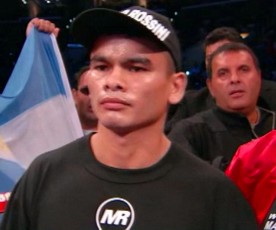 By Paul Strauss: Vicious Victor looked like he was going to live up to his moniker when he ignited the Staples Center crowd in LA with a quick first round knockdown of Marcos Rene Maidana. It was Maidana who came out firing bombs, but Ortiz remained poised and landed a beautiful short right hook to score the first knockdown.
The counter right hook was available because Maidana came out fast, throwing long powerful right hands from the outset, leaving no doubt as to what his game plan might be. He hadn't scored 24 KOs in 25 victories by accident, and instead of backing off after the knock down, he quickly shook off the effects and resumed his attack.
There was no shying away from throwing the right hand either for Maidana. He continued to wing it with speed and power. The crowd hardly had time to stop gushing over Victor's beautiful right hook, and bam down went Ortiz from a long straight right hand. Ortiz seemed more hurt from his knockdown, than did Maidana. However, his fighting heart pulled him up, and he weathered the storm to finish the rest of the round.
In the second round, Maidana continued to throw hard punches from both sides, but mainly was concentrating on the right, which is not surprising when most experts feel that is the punch an orthodox fighter should use against a southpaw. Land it he did, but not without consequences, as he was dropped twice more in the second round. Both times he got dropped from the counter right hook.
Certainly now Maidana would stop throwing that shot with such abandon? Nope, he shrugged off any risk of receiving more hooks, and continued to throw and score with the right hand. Punches from both fighters were flying at blinding speed from all angles, and with knockout power behind most.
It did appear that Victor Ortiz was a little sharper, and had a little tighter defense, but he still would occasionally get hit with straight and looping right hands. At the same time, he was landing some crisp counters of his own. Each man was demonstrating courageous abilities that compelled them to immediately snap back with their own attack once they were tagged.
Fans definitely were given the impression the fight might end at any second. That's how exciting the action remained throughout. There was no time for either man to catch his breath, and it's doubtful fans had the urge to get up to go to the concession stand.
Oscar De La Hoya could be seen at ringside yelling to Victor to fight smart, but Maidana had other ideas. His plan was to keep up the pressure and take advantage of any mistakes Ortiz might make.
Maidana's big chance came In the fifth round when Ortiz was aggressively trying to back him up. That left an opening for one of Maidana's big shots, which in this case was a big looping left hook. The punch crashed against the right eyebrow area of Ortiz' face and ripped open a sizable cut. Before the round was over, Maidana scored with another huge punch, a right hand to the head. Now, the area right below Ortiz' left eye started to rapidly swell. He was in bad shape.
The end came quickly in the sixth, when Maidana continued his attack. He landed both to the head and body. The final punch of the fight was a left hook to the body of Ortiz. Victor got up, but his right eye cut had gotten worse, and his left eye was closing from the left hook landed in the previous round. The referee walked Ortiz over to the neutral corner where the ringside physician could look at the cut. The ref could be heard saying to the doctor that the cut was bad, and "Let's stop it."
Victor was not objecting to the stoppage, and in post fight comments, Max Kellerman seemed to think that failure to object was evidence of some kind of exposed weakness on the part of Victor. Max especially felt that way when Victor commented that he didn't deserve a beating like he got. Max interpreted that to mean he didn't want to go out on his shield like a true champion, and that maybe Victor wasn't "too good to be true" as many thought before the start of this fight.
Or, it might mean that a young fighter got a little too excited in pursuit of a knockout, and got careless. The truth is Victor might have just expressed himself poorly when instead he meant that he shouldn't have gotten beat up the way he did, because he didn't fight a smart fight. He didn't make excuses and say the loss wasn't his fault. He didn't try to shift the blame to his trainers, or to anyone else. He said he was prepared and had a good game plan, but he just didn't carry it out.
Victor also admitted that he was really shook up after the second round knockdown, so much so that he didn't sense in the second round whether Maidana was seriously hurt or not. That makes it even more amazing that even when seriously hurt as he was that he was still able to drop Maidana twice in the round. That is a rare ability only champions or potential champions possess.
It's a safe bet most fans enjoyed this fight, and will still be big fans of Victor Ortiz, and will continue to believe in him and his potential to become a champion. He is very young and made some mistakes in this fight against an experienced veteran, who packs a wallop, and is very dangerous. Realistically, Victor can step back and review the film of this fight, and realize he fought a great fight, but got a little careless which cost him dearly. Can he avoid making the same mistake or mistakes in the future? Of course he can, and odds are that he will come back an even better fighter. Let's hope so, because he sure is fun to watch. Another sure thing about tonight's action……….Marcos Rene Maidana has made a lot of new fans. He is a helluva fighter and fun to watch.
Showtime featured Arthur Abraham, and he had a relatively easy time of it against. Mahir Oral, who showed lots of courage, but just didn't have the fire power necessary to be a serious threat to King Arthur. The fight was stopped at 1:23 of the 10th, but realistically the King could have stopped him much earlier. Every time he opened up, he would immediately have Oral in trouble. Abraham says he wants big fights, and realizes he needs to come to the USA to get them. He says he is ready and willing to do so. He feels confident he can continue to fight at middleweight, or move up to super if that's where the big fight might be.