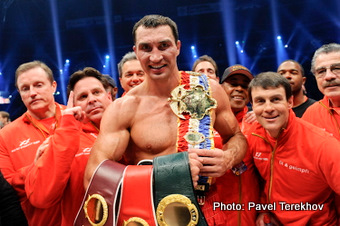 By Kelsey McCarson — Klitschko-Chagaev photo gallery — Wladimir and Vitali Klitschko are clearly the two best heavyweights in the world. Both consistently fight the best fighters in their division. They're incredible athletes, they hold PhDs in sports science, and both are heavily involved with important social and political issues. Take into account their high knock-out ratios, and the "KO brothers" seem a lock to be both popular fighters and well respected by hardcore boxing fans. It seems neither is the case right now.
Glass Chin or Late Bloomer?
The knock on the younger Klitschko brother, Wladimir, is that he has a glass chin. It sure seemed that way, early on at least. All three of his losses come by either KO or TKO. But when's the last time he lost? Wladimir Klitschko (52-3) is currently on eleven fight win streak, a streak he's had going for over five years. He's also avenged one of those KO losses by returning the favor (against Lamon Brewster)..
Still for all that, Klitschko struggles for recognition in the sport's most important division. Even as the IBF, WBO, IBO and Ring Magazine Heavyweight Champion of the world, Wladimir stays mired in relative obscurity for the Americas fight fan. And unless he gets into the ring with a big name American heavyweight fighter in the near future (does one exist?), he may just stay that way no matter how many more wins he has.
Yep, despite his less than granite chin, Wladimir has become the best heavyweight fighter in the sport behind his devastating one-two combination. He's smart, uses his tremendous height to his utmost advantage, and under the careful tutelage of Manny Steward he follows his fight plan to the tee.
No Heart of Just Too Smart?
Current WBC heavyweight champion Vitali Klitschko (37-2) faces a different type of scrutiny. While no one will ever doubt his power and ability to finish his opponents when they're in trouble (Vitali has posted an incredible 92.3 KO percentage), and most would agree he has a good enough beard, critics everywhere say the man just has no heart. Considering this is a man that fights other men in a ring for cash, this accusation may seem silly to some of my more mentally sound readers, but it something that persistently plagues Vitali.
But was it really lack of heart that gave way to Vitali's two losses? In 2000, while well ahead on the scorecards, Klitschko retired in his corner due to a shoulder injury. Does anyone expect anything less from someone with a PhD? Why would any intelligent human being risk their entire career by potentially doing something that could permanently damage their body?
And does Vitali's pleading with the referee to not stop his 2003 encounter the great Lennox Lewis mean he doesn't have any heart? I would remind you that Vitali looked to be on his way to victory against the future hall of famer in that fight, and that the deep gash on this face was one of the worst seen in heavyweight title fight history.
Time Will Tell
Big fights on the horizon against name opponents can only mean we'll find out if these champions ever get the respect they've earned. Wladimir is rumored to be considering WBA champion Nikolai Valuev or the undefeated Alexander Povetkin in his next fight. Meanwhile, Vitali is setting up a showdown with would be challenger David Haye or American hopeful Chris Arreola. However, any way you slice it, these names or others, both Klitschkos will be heavy favorites in their next encounters and rightfully so.
With each victory the Klitschko brothers move ever closer to solidifying their names alongside past legends. They are the best of their era and already sure fire hall of famers. Like it or not, Wladimir and Vitali Klitschko are ever inching towards all time great status. Maybe it's time for Americans to notice.
Kelsey McCarson, www.theboxingstop.com