By Shaun Murphy: Now I've finally watched Wladimir destroy the very dangerous Ruslan Chagaev, what's left?  Or more precisely, who can beat the Ring Champion now he seems to be hitting his peak? For this article, I've decided to write about the heavyweight division's top three prospects and their chances against the PH.D, W. Klitschko.
Chris Arreola – I, personally, like this Mexican-American prospect: he's honest and has the kind of in-your-face gallivanting attitude that I enjoy seeing in a heavyweight.. Shamefully, having a negative stereotype of Mexican heavyweights, I thought, Arreola wouldn't get very far when he first come on the scene. However, the ''nightmare'' has proved me wrong and he's become one of the leading prospects in the whole division.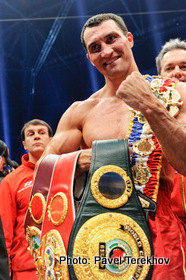 Unassailably, Arreola is a good fighter but he hasn't competed in the higher echelons of the division yet. Nevertheless, the ''nightmare'' has achieved two notable victories that indicate he's got an outside chance of taking Klitschko's title. Showing power, the Californian knocked-out the once-prospect Travis Walker in 2 rds.
Another notable victory was against the huge Jameel McCline: the Mexican-American, in his patented swarming style, stopped the reformed ex-con in 4 brutal rds. Due to his fleshy physique, reports of Arreola's lackadaisical attitude towards training have hit the boxing press. If true, the Mexican-American isn't going too far. In stark contrast, Arreola has remarked that he ''Goes the extra mile when he has too.'' Either way, Arreola's got a punchers chance against Wladimir. But nothing else.
 
Alexander Povetkin
I've heard it remarked, Alexander Povetkin is the greatest Super-heavyweight in amateur history. Surprisingly, after the Russian fought in the Athens Olympics ''Sasha'' wasn't sure if he was turning pro. Like many Russians, Povetkin wanted to enter into business; but he was persuaded to turn professional instead. At first, despite obvious talent, Povetkin found it difficult to adapt to the Professional style of fighting, but has now developed into a fine prospect with great technique, toughness and a high work rate.
However, so far, the Russian hero hasn't shown he could deal with a fighter of Klitschko's brilliance. At 6'2, and in frame size, comparatively small for a heavyweight, the Olympic Champion hasn't got the raw strength or power to even compete with Wladimir. Nevertheless, at this point, Povetkin's resume isn't too bad, as the Russian has defeated several good boxers.
Firstly, Povetkin proved he can deal with tall fighters when he outpointed the fringe-contender Larry Donald.  Among small heavyweights, Povetkin has shown he's very quick and possesses a high skill level. For example, in povetkin's last fight, against the fellow-Olympian Jason Estrada, the Russian displayed a solid skill-set and looked the best out of the current contenders. Looking on the Russian's website; it's obvious, Povetkin is very hungry to lock horns with Wladimir in their scheduled fight later in the year and he's very hungry. Unfortunately, Povetkin has a problem. Although the Russian is powerful, he's not a world-class puncher, and I can't see him landing the combinations needed to KO Wladimir. Sadly, for the Russian, because he lacks elite power, when he fights for the Undisputed Belt, I envision him being comprehensively outboxed then stopped.
 
David Haye
Wladimir's brother, the gigantic Vitali, when he challenged Herbie Hide for his WBO title, commented in a magazine about the Englishman's pre-fight rudeness, and said: ''the eyes never lie, they're the window to the soul and I could see he was scared''
Not surprisingly, Vitali won in the 2nd rd and I believe David Haye showed the ''emptiest vessel makes the most noise'' principle in the buildup to the fight with Wladimir.  I saw Haye's insecurity in one photo, in a football stadium, when the Londoner's eyes had the look of a man who knew he couldn't win. Everyone feels fear, don't get me wrong, but I knew from this photo, all of Haye's antics were hiding an insecurity that was tearing him apart. Very probably, if Klitschko would of meet Haye, instead of Ruslan Chagaev, he would have been knocked out, badly.
However, on a pure skill-level basis, the ''Bermondsey Bomber'' has many fine attributes and has the tools to beat the hurtable younger Klitschko. The Hayemaker's main attribute is extreme power, so if he could land his hardest single shot on Wladimir, he'd go over. Unfortunately, for Haye, the only way to overcome the height and awkwardness of W. Klitschko is to have a rock-hard chin and excellent head movement. Haye's got neither, and the mostly static Londoner would be a sitting target for Wladimir to dismantle. I'm sorry to Haye's fans, but I think he has very little chance of beating either Klitschko.
 
Summary:
I'm aware I've missed out on other fighters, but those three are the ones who are seen to have the best chance of dethroning the youngest Klitschko. However, I would've included Nickolay Valuev if he hadn't of refused to fight Wladimir when offered – the giant Russian was offered to fight Klitschko before Chagaev. On the horizon, Alexander Dimitrenko has been building memento but I feel he's a year off challenging for Wladimir's title.
From Klitschko's last display: the Ukrainian's speed, experience, world-class training and ring intelligence have combined to make an athlete that will dominate for the foreseeable future. W. Klitschko is too good for the current crop, but there's one man who could possibly beat him. And I think you know who that is…