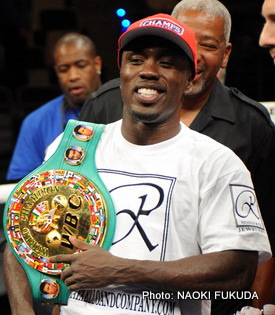 By Ron Scarfone at ringside – At the Hard Rock Hotel and Casino in Hollywood, Florida, Warriors Boxing and DiBella Entertainment promoted a fight card featuring two marquee matchups televised by HBO's Boxing After Dark. Boxing used to be very popular in South Florida. However, in the last couple of years, mixed martial arts has eclipsed boxing in the amount of events and attendance at those events. The mediocre MMA events continue to draw people in droves with a foolproof formula: tattooed guy versus tattooed guy multiplied by seven equals making money. For boxing to get people back in the seats, top talent fighting each other is necessary. This was proven when the Hard Rock Live Arena was nearly filled to capacity with over 4,000 people, including several celebrities.
The main event was a world championship with Andre Berto of Winter Haven, Florida making his third defense of the WBC welterweight title against IBF junior welterweight champion Juan "Iron Twin" Urango of Cooper City, Florida. The co-main event was a WBC junior middleweight eliminator with former IBF welterweight champion Kermit "The Killer" Cintron of Reading, Pennsylvania against Alfredo "El Perro" Angulo of Coachella, California..
Although Berto's father is a mixed martial artist instructor and former fighter, Berto wanted to become a boxer. His success in the ring shows that he made the right choice. Berto represented Haiti at the 2004 Olympics in Athens, Greece. Berto won a razor-thin decision against Luis Collazo in his previous title defense. The southpaw Urango was born in Colombia and had a successful amateur career winning the vast majority of his fights. Urango trains in Puerto Rico with Evangelista Cotto who is Miguel Cotto's uncle. Urango lost the IBF junior welterweight title to Ricky Hatton, but regained the IBF belt when he defeated Herman Ngoudjo. Urango was moving up in weight class for his bout against Berto, but would he be outclassed as well?
The bout began with an unintentional clash of heads in round one. Berto used his fast hands and feet to deal with the relentless pressure of Urango. Berto was especially effective with the right uppercut throughout the fight. Although Berto has won most of his fights by knockout, Urango was not going to be a victim of that. Urango has never been knocked out before and could be called "Iron Chin" instead of "Iron Twin." Berto simply outboxed Urango who could not get inside often enough to connect. Almost all the rounds were virtually the same and the three judges saw it that way as well with scores of 118-110, 118-110, and 117-111 in favor of Berto by unanimous decision. It was a dominant, but not scintillating, performance by Berto which is why he will likely have to wait before getting opportunities against the elite of the welterweight division such as Floyd Mayweather Jr., Miguel Cotto, and Shane Mosley. There was no risk of Urango losing his junior welterweight belt and he will return to that division. Berto remains unbeaten with a record of 25-0, 19 KOs whereas Urango falls to 21-2-1, 16 KOs.
The co-main attraction was a highly anticipated matchup between Cintron and Angulo in an eliminator. Both were considered to be among the top ten in the junior middleweight division and the winner would earn a title shot. Puerto Rico and Mexico are known for producing great boxers. Cintron's previous fight was a draw against WBC junior middleweight champion Sergio Martinez in which many believe that Martinez deserved to win. The Puerto Rican Cintron needed a victory, but that was not going to be easy against the unbeaten Angulo of Mexico who fights with a lot of heart. The fight between Cintron and Angulo was an action-packed bout that pleased the spectators in the arena. Cintron dominated early, but seemed to be running out of energy in the fifth round as Angulo took everything Cintron had to offer in the early rounds and still came back for more. Fortunately for Cintron, he got his second wind in the second half of the bout.
Angulo was visibly upset by an unintentional low blow from Cintron in the seventh round. The fight continued in the later rounds with both men landing flush shots including a right hook to the head by Angulo that hit Cintron as the bell rang to end the eighth round. Angulo got in Cintron's face and glared at him at the end of the tenth round to let Cintron know that he was still there and the outcome of the fight was up for grabs. During the last ten seconds of the twelfth and final round, both were throwing big bombs and it could have been a loss by knockout for either of them. However, they were still standing when time ran out. The three judges' scores were all identical at 116-112 and Cintron won by unanimous decision. Cintron had a height and arm length advantage over Angulo and this, combined with his lateral movement, helped Cintron to secure a victory. With the win, Cintron earned a rematch and title shot against Sergio Martinez. Cintron improved his record to 31-2-1, 27 KOs. Angulo suffered his first pro defeat and falls to 15-1, 12 KOs.
NABA and NABF light heavyweight champion Yusaf "Mack Attack" Mack of Philadelphia, Pennsylvania faced former NABO light heavyweight champion DeAndrey Abron of Youngstown, Ohio. Mack was always in command and control of this bout. The fight ended in the fourth round as Abron was knocked down two times. An onslaught of hooks by Mack, including a lethal left hook to the body, knocked down Abron for a second time like a Mack truck colliding with a compact car. Abron got up, but was adversely affected to such a degree that his cornerman stood up on the ring apron to get referee Tommy Kimmons' attention to stop the fight. The bout was stopped at 1:46 of the fourth round. Mack won by TKO and improved his record to 28-2-2, 17 KOs whereas Abron falls to 15-5, 10 KOs.
2004 Olympian Wilmer Vazquez of Venezuela faced Andrew Greeley of Monroe, Louisiana in the heavyweight division. Vazuquez had the words "Latin Hammer" on the back of his trunks. Ring announcer Jimmy Lennon Jr. said that Greeley was a "veteran of 42 professional bouts." This was done to hide the fact that Greeley's record was an unremarkable 14-26-2. Vazquez towered over Greeley like Goliath fighting David, but Greeley was the far busier fighter and landed frequently with left and right hooks. A big right hook by Greeley in the fifth round surprised the spectators in the arena. However, the judges' scores were even more surprising as Vazquez was declared the winner by majority decision. Two judges scored it 60-54 and 58-56. One judge scored it 57-57. The spectators booed after the decision was announced as it was obvious that Greeley should have been the victor. Vazquez improved his record to 9-0-1, 5 KOs whereas Greeley falls to 14-27-2, 8 KOs.
Another heavyweight bout featured Tor Hamer of Harlem, New York against Samuel "Showtime" Brown of Fort Campbell, Kentucky. Hamer walked to the ring with the theme song from The Terminator movie playing in the background. Hamer layed down the hammer in the first round. A left hand knocked down Brown just before the round ended. Brown got up, so the fight continued in the second round. However, Brown was knocked down twice in that round with a flurry of punches and a second time near the ropes. Referee Telis Assimenios waved the fight off at 1:10 of the second round. Hamer remains undefeated and improved his record to 6-0, 5 KOs whereas Brown falls to 4-6-2, 0 KO.
19-year-old Jonathan "Montequilla" Gonzalez of San Juan, Puerto Rico faced Laquel "The Flash" Fleming of Tampa, Florida in the welterweight division. A 2008 Olympian, Gonzalez unloaded a barrage of punches to end the fight in a flash. Referee Telis Assimenios stopped it at 1:45 of the first round while Fleming was still on his feet. Gonzalez won by TKO and improved his record to 3-0, 3 KOs. Fleming falls to 1-3-2, 0 KO.