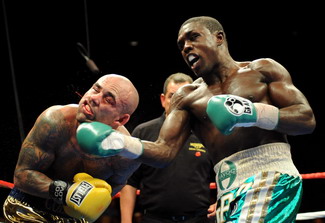 30.05.09 – By Vivek Wallace: Tonight, the world of boxing gets a double dose on live TV as HBO presents action between four men with much to prove. In the first showdown, we get the opportunity to see young Mexican warrior Alfredo Angulo (15-0, 12KO's) square off against the biggest challenge of his career thus far, powerful, yet unproven, Puerto Rican Kermit Cintron (30-2-1, 27KO's). After that showdown is settled, fight fans get the opportunity to watch another highly-talented-yet-highly-questioned figure attempt to prove himself, as Haitian welterweight phenom Andre Berto (24-0, 19KO's) defends his WBC strap against Colombian power puncher Juan Urango (21-1, 16KO's). With little time before the first bell sounds, we take a glimpse at "Keys to Victory", "Four" critical angles to explore in each fight, and Official Predictions:
Juan Urango: (Keys To Victory
For Juan Urango, this fight will come down to three things. Two in which he has shown much of in the past (power and chin), and one element in which he has shown zero (defense).. Ever since making the transition to Evangelista Cotto, Urango has suddenly turned the corner on certain aspects of his game that impeded progress earlier in his career. The power to the body and head have been well chronicled, and the ability to take power shots have as well, but the key to this fight will undoubtedly all come down to his defense. The ability to take a punch (which he can) means very little, as we all know the punch you DON'T see coming is the one that does the most damage. Urango will need to either slip more punches than he ever has or simply close the distance by smothering Berto, not allowing him to load up those power shots. If Urango can close the gap and keep the fighting distance close – like he loves to – Berto will be forced to fight very uncomfortable. As Luis Collazo showed us, Berto has major issues with body shots and closeness, so if Urango can smother the young stud and tire him out, fight fans WILL BE in for a shocker.
Andre Berto: (Keys To Victory)
For Andre Berto, this fight could very well come down to an element we haven't seen much in him as well. That element is footwork, coupled with backwards lateral movement. It's no secret that standing in the pocket and trading shots is not Berto's forte, therefore, the young champ will need to use the ring in a Mayweather-esque fashion, fighting effectively on his backfoot and using angles to keep the pressing southpaw fighter off balance. If Berto can master that aspect and keep his opponent guessing, his combinations and speed should lead him to an easy decision on points, with or without a few rough patches that may even include seeing him saved by a bell in the middle rounds.
Kermit Cintron: (Keys To Victory)
The key for Cintron tonight all comes down to preparation. This is a very similar matchup to the same Antonio Margarito that Cintron lost to twice, only this version is a bit bigger and actually more fundamentally sound. That being said, perhaps the biggest key for Cintron is not quite the physical aspect as much as the mental. Not only from the standpoint of demonstrating a bigger 'heart' in the face of adversity, but also in terms of his ability to think under that same adversity. After failing against Margarito twice, a less experienced version is a perfect test relative to his ability to adapt to that style. Cintron will need to use the cushion provided in the longer reach of a solid jab, and similar to the key for Berto, Cintron will need to demonstrate a much better ability to fight going backwards in angles, taking away the clear and concise path that a typical come-straight-ahead fighter like Angulo pursues. The other major key for Cintron is ACTION! If Cintron can keep his hands moving and touching Angulo anywhere possible above the belt, there's no doubt that with his power he can soften the young warrior up enough to pull the curtains late in the fight.
Alfredo Angulo: (Keys To Victory)
The key for Angulo once he gets used to the shock of some intense leather absorption will be pressure. The old adage states clearly that "pressure burst pipes", and Cintron has been the proverbial "busted pipe" on at least two occasions of his career to a man who walked the same blueprint in the ring. Angulo will need to do any and everything to keep Cintron uncomfortable, knowing that something 'wicked' will be landing from an unseen angle at any given moment. Constant pressure, constant power, and a relentless approach all but guarantee Angulo a victory if he can avoid that one fatal shot that we all know Cintron has in him.
FOUR TO EXPLORE….
'Created A Monster': Seems Evangelista Cotto just can't shake his nephew, Miguel. Seems that despite being in the corner of a different fighter, we'll end up seeing much of the same, as sparring sessions last week revealed Urango in pure Cotto-esque form. With much to prove and a national audience viewing (to include Miguel), there's no secret that both Urango and Evangelista feel a certain pressure to seize the moment. A win here from Urango and suddenly the plot thickens, as a win over Clottey for Miguel could setup a very intriguing unification bout between Evangelista's new pupil and the monster he created many moons ago!
'Boyz to Men': The trainer of Andre Berto said recently that "it's time to shine, or turn the lights off". For his young pupil who many around the sport feel has been carried along rather gently, tonights fight (which will be no walk in the park) is stated to be the final fight before Berto targets the "big boys". Takes quite a bit of balls and a ton of confidence to make such a statement, but since he said it, should we look for Berto to come out and do exactly that……make a statement? Would be nice.
'Kermit the Cat': Despite only having two losses and one draw that should have been, Cintron seems very "cat-like" in the sense that it seems to take 9 lives to remove him from the sports contentious equation. Clowned for a couple rounds by journeyman Jesse Feliciano, showed up by Sergio Martinez, embarrassed twice by Antonio Margarito, and taken to the brink by David Estrada, yet with so many questions surrounding him, Cintron marches on. Can he survive another questionable performance? And an even better question, will he allow it to happen?
Official Official?: In both fights tonight the third man in the ring could be the make or break element. Any time you have those vintage 'stalk-til-they-can't-walk' type fighters like we do in both Urango and Angulo, you have to wonder how the referee could affect things. Will the third men in the ring tonight allow things to get rough and rugged, or will there be a lot of separating and breaking despite no holding? This one element could very well dictate the winners in the end.
PREDICTIONS:
Cintron/Angulo: In this fight I think experience will play a very pivotal role. Cintron has the edge in that department, but how he uses it will be key. Angulo's offense is always clicking on all cylinders but he can be hit, and he never has by a fighter with Cintron's power. Angulo is highly susceptible to the uppercut and Cintron throws it like Dan Marino on fourth down – nothing but heat! For once, I see Kermit finally getting the lifeline he needs in a career gone bad.
(Cintron – Late Stoppage)
Urango/Berto: Both fighters aren't quite battle tested, but of the two, Urango is the only to actually have tested his mettle against a world class top tier contender in his respective division (Hatton). Ricky's ability pales in comparison to that of Berto's, but that was a few years ago, and now, Urango owns a much better set of skills and has a rough southpaw style that I think actually gives him an edge.
(Tossup – Cintron defeating Angulo will surprise many, but if there's a true shocker tonight, it's in this fight!)
(Vivek Wallace can be contacted at: 954-292-7346, vivexemail@yahoo.com, Facebook or Myspace)