Here are the weights from Helsinki: WBA Heavyweight Title: Ruslan Chagaev (Uzbekistan, "champion in recess"): 102,3 kg vs Nikolai Valuev (Russia, champion): 143,1 kg
WBA/WBC Female Welterweight Title: Amy Yuratovac (USA): 66,2 kg vs Cecilia Braekhus (Norway, champion): 65,6 kg..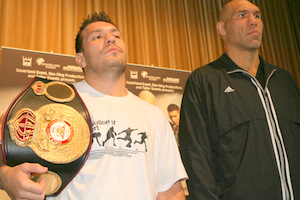 Heavyweight, 8 rounds: Juho Haapoja (Finland): 105 kg vs Lamon Brewster (USA): 106 kg
Another celebrity has been confirmed for the first-ever heavyweight title fight on Finnish soil. Living legend Evander Holyfield will arrive on Friday evening to watch the rematch between Valuev and Chagaev from ringside. The "Real Deal" lost to the Russian Giant on points in front of a sell-out crowd of 12,500 fans in Zurich last December.
The "First Lady" Cecilia Braekhus (11-0, 2 KOs) has sent a special message to boxing fans all over the world via Team Sauerland´s official webpage, www.boxing-online.com. In her English video blog, she speaks about her first WBA/WBC title defence against Amy Yuratovac and what it means to her to fight in Scandinavia.
Former WBO heavyweight champion Lamon Brewster and Scandinavian heavyweight hopeful Robert Helenius caught up with the Finnish media today during a press conference at Hartwall Arena. In his second fight for Team Sauerland, Brewster (35-4, 30 KOs) will take on local fan favourite Juho Haapoja (9-2, 7 KOs). The 35-year-old American, who patiently answered all questions from the Finnish reporters, said he was thrilled to be in Helsinki. "Coming from where I came from I never
thought I would see a place like this," he said. "It has always been my dream to get around and see a lot of different places around the world. It is great to be here and I look forward to Saturday night."
Brewster stated he has big plans for the future. "Together with Team Sauerland I want to fight for a world title again soon," he added. "I am in the best shape of my life. I am better than I ever was. My opponent is a tough guy but I want to be world champion again and I want to give the fans a good show on Saturday."
Also on the undercard of the WBA heavyweight title fight between Nikolai Valuev and Ruslan Chagaev is Robert Helenius´ clash with Scott Gammer. In what will just be his eighth professional bout, the "Nordic Nightmare" (7-0, 3 KOs) looks to defeat his experienced opponent (18-3, 9 KOs) in front of his hometown fans. "Gammer is a strong fighter, the toughest one I have been in the ring with, but I am confident of success," Helenius said. The 2006 Vice European Amateur Champion, who has been with Team Sauerland for one year, has big plans. "I want to fight for a title soon and this will be my first real test." Coach Ulli Wegner has praised the Scandinavian´sdevelopment. "He has done very well in practice since joining us one year ago," he said. "Fighting Gammer will be a big challenge but Robert is ready. We want to give Finland a real heavyweight champion soon so we don´t want to waste any time with weak opponents. Robert will prove his talent on Saturday night and please his fans, that I am sure of."
Remaining tickets for the hotly-anticipated fight night at the Hartwall Arena, which is organised by Tailor Events and P3 Boxing, are available at www.lippu.fi as well as +358 600 900 900. VIP packages can be purchased at www.revengeofthegiant.com.