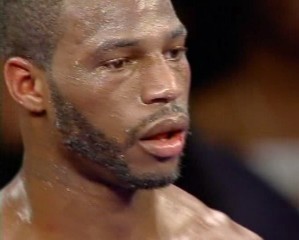 by James Slater – Last week, whilst being interviewed on Setanta Sports, former IBF light-heavyweight champion Clinton Woods said he would be having a "juicy" fight in the coming months, but he was not allowed to officially announce the bout he was talking about for a week or two. Now, in light of IBF 175-pound king "Bad" Chad Dawson opting to vacate the crown, we know what juicy fight Woods was referring to.
It seems a number of people in the know fully expected Dawson to drop his IBF strap – Woods and his manager among those who were in the know – and Clinton was aware he would step in against the next highest IBF light-heavyweight contender to himself, to fight to decide the title. What we have now then (although it has yet to be 100-percent officially announced) is Woods Vs. Tavoris Cloud for the vacant belt..
It is a shame when a gifted and hard-working fighter such as southpaw Dawson – a man who holds fine wins over good men like Tomasz Adamek, Glen Johnson and Antonio Tarver (X2) – has to give up his world title so as to get big, T.V network-approved fights. Years ago, a world title really meant something, and if a fighter wanted to prove he was the best he would give almost anything to get a shot at the champ. Oh, well, there's no point in yearning for the good ole days!
Dawson has dropped the world title, his second in fact, and he now is apparently close to a rematch with former foe Glen Johnson – a fight that does make the TV people happy. So we have the quite appealing prospect of 37-year-old and tough-as-nails former champ Woods taking on young buck and strong as a bull contender Cloud some time in the summer. Who will pick up "Bad" Chad's unwanted gold?
Cloud has vented his anger at having been forced to remain inactive since the career-best win he scored last August, when he became the first man to stop the unimaginably hard Mexican that is Julio Gonzalez, and who can blame him? A talented, exciting and hugely ambitious contender made to sit idle for nine months and counting? That's just plain wrong. Anyway, the heavily-muscled 27-year-old from Tallahassee, Florida who is currently 19-0(18) will now get the chance to take out his anger on Sheffield, UK man Woods.
Woods, 42-4-1(24) rebounded well after his disappointing loss to Antonio Tarver, coming close to shutting out the always dangerous Elvir Muriqi back in Feb. of this year. Hungry again after switching trainers, the former champ might just have something nasty to say in reply if Cloud does try and take out his frustration on him. An underrated fighter if ever there was one, "Sheffield's Man of Steel" should not be judged solely by his showings against Tarver, and before that Roy Jones Junior. Yes, he lost those fights, but what about the wins Woods has on his resume? The aforementioned Gonzalez (who, by the way, Woods may have softened up some for Cloud), the also aforementioned Johnson and the then unbeaten Rico Hoy are three men Clinton has sent home with a loss added to their records.
Cloud may be the younger man and he may be the bigger puncher statistically, but he has not yet met as dangerously deceptive a man as Woods. Also, Tavoris, at 5'10" will be giving away quite a bit of height against the 6'2″ Woods. Added to this, is the still undecided location the bout will be fought at, and the exact date. It just may be that the 37-year-old will wind up having home advantage, and Cloud's recent inactivity cannot be dismissed as a factor.
A very possible scenario about to unfold is one that sees the man many fans wrote off after his admittedly poor showing against Tarver managing to grab himself another spot atop the IBF 175-pound throne. It might be a title the rightful champion chose to discard, but, hey, someone has to pick it up. Good luck to both Woods and Cloud as they attempt to do so.