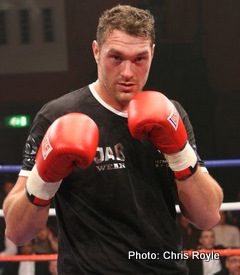 28.05.09 – by Andrew Walker – Tyson Fury the latest in a long line of heavyweight prospects is now 6 – 0 – (6) just six months into his professional career. Those of us that reside in the UK have been able to witness his career to date, live on the free to air digital channel ITV4. In each of his fights he has improved technically and his fitness level seems to be improving also. Tyson Fury has only fought a "low" standard of opposition so far in his first six fights (and wins) and therefore it is meaningless to judge him fairly right now. But that opposition which he has so effortlessly dispatched with is of the level that his domestic rivals would not be facing until maybe their eighth of tenth fight?
No one can honestly argue that Tyson Fury and his promoter Mick Hennessy are not taking each fight with a view to stepping up the level of competition every time so that Fury is improving as he is faced with stiffer opposition. This is a risky but more professional strategy in my opinion, rather then look to pad out his record with "stiffs" and then take a big step up in class in a sink or swim fight (easiest route to a title fight for the least amount of expenditure) a route that is favoured by Britain's more famous boxing promoter.. If Tyson Fury keeps busy and keeps improving and winning at his current rate then I see no reason why he could not fight for a version of a heavyweight world title by 2011.
Even now I think Fury would be a competitive match for any other British heavyweight out there on his raw talent alone after just six pro fights. As long as he is not avoided (Fury and his team will not wait around for fights as they want to keep busy) then he could well be a British heavyweight champion before the end of this year! I'm sure Fury would like to own a Lonsdale belt outright so three defences of the British title should have him ready for the next level up which is the European strap. Beating the likes of Sprott, Williams and Skelton would be excellent preparation for a European title tilt as all three of them have good experience of campaigning at that level.
Once (all things going to plan obviously) this has been accomplished then I see no reason to defend the European title for too long as Fury should by then be in a ranking position with at least one of the main four boxing bodies (WBC, WBA, WBO & IBF) to challenge for a title. By then Fury might still only be twenty three or twenty four years of age and would have plenty of time and opportunity to both unify the titles and make some serious money in his career. Now to me that sound more like a plan then fighting twenty five or so "easy" fights and then hoping you can land a shot at a world title before you are found out or wanting.
Now there are a lot of ifs, buts and maybes to overcome before any of that becomes a reality as injuries or just one slip up in the ring could see all of that derailed overnight. But for me it is just refreshing to see a boxer and his promoter doing things the right way despite being a touted prospect. A lot of boxers spend too long in the early part of their careers treading water, padding their record, being over protected and learning little in the long run. Kevin Mitchell springs to mind. I really like Mitchell and think he is at the very least European class if not a potential world champion. But his injury aside he has spent far too long fighting "stiffs" relying on his power and chin to win fights. I would suggest he learned more in the Johanneson fight then he has in the rest of his career.