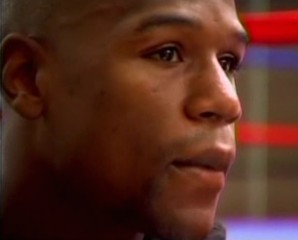 Las Vegas, NV (May 2, 2009) – Sixteen months after one of the greatest fighters ever to grace the sport of boxing had his last fight and subsequently announced his retirement, the former six-time world champion and 2007 Boxing Writers Association of America Fighter of the Year, Floyd "Money" Mayweather announced his return to the sweet science at a press conference today in Las Vegas.
"When I made my decision to retire last year, I felt like it was time for me to go as I had been boxing my whole life and felt like I had done all that I could do," said Mayweather, whose success and popularity in and out of the ring made him a household name and one of the sport's biggest attractions. "But after I had time to rest, enjoy life with my family and friends, I started to miss the competition and my fans. I am ready to return to boxing and give people another dose of the Mayweather experience.."
Much to the surprise of the sports world, Mayweather left the ring at the top of his game, having amassed an undefeated professional record of 39-0, 25 KOs and championships in five weight divisions. The then-recognized best pound-for-pound fighter in the world was coming off of back-to-back 2007 mega-performances with his historic May 5 victory over Oscar de la Hoya – in the highest grossing pay-per-view event in all of sports history – followed by his stellar December 8 tenth round knockout over the previously undefeated Ricky Hatton. These fights catapulted Mayweather near the top of the all-time money-earning list in the sport.
That same year, Mayweather's star-power and crossover appeal were reaching new heights. His appearances on ABC's Dancing With The Stars and his main event performance in the WWE's WrestleMania XXIV helped to elevate his worldwide recognition to even higher levels. Proof of Mayweather's staying power came with his recent appearance in an AT&T High-Speed Internet commercial that has been showing nationally, including multiple airings during CBS's coverage of this year's Masters Golf Tournament, despite him having been a retired athlete.
More importantly, while Mayweather stepped away from the sport, the world's top fighters continued to ask to fight him and fans everywhere were asking for him to come back to the ring.
"I retired from the sport, but it was as if I had never made an announcement," said Mayweather. "Fighters were constantly calling me out and fans would stop me all the time and ask me to make a return. It feels good to be back and trust me, I will deliver the same electrifying performances I always have throughout my career."
Mayweather makes his return against the dangerous and highly-touted five-time world champion in three weight divisions Juan Manuel Marquez, who is rated among the top fighters in the world today and considered to be a very aggressive selection by Mayweather for his first challenge after his long layoff. The bout will take place on Saturday, July 18 at the MGM Grand Garden Arena in Las Vegas and will be broadcast live on HBO pay-per-view
"I am not wasting any time with a tune-up fight," said Mayweather. "I'm going straight to the top. Marquez called me out immediately after his victory over Juan Diaz in February and now he gets his wish. What he is going to find out is that you should be very careful what you wish for."
Mayweather continued, "the rest of those fighters who called me out can get in line too because they are going to get their chance…one at a time and slowly but surely. It's going to be a great return and a wonderful 'experience.' Don't blink – I'M BACK!"