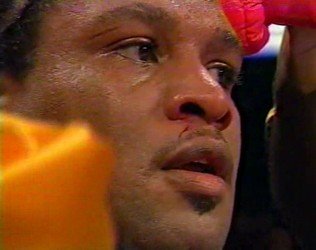 30.03.09 – Exclusive interview by James Slater – Former WBO heavyweight champion Lamon Brewster is hoping to get back in the ring this coming May and he hopes also that after two more "rust-removing" bouts he will be once again challenging for a world title. Brewster is anxious to get a third fight with Wladimir Klitschko, yet he also continues to mention Irish tough guy Martin Rogan as a possible opponent for this year. Very kindly taking time out to speak with this writer for a second time in the month of March, "Relentless" had the following things to say.
James Slater: It's great to speak with you again, champ. Is there any word yet on your next fight?
Lamon Brewster: I'm looking at May 30th. That's the date I hoping to be fighting on. I want to say, I'd really like a fight with Martin Rogan. He's getting a big name right now, he's from Ireland and I think that would be a humongous fight. I'm with Sauerland [promotions] now and I hope that fight can be made. It would be great to do it in the U.K..
J.S: That sure would be an exciting match. Would you like another tune-up before meeting Rogan though?
L.B: I just want to do it the right way this time. When I fought Wladimir Klitschko the second time I was no way near ready, I'd been laid up recovering from eye surgery just days before that fight. This time, I want to make sure I'm ready before going for the title. I want another two fights that will get the rust off me properly before I go for the title.
J.S: Have you been training today?
L.B: I will be training this evening. I'm actually down in Texas right now, visiting a real good friend of mine. I'll also be checking out a couple of fighters while I'm here. Also, my idol, Orlando Canizales lives not too far from where I am right now, and I was hoping to meet up with him while I'm here. I trained under that dude back when I was with Jesse Reid, back when I was starting out.
J.S: Orlando has just been elected to The Hall of Fame, hasn't he?
L.B: Yeah! Oh, man he deserves it. Orlando is one of my all-time favourite fighters.
J.S: Fans like to see how top fighters such as yourself see upcoming fights going. What is your pick for Chris Arreola-Jameel McCline?
L.B: Oh, that's a hard one to say. Jameel McCline has a lot of experience, but then again Chris Arreola has a lot of tenacity. I think McCline punches harder, but it's really a matter of who wants it most. I think Arreola will be more determined, but anything can happen in that fight.
J.S: And Paul Williams-Winky Wright?
L.B: I'm a huge Winky fan. I really don't know Paul Williams, so I've got to put my money on Winky. He's a great fighter, even though he's coming off that layoff. Unless Paul Williams has something up his sleeve we don't know about I can't see Winky losing.
J.S: And finally, Wladimir Klitschko-David Haye? Has Haye got a chance in your opinion?
L.B: No! Wladimir Klitschko is the best heavyweight in the division right now – until I get this rust off and fight him again. Haye has been KO'd by smaller guys, and Wladimir is a big puncher with a longer reach [than Haye]. I can't see Haye winning unless Wladimir just doesn't train for the fight and shows up not in shape. Also, Haye is a guy coming up to heavyweight, Wladimir is a natural-born heavyweight. I'd have to say, Wladimir has a 99-perecent chance of winning in my opinion. I guess you could give Haye a one-percent chance.
J.S: Well, it's been a pleasure speaking with you, champ. Best wishes for your next fight in May.
L.B: Thank you. I hope I can continue to inspire people when I'm boxing.