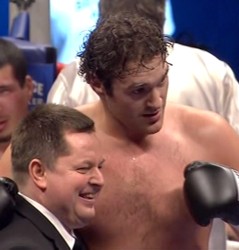 Up and coming British boxer Tyson Fury reckons he'll be a bigger success at heavyweight than fellow Brit David Haye. Fury faces Russia's Daniel Peret at the Norwich Showground, Norwich, in only his third professional fight this Saturday. In an interview on this Thursday's Steve Bunce Boxing Hour on Setanta Sports News Fury said that Haye stood no chance at heavyweight, calling the Hayemaker a "baby". He said: "David Haye is a cruiserweight and he's not a big man. He's 6'2" and 15 stone. I'm 6'9" and 18 stone, that's a real heavyweight.
"In a couple of years David Haye won't stand a chance. That's if he gets past Klitschko."
A confident Fury said that Haye would stand no chance if the two were ever to clash in the ring. He added:
"It would be no contest to be honest. I know that's a bit big headed but I'm improving all the time. So in another couple of years I'll be at his level. So we'll see if the fight happens."
See the Tyson Fury interview in full on the Steve Bunce Boxing Hour this Thursday at 2pm only on Setanta Sports News.
Barker wants bite at Duddy
Commonwealth middleweight champ, "Dazzling" Darren Barker has challenged John Duddy to earn a shot at World champion, Kelly Pavlik.
Barker's promoter Mick Hennessy has offered the New York based Irishman the chance to challenge Barker for his Commonwealth title on the undercard of the Carl Froch – Jermain Taylor fight on the East Coast of the U.S. on either April 18th or 25th April and it's a fight Barker would relish.
"John's obviously a very popular guy over there," said Barker. "But I believe there's more to being a fighter than selling tickets and while there is a talk of a fight with Kelly Pavlik I don't think John has earned that chance yet. I'm a traditionalist and I believe you should earn those kind of fights in the ring and not in the box office.
"I'd love to defend my title against Duddy. I think it would be a cracking fight with two unbeaten guys from this side of the Atlantic going at it on that side of the pond. I know that Mick Hennessy has spoken to his management and while they were keen to fight on the card I don't think they're all that keen on the idea of fighting me."
The London stylist believes Duddy's current reputation is the product of careful matchmaking and clever marketing and questions if there is any substance behind the hype.
"To be honest John's opposition to date has been very much hand picked, fighting a collection of guys that were either well past their best or weren't much to begin with in the first place. If he steps up and fights me he'd face a very different type of opponent. I believe I'm a world class fighter and I think by the end of the year I'll be knocking on the door of a world title fight myself but I want to make sure I've earned that right first."
Promoter Mick Hennessy said, "I've had talks with Duddy's management and they're looking to fight in late April but I'm not interested in watching Duddy fighting another faded veteran and I find it hard to believe that his own fans are either.
"I think it's time Duddy stepped up to fight a dangerous, unbeaten fighter and prove he belongs at world level. I'm offering him the chance to do just that in April against Barker in what would effectively be a home town fight for Duddy."