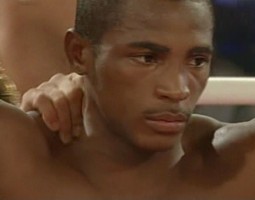 by James Slater – There are a number of Cuban boxers doing their stuff right now that are both exciting and definitely ones to keep an eye on in the future – featherweight Yuriorkis Gamboa and heavyweight Odlanier Solis to name a couple. However, 25-year-old light-middleweight southpaw Erislandy Lara (also promoted by the Arena-Box group) may be the best of the lot. Fans who tuned in to Friday Night Fights last week will know a little bit about the talents of this Cuban defector, and these same fans will surely want to see more of the lightening-quick puncher very soon. Count this writer in as one of them!
Born in April of 1983, the southpaw made a name for himself as a fine amateur boxer, winning a welterweight gold in the world amateur championships of 2005. Two years later, wanting to make it as the fine pro he knew he could be, Lara attempted to escape his surroundings; only to be caught by Brazilian authorities and sent back to Cuba. Upon returning home Lara was banned from boxing at all. With no choice but to attempt defection again, Lara this time made it, by speed boat, to Mexico. He now lives in Germany and is well on his way towards becoming a big star at 154-pounds.
It's still early days for Lara, of course, but the 25-year-old's promise is undeniable. Turning pro in July of last year with a UD over four rounds, the prospect has not been taken out of the first round since. Blessed with natural power, speed and timing, Lara has thus far been thrilling to watch. Having had over 90 amateur bouts, winning most, Lara is already a somewhat experienced fighter. As with Gamboa, we don't know how his chin will hold up when he gets in there with the elite of his weight class, but Lara figures to be yet another fighter who will bring the fans unmissable action.
Those who saw the way he despatched the then unbeaten (albeit over matched) Keith Gross last Friday will agree there is definitely a buzz about the Cuban. Hungry and full of self belief, the 4-0(3) up-and-comer displayed his blurring hand speed and his lethal punching power. Gross never knew what hit him. As gifted as he is and as dangerous as he is, it will be no easy job getting Lara fights. Putting him in with live bodies will do him no good at all, but his promoter may have trouble finding decent fighters who are willing to risk a painful loss in taking him on.
The way he's going in these admittedly still developing days, however, Erislandi Lara is a fighter who will be on the lips of many fight fans whoever he gets in the ring with.
They can't arrange his next bout soon enough!