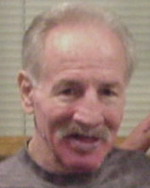 By Ted Sares — If he didn't get sent away, he would have been a champeen, and a good champeen. — An old-timer
Any boxer named "Guy," I gotta knock out. –Bobby Halpern
Once Halpern was a very hot pugilistic property, an East Bronx boy and a credit to a neighborhood famous for its fighters, such as Steve and Mike Belloise, Tami Mauriello and Jake LaMotta. — Taken from Paul Zimmerman, December 5, 1977, "Making a Comeback From Nowhere."
Bobby with a big smile on his face, shook my hand and pulled me into him. He then hugged me and said "…hey kid… they're making a movie 'bout me and I want you in it… you're the only guy to ever beat me like the way you did… so I want you in it." (Halpern to Casale in 1978) –Guy Casale
I hope that Bobby is still around and doing well. My manager, Nick [Baffi] , after I won that bout always said "Rock, every time they mention his name they have to mention yours, things are gonna happin with 'dis guy." Boy, was he right. –Guy Casale
It was May 1978 and I was at the Garden along with 7,000 other people to watch Bobby "The Hebrew Hammer" Halpern fight Guy "The Rock" Casale. Halpern, 44, had a strong and imposing body built up with up prison weights; he was a short, 192 pound, thick-chested, thick-armed brawler with plenty of scars and a menacing aura. When I first saw him, I thought, "Whew, this tough guy could make a train go down a dirt road." His record was 8-3 with 5 KOs and only 42 rounds boxed. Casale was 7-1-2 coming in.
Halpern lost to Tom McNeely (yes, that Tom McNeely) in his third professional fight. The four-rounder was also held at Madison Square Garden and the date was December 19, 1958. Then, in 1959, he was sentenced to 20 years to life for robbery, grand larceny, assault and kidnapping. He spent hard time in Sing Sing, Dannemora, Attica and finally Green Haven (perhaps the toughest of the four) before he was paroled in 1976.
Upon his release, he launched a comeback and quickly became a national sensation. He was stopped in two by future champ Trevor Berbeck, but then racked up several victories. He was then stopped by John Kane, but KOd Kane in the rematch. Previously, he iced Johnny Blaine in two consecutive bouts and they were particularly brutal knockouts as Bobby stalked the terribly outmatched Blaine like he was on the Serengeti. Probably the highlight of his career was when he decisioned David Conteh, 10-1 coming in, on April 19, 1977. Conteh finished 13-13, but would upset Bunny Johnson, 49-9-1, in 1978.
But it was Bobby's background and aura that attracted the crowd. This half-Irish half-Jewish tough guy was a legendary street fighter and member of the notorious Iron Dukes gang. Growing up in the Little Italy section of the Bronx, he also boxed amature, won a 118-pound New Jersey Diamond Gloves championship when he was just 15 and also a New Jersey state title. In a 1977 Sports Illustrated piece, he estimated he had close to 200 amateur bouts and had "lost about 10." However, I could not confirm that. In and out of prison, Bobby found trouble like bees find honey He was busted for a stickup and sentenced to four years in Elmira. Upon getting out in 1958, he resumed the two things he knew best: boxing and crime.
"The "Rock"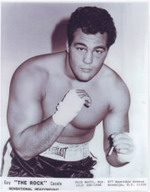 Guy Casale, the point counterpoint to Halpern, was a slick but not heavy handed heavyweight who reached the NYC Golden Gloves Finals in 1977 at a time when other outstanding fighters by the name of Green, Moore and Ramos also were around. Bearing a striking resemblance to Rocky Marciano, he lost only one duke in his first fourteen (a defeat he avenged in his very next fight). Fighting mostly out of Brooklyn and the Ice World in Totowa, N J, this Newark native met Scott Frank for the New Jersey State Heavyweight Championship in 1979 in a much anticipated fight between two "Jersey Guys." The technically proficient and well-trained Rock lost when a bad injury closed his right eye completely and forced referee Larry Hazzard to halt the action in the ninth. Ring Magazine did a piece on this fight in its April 1979 edition. The affable Casale finished his career in 1981 and, in sharp contrast to Bobby's post boxing endeavors, went on to become a Detective in the Essex County Prosecutor's Office. In 2007, he was inducted into the New Jersey Boxing Hall of Fame with the following press release:
"Also being honored is Guy Casale, a very popular heavyweight during the late 70's. His third round knockout of the notorious Bobby Halpern in Madison Square Garden (05/15/78) made for legend. Always a fighting fixture at the Totowa Ice World, where the Lou Duva family and Main Events would be launched, Casale challenged fellow NJ Hall of Famer Scott Frank for the state heavyweight title, coming up on the short end of a ninth round knockout – in a bout refereed by Larry Hazzard. The likable Casale hung up the gloves in 1981, following a loss to Marvis Frazier in Las Vegas, winding up with a solid 14-3-3 (7 KO's) record."
Detective Casale completed his college degree, attended graduate school and ultimately obtained a law degree. Guy chose a different direction than Bobby, but their paths would cross in 1978.
The Fight
Back to an unseasonably warm New York City night on May 15, 1978, it was a time when Studio 54 thrived and Disco Ducks roamed the streets. But there were few bell bottom types at the Garden where the familiar smell of cheap cigars and perfume permeated and where the excitement in the crowd was palpable. Most of the fans were looking for the "bad guy" to take out the "good guy." This was what boxing in the City was all about; a rough tough ex-con vs. a perceived clean-cut prospect (though in reality, Casale was street guy himself).
Indeed, the all-incoming, all-action brawler had his own cult following, a Bronx fan club of rowdies (and even some police officials) that followed him to all his fights. He came in with lots of national publicity including a profile piece in Sports Illustrated. He also appeared in The Ring Magazine, on television and on the radio. There was no way in Hell this Bronx street fighting legend would lose to a guy named "Guy. " Bobby Halpern was a character made for the movies and if he won this one, who knows where it all might end? But his dream abruptly and shockingly ended in the third round when he suffered a crushing one-punch knockout that came out of nowhere and made me cringe. His fans froze in shock.
As Guy Casale tells it,
"I knew that he was hurt from a punch I threw before we broke from the clinch. I then began backing toward the ropes as Bobby started charging me. I saw an opening and threw a short right to his jaw. He fell upon me and then to the ring floor, face down. I don't recall if his leg was twitching because I was too intent on the referee counting him out. I was happy he was out cold because he was the only man in my boxing career who when he hit me sent a tingle down to my toes."
The knockout was a scary one reminiscent of those suffered by Ingo Johansson at the hands of Floyd Patterson and by Rocky Graziano to Sugar Ray Robinson in that one of Bobby's legs was twitching as he lay completely unconscious for more than three minutes at the 1:33 mark of the third stanza.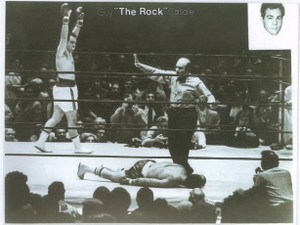 Post-1978
But Halpern would remain newsworthy. Less than two weeks later, he was in the process of buying a suit in a Bronx clothing store when two gunmen rushed in and began firing. A shotgun blast tore though his left palm and smashed into his mouth taking away his upper lip and several teeth. The second shooter used a hand gun and hit him twice in the chest and again in the abdomen. In all, he hit Halpern eleven times. Then, the shooter with the shotgun sent a parting blast into his buttocks. The bloody ambush should have killed him; it should have killed any human being. The reason for the shooting reportedly had to do an alleged beating Bobby had given to his ex-fiancée. She accused him of breaking her leg and knocking out 6 teeth, but the case was dismissed when she failed to show up in court. The facts surrounding this part of the story get a bit too hazy for my liking so that will remain a story for someone else to tell. Suffice it to say it was a miracle he survived the ambush.
One thing the shooting did was chase off some Hollywood producers who were interested in doing a movie on Halpern's Damon Runyon type of life story, but it never materialized.
He was then seen a few years later holding a shovel on a Bronx construction site and seemingly in pretty bad mental shape. Subsequent Halpern sightings were far and few between and the rumor was that he had passed on. However, on November 6, 1987, he worked the corner of his friend, Doug DeWitt, who was fighting Tony Thornton at the Sands in Atlantic City, NJ. According to BoxRec, he was again seen on June 14, 2003 in the Bronx in good spirits at one of his childhood haunts-for a youth boxing program thus dispelling rumors he had died. Clearly, though, his retirement has been anything but pleasant.
I hope Bobby is still alive, at least he was as of May 20, 2008 when Guy Casale last talked with him at great length during a Ring 8 meeting in New York City where the Rock was a guest of Board Member and retired NYPD detective Bob Mladinich, who also is one of my favorite boxing writers. The two engaged in what can only be described as a deep and warm acknowledgement of mutual respect. Despite his callous history, Bobby was a warm human being to those who really knew him, -and according to Guy, "he was still in great shape for a guy who was in his 70's. He looked like he could go six rounds."
Hopefully, he is now too old for his street ways. And ironically, even though they went in markedly different directions, Bobby and Guy could still find mutual respect and compatibility many years later thanks to something called "Boxing."
Note: My sincere thanks to Guy Casale who was so gracious in providing many of the details around which this article was based.