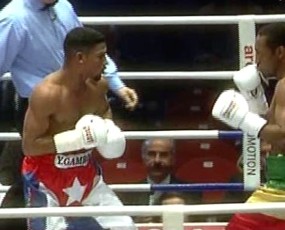 Fort Lauderdale, FL (February 17, 2009) — Arena Box Promotion in association with JSO is proud to announce an extraordinary night of boxing featuring a new generation of knockout specialists on Friday, February 20th at the University Center Arena in Ft. Lauderdale. With their rapid and punishing punches, card toppers Yuriorkis Gamboa, Breidis Prescott, and Erislandy Lara all have a proven ability to knockout an opponent in the blink of an eye, racking up many first- round victories in their careers. These undefeated pugilists are going into Friday's bouts off dramatic knockout victories.
"We've got some of boxing's most devastating power punchers on this card," says Arena Box Promotion's Director of Boxing Luis De Cubas. "This nationally televised event could set a record for knockouts. For fight fans, what's not to like about that!"
"The Gunslingers" card will air live on ESPN 2's "Friday Night Fights." Media is invited to attend the pre-fight press conference on Wednesday, February 18th at 2 p.m. and the weigh-in on Thursday, February 19th at 5 p.m. for a sneak preview of the bouts. Both events will be held in the VIP Club Box of the University Center Arena on the Nova Southeastern University campus.
Main Event:
2009 Prospect of the Year Yuriorkis "El Ciclon" Gamboa (13-0, 11 KO's) will be in action against Walter Estrada (35-8, 24 KO's) in an eight-round, featherweight fight.
Estrada is hoping this fight puts him back on track. After starting out his career with 20 straight wins, the southpaw has lost four of his last six bouts.
Meanwhile, Gamboa is enjoying a fast start to his professional career, extending his undefeated record to 13 wins with a TKO over Roger "Speedy" Gonzalez on January 1st. During his amateur career, Gamboa won a 2004 Olympic gold medal for the Cuban national team. He defected in 2006 and now resides in Miami.
Richard Gutierrez (24-2-1, 14 KO's) will battle Jesus Gonzalez (24-1, 13 KO's) in a 10-round, junior middleweight bout.
Gutierrez,residing in Miami, started off his career lightning hot, winning his first 21 professional fights. He's coming off two hard-fought, nationally televised matches, losing in an absolute brawl to Alfredo Angulo on HBO and fighting to a controversial draw on ESPN 2. Gonzalez, a southpaw, has recently rattled off seven straight wins. Known for his strong left hook, some boxing experts have compared Gonzalez to former middleweight champ "Marvelous" Marvin Hagler. With the winner climbing back into title contention, there's a lot riding on this fight.
Co-feature:
Colombia's undefeated Breidis Prescott (20-0, 18 KO's) recently stunned highly touted Amir Kahn with a 54-second knockout in Manchester, England. He will face Humberto "Bam Baby" Toledo (34-5-2, 20 KO's)–who's also coming off of two straight wins–in 10-round, lightweight match.
Card Also Features:
In a four-round, junior middleweight bout, two-time World Amateur Champion Erislandy Lara (3-0, 2 KO's)will face Keith Gross (3-0, 1 KO).
A Pan American Games gold medalist and favorite to win gold in the Beijing Olympics, many believe Lara is one of the top young fighters in the world today. He is coming off an impressive U.S. debut on ESPN in early January. Similarly to Gamboa, Lara also escaped Cuba, twice.
For Gross, this will be his first real challenge to his undefeated record. The 31-year-old spent several years away from the ring to raise a family and made his professional debut last June.
In a four-round, heavyweight bout, West Palm Beach's Erik Leander (5-0, 4 KO's) puts his undefeated record on the line against Gerald Chaney (2-1, 2 KO's). Miami's Ramon Garbey (18-4, 13 KO's) will take on Mike Shepard (11-8-1, 6 KO's) in a six-round, cruiserweight fight.
Ed Parades (20-2, 13 KO's) hopes to extend his nine-fight win streak in a welterweight bout against Josh Onyango (14-16-1, 11 KO's). Miramar's Xavier Burgos makes his pro debut in a four-round, lightweight bout. Middleweight Tony Romans (8-0, 4 KOs) rounds out the card.
Tickets for "The Gunslingers" event are $85, $50, $25, and $15. They're available through the University Center Arena, 3301 College Ave, Ft. Lauderdale, (954) 262-5551. To purchase by phone call Ticketmaster at 800-745-300. To purchase online visit www.ticketmaster.com. Ticket processing fees not included in above price.