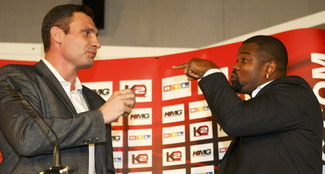 13.02.09 – by James Slater – 35-year-old Juan Carlos Gomez, who challenges WBC heavyweight king Vitali Klitschko in Stuttgart, Germany on March 21st, is certainly a fighter who is absolutely brimming with confidence. "The Black Panther," who is never afraid to speak his mind, aims to put himself in the minds of boxing fans the world over with a win over "Dr. Iron Fist" in next month.
Though he is a gifted southpaw with plenty of slick moves in his arsenal, many fans see Gomez as a big underdog against the formidable Klitschko. Very much wanting to get his name in the big leagues up at heavyweight, the former amateur star is convinced he will be too skilful for the huge man.
Talking to me over the phone from Germany one morning earlier this week, the WBC number-one contender with the 44-1(35) record was cordial enough, while at the same time anxious to get a few things off his chest..
Speaking in pretty good English, the once-beaten lefthander had lots to say.
I began by asking him how training had been going thus far. I originally spoke to Gomez' trainer the previous evening, whereupon I was told to call back the next day, as Juan Carlos was shattered after a particularly gruelling day of big fight preparation. I already knew, therefore, how hard Gomez had been working in the gym.
"I've been training very hard for this fight," Gomez told me. "I am ready to go twelve hard rounds if necessary. I will not waste this opportunity. I will not get tired in this fight."
Gomez often spoke in the third person during the interview, and at times his English was somewhat difficult for me to understand (although, to be fair, the connection was not great). It wasn't long before the 35-year-old let it be known how miffed he is that he has been getting what he feels is insufficient respect and attention. Gomez was, after all, a very good WBC cruiserweight champion, making ten defences before moving up in weight.
"It seems as though I will have to become a two-weight world champion to get people talking about me. I was WBC cruiserweight champion for a long time. I'm very excited [to be given the Klitschko shot], and even though the world doesn't know my name now, it will after March 21st. No-one can touch me now."
Recently, when Gomez and Klitschko exchanged words at a press conference, the challenger said to the 37-year-old he would be so fast Klitschko would not be able to hit him. Gomez told me he sees himself out-classing Vitali and winning widely on points.
"I am number one. Klitschko says he is going to knock me out. I just laugh at that talk. I know the fight will not be easy but I will beat him. I know how it feels to be a world champion already, and I want to become heavyweight champion so I can earn big money and feed my kids. At age 35 I want to show the world how good Juan Carlos Gomez is.
"I will make sure I win a unanimous decision, so there is no doubt. I will do this by throwing many more punches [than Vitali]. My conditioning is the best in the world."
Gomez then brought up the subject of his sole loss, the shock 1st round TKO defeat to fellow Cuban Yanqui Diaz in 2004. This, the southpaw assured me, was a mere fluke.
"I'd not been training, and they asked me would I fight Yanqui Diaz, another Cuban. I said yes – I knew Yanqui Diaz was no match for me I was then given just two weeks notice for the fight – that's when they called me and told me I'd be fighting him in Texas. He surprised me in the first round. That's what can happen to a heavyweight when you're not in shape – it can happen to any heavyweight. He caught me and the referee stopped the fight, that's all. That defeat means nothing now, It only happened because I did not train properly. That will never happen again. Now I train hard for every fight."
Clearly a much better fighter than he looked that night in August of 2004, Gomez has strung together eight wins since – including his points win over Vladimir Virches last time out, when he won a WBC final eliminator. But is he good enough to beat the Vitali Klitschko that looked so superb against Sam Peter in his last fight?
"Don't compare me to Peter, no way! I'm so much faster and I will move around him [Vitali] and make him miss! I'll make him look clumsy. Peter just stood there in front of him!"
As we know, it at one time looked as though Britain's David Haye would get to Vitali first; with Gomez instead refusing to step aside from getting his earned shot.
"Me and David Haye are in the same boat, in that we are both former cruiserweight champions moving up. [But] I've earned my shot. I would fight Haye tomorrow. It would be an exciting fight, I know he's explosive and strong but I am better."
First, underdog Gomez must shock Vitali Klitschko on March 21st. He has no doubt he will do so.
"I will leave nothing to chance in training. I will put on a boxing master class, that is my game-plan, to box and move. Vitali Klitschko had better be ready to meet the best Juan Carlos Gomez ever!"