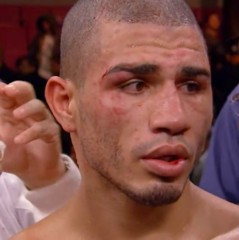 by James Slater – If ever a fighter had a justified reason to be screaming to the high heavens that the only reason he lost his perfect and unbeaten record is because he was likely cheated out of it, it is Puerto Rico's Miguel Cotto.
After losing for the first time back in July of last year, when he was sensationally stopped by Mexico's Antonio Margarito, Cotto's world temporarily fell apart. Shocked that he was unable to master another fighter and shocked even more that he was unable to take his rival's punches, the welterweight star was forced to do some real soul-searching.
Back in the immediate days after July 26th 2008, some fans were even suggesting Cotto had shamelessly quit against "Tony." Margarito, meanwhile, was showered with heroic praise from all corners of the globe. How things have changed in the last few weeks!
Due to the keen eye of trainer Nazeem Richardson, a whole new story has been told about "The Tijuana Tornado" and his great ability as a fearsome warrior. Turns out, at least according to yesterday's California State Athletic Commission verdict, that Margarito and his trainer Javier Capetillo had knowingly tried to cheat in the January 24th fight against Shane Mosley. Fans know the story about the illegal hand wraps inside out, and they know how the revelation that the Mexican was caught trying to put power-enhancing pads inside his gloves has tarnished the warrior's image badly.
The news has also led many to bring up the possibility that Margarito had been getting away with his little secret for some time now, and that previously vanquished foes may have been up against a fighter who had a big and wholly unfair advantage. Who knows, was Miguel Cotto, for instance, one of these suggested fighters, and was he cheated against when losing to the Mexican tough guy?
Cotto, however, in a show of sheer class, has refused to even suggest that illegally wrapped hands might have been a major contributing factor in his 11th round KO loss last summer. I'm sure fans will agree, many a fighter would have behaved in a totally different way to Cotto, and would right now be saying something along the lines of, 'I knew there was a reason he beat me. Had he not cheated he never would have!' But Cotto has only said the following, as reported by FightNews.com:
"California's Boxing Commission evaluated the case and made a decision. They have necessary evidence to judge according to their rules. I think that my future won't be affected by this decision. I will continue with my training for February 21st and I'm focused on winning the [WBO] title against Michael Jennings and bringing another championship to Puerto Rico."
In refusing to attack the man who upset him last summer, and in refusing to suggest he only took away his unblemished record due to cheating, Cotto has acted as classily as any fighter could possibly be expected to. But the question is, will the two men ever fight again?
Margarito has been banned for a year, but he can fight in Mexico, we are told. If he does as most expect and beats Jennings on Feb. 21st, maybe Cotto will still look into getting his revenge later this year.
Until the two men do fight again, the question will always be there asking whether or not a "clean" Margarito is capable of doing to Cotto what he did last July. Cotto, more than anyone else, will surely want an answer to this question!