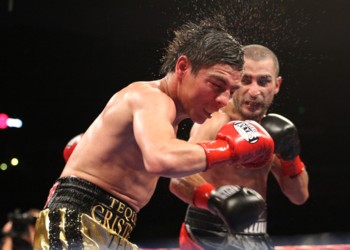 Photo: Tom Casino/ SHOWTIME – By Ted Sares:
Darchinyan greatest strength is his mouth. I am not intimidated by the devil; why would I be intimidated by him? His biggest weakness is his chin. When he gets hit flush, he doesn't get up.
–Arce
I've been chasing, following this guy around Mexico for three years. I can't wait for Saturday.
— Darchinyan
In what was a bloody beat down from start to finish, Vakhtang Vic Darchinyan successfully defended his IBF, WBC, and WBA super flyweight belts against heretofore crowd-pleasing Mexican Jorge "El Travieso" Arce (51-4-1) in Saturday's main event at the Pond in Anaheim, California. A winner of five in a row and 31 out of his last 32, the popular Arce of Los Mochis, Sinaloa, Mexico, was the current WBA interim super flyweight champion coming in and a former WBC 115-pound and WBO 108-pound titleholder.
The equally entertaining, hard-hitting Darchinyan (31-1-1) of Sydney, Australia via Vanadzor, Armenia, has been on a tear of late and it continued tonight as he lived up to his nickname as the "Raging Bull." And as he did against Christian Mijares in his last tiff, he demonstrated focus and discipline as he took the crowd out of the fight early and systematically broke down Arce using jack hammer lefts and brutal body shots. Jorge, who had no answers, cooperated by frequently lunging in and in so doing, resembled the "old" Darchinyan, but this is a new Raging Bull who now blends his great power with ring savvy and fine technique. Make no mistake; Vic Darchinyan has become a complete killing machine.
I had the fight 110-101 after eleven rounds. I also put the mute button on after the new Showtime announcer said something to the effect Vic was hanging on after being hit with a so-so punch in one of the mid rounds. What was that all about?
Clearly, Vic Darchinyan has become one the premier fighters.