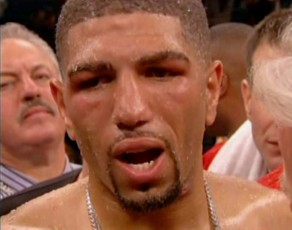 30.10.08 – by James Slater – Ronald "Winky" Wright, a fighter far too talented to have been as inactive as he has, finally gets back in the ring this December 4th. A superbly gifted southpaw who can be a joy to watch when he does his thing, Wright, 51-4-1(25), will likely return against Michi Munoz, 21-2(14) and will headline a card on the TV network Versus as he does so (site to be determined). This will be the former pound-for-pound standout's first bout since his July 2007 points loss to Bernard Hopkins. Winky will make his return at 165 pounds and then focus on the big names of the middleweight division.
This news is according to ESPN's Dan Rafael, and the top scribe spoke with Winky about his future plans.
"I'm on board, it's time to get back in there," Wright said. "I just need to get back in the mix. I just need to get back in shape, get in the ring and fight somebody and show people I can still do this, and then move on. We're going to do this fight on the Versus network, get a fight in, come out looking good and then in February or March get back on HBO. I know this fight isn't paying much money, but it isn't about money this time. I just want to get back in there. I'll take the pay cut just to get back in the mix."
Wright certainly seems to have made a change to his thinking. In the recent past Winky has turned down big money fights against the likes of Kelly Pavlik, claming the money he was offered was not enough. Now, at last, the gifted boxer returns to action. Munoz, a 27-year-old Mexican nicknamed "El Matador" last fought in September, winning in 2 rounds. Before that, though, he was stopped in just 3 rounds by the unbeaten Vanes Martirosyan in February. The Mexican has also been beaten by "The Contender's" Joey Gilbert, losing a 12 round unanimous decision last year. What then will he bring to his fight with Wright?
Without being disrespectful, Munoz won't be bringing too much of anything to his fight against the man who has beaten the likes of Shane Mosley (twice), Felix Trinidad and Ike Quartey and who also held then middleweight champion Jermain Taylor to a draw – not anything that will bring Wright any severe problems, anyway. Wright may well show signs of ring-rust; after well over a year out he's entitled. But once he gets his timing back, Winky should be able to get a mid-rounds stoppage.
Then, hopefully, the soon to be 37-year-old (November 26th) will get a couple of the big fights he wants. Reportedly targeting top middleweights such as Arthur Abraham, the future Hall of Famer wants to put the finishing touches to his stellar career.
This writer for one is glad Wright is coming back. But what's taken him so long!