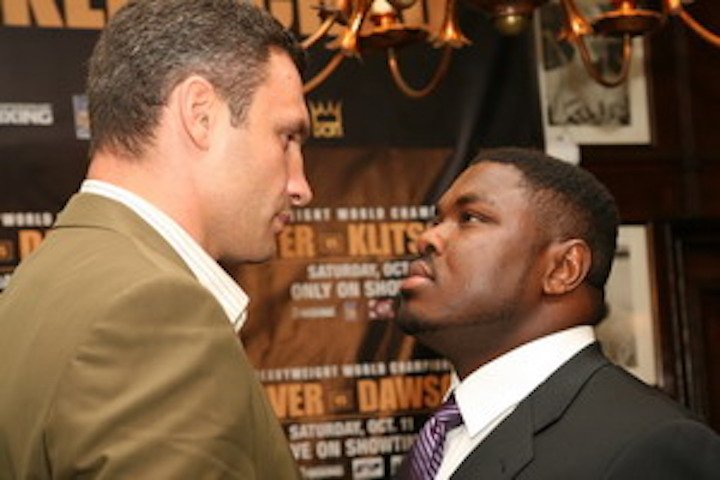 12.10.08 – By Michael Montero: This article will be straight and to the point, as I am too stirred up in emotion to patiently wait until I calm down to write this article. The unbiased journalist in me sees the Vitali Klitschko-Samuel Peter bout as a dominant victory for the better boxer, Klitschko. The boxing fan in me saw one of the worst performances by a defending "champion" in the history of heavyweight boxing….
Sam Peter simply had nothing tonight; he very much resembled a fighter that walked through the motions. His camp moved to Germany to train for this fight, but part of me wonders if that was nothing but walking through the motions as well. He had NO game plan. He showed up at 253 ½ pounds, his heaviest since the first Toney bout, and had no strategy in the ring tonight. I recall listening in over the past few weeks to interviews with Peter's camp as they said things like, "we don't watch tape, we don't need a game plan, we're just gonna go in there and make it a brawl". What a mistake! Peter did nothing but stand in front of Klitschko and eat punch after punch. It was an abysmal performance and I as a boxing fan do not care to ever see Peter again. After all the trash talk, all the supposed "hunger" he claimed to have to be the premiere heavyweight in the world, Peter laid an egg – a rotten egg – in Germany tonight. He had a man in front of him that hadn't fought in four years, a man that has been injured too many times to count over the course of his career, and he didn't even attempt to pressure him. He simply showed up and handed over his belt. He quit on the stool without once "going for broke". Absolutely pathetic. He should be ashamed. His camp should be embarrassed.
On the other hand, Vitali showed up and performed efficiently. He didn't do anything spectacular, but he did what he had to do and roughed up his petrified opponent over eight one-sided rounds – several of which bordered on "10-8" scores. It's hard to judge Klitschko's performance because he was fighting against a scared, unmotivated fighter that offered zero resistance. All he had to do was stand on the outside and flick a jab, with an occasional looping right, to score points. He was not pressed for a single moment in the bout. His stamina, as well as his often fragile body, was never tested. He showed little ring rust but I feel that was more due to his opponent, rather than himself. Will he fight on? How would he look against mandatory Juan Carlos Gomez, who would undoubtedly give Vitali a tougher fight than Peter?
Here's the real issue – what does this solve for boxing? In the short term, it not only writes history as the Klitschkos become the only brothers to be titlists at the same time, but it also generates excitement in the heavyweight division and puts the myth of Sam Peter to bed forever. But in the long term, it muddies the waters and frustrates boxing purists everywhere. With both Klitschkos holding titles, we cannot have an undisputed heavyweight champion, and that's BAD for boxing; especially in a time where the fraudulent "sport" of MMA has taken over the mainstream fight fan in the United States. However, if one of the Ukrainian giants can get a crack at Valuev (which would be a tall order, no pun intended) and easily win the WBA belt, at least the Klitschko name could reign as undisputed champ, and that's worth something. But none the less, it's not what boxing purists yearn for, and it's not what boxing needs right now.
On a personal note, I called three buddies of mine from my hometown who are hardcore MMA fans and pleaded with them to watch this fight. I told them over and over that this would be the heavyweight slugfest that they wanted to see – that would turn them into boxing fans. I depended on Sam Peter and Vitali Klitschko to deliver a classic performance that would regenerate life into the heavyweight boxing world, but I was let down. It wasn't Vitali's fault. Half way through the bout my friends were sending me text messages saying things like, "this sucks", "this Peter guy is gonna quit soon" and "this is better than MMA why?" Honestly, what could I say? I had three of my buddies interested in a boxing match and they gave my beloved sport a try – boxing could have won three more fans tonight but because of a quitter, it was not to be. With all the power Peter has and the fact that old man Vitali hasn't fought in four years, he could have at least come out for round nine and went for broke. He owed us boxing fans (as well as his camp, who's supported him with an undying passion) that much. But alas he quit on his stool after offering nothing and betrayed everybody that once believed in him.
I will admit as a fan that I wanted Peter to win because that's what was best for the sport. Had Peter won, it would have set up a match that comes around only once in a generation in the form of a rematch with younger brother Wladimir. Now boxing has taken a step back in terms of clarification, yet moved forward in terms of history and legacy for the Klitschko family. It's a night of mixed emotions for me and for boxing fans across the world. I'm perplexed at the moment and don't know quote how to feel. I must admit that I was excited to see Vitali back in the ring doing his thing, but the undisputed champ that I have so craved since Lennox Lewis retired is now lost in the fog for the foreseeable future. What's next for boxing's glamour division? What's next for the #2 heavyweight in the world, Vitali Klitschko?
Questions, comments, hate mail? You know what to do.
Mjbdetroit@aol.com