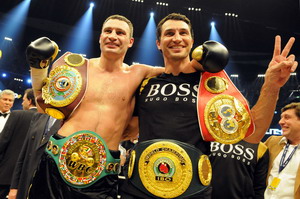 12.10.08 – By Ted Sares – Showing few signs of ring rust after being out of action nearly four years, Vitali Klitschko, now 36-2, won the WBC heavyweight title by forcing Sam Peter to quit on his stool after eight dominate rounds.
The first round (which would be the exemplar for the rest of the fight) went something like this: Peter swings wildly with his left hook and misses continually, while Vitali lands accurate shots from long range, using the jab to set them up in classic fashion. Repeadtedly, he mixes things up by landing sneaky left hooks which knock Peter off balance. It was a great round for Dr Iron Fist.
The speed-challenged Peter inexplicitly continues to fight the wrong fight by boxing the big iron-chinned Ukrainian without trying to get inside where his best opportunities lie. For his part, Vitali used his superior height and reach, and potshots to keep the poorly prepared and uninspired Nightmare at bay.. Peter continued to get rocked by right and combos all night long, and appeared to be on the verge of getting knocked out at any number of times. Klitschko lands multiple jabs and hooks almost at will, while the slow Peter looks confused and in a place where he does not want to be. Whenever Peter finally lands anything over the top or to the body, Vitali is able to move away successfully. It has become a nightmare of a stylistic match up for the massive Nigerian.
Klitschko/Peter Post Fight Press Conference:

With the score card being read over the PA system, Peter undoubtedly was getting discouraged, realizing his only chance was to land one big haymaker. Indeed, maybe he believed he had no chance to land it at all as Vitali wisely moved back and out of range at the appropriate times. And maybe he also realized that an icing was on the way, so it was better to quit and fight another day for another big pay day. He quits on his stool after eight rounds of what can only be described as a "Berlin Beat Down."
Yes, I was wrong about the outcome and yes I surprised by The Champion Emeritus's ability to stop a World champion after being away so long. One can only imagine how good he could have been had he continued fighting after his eight round destruction of Danny Williams in 2004. Hey, maybe he is just what the doctor ordered to put some sizzle into a division that has been on simmer for too long.
As an aside, I think announcing the scores is totally inappropriate and conducive to encouraging fighters to quit in their corner. It's a practice that should be discontinued ASAP.