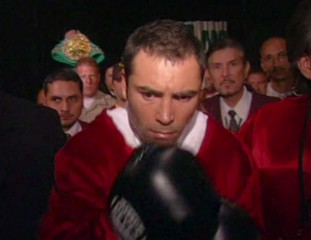 29.09.08 – by James Slater – Though both men are still fighting and may even add further to their greatness with another truly meaningful win or two, I thought it would be fun to look back at the achievements so far, and the boxing careers so far, of "Sugar" Shane Mosley and "The Golden Boy," Oscar De La Hoya – two rival fighters who were always destined to meet, but today are firm friends and business associates. Also, I ponder the question, who has been the overall greater fighter? Let's take a look.
Oscar and Shane fought each other of course, with Mosley getting the points win both times. But does that make Sugar the better overall fighter? Not necessarily it doesn't. Sure, Mosley twice proved to be too much for De La Hoya, at both welterweight and then light-middleweight, but what about the two men's other notable career achievements?
Both were gifted amateurs. De La Hoya famously won a gold medal at the 1992 Olympics, while Mosley, a three-time national amateur champion, lost to future pro opponent Vernon Forrest in the '92 Olympic trials. Turning pro soon after the games, 1992 in Oscar's case, '93 in Shane's, De La Hoya started out as a super-featherweight, Mosley as a lightweight. Both men quickly collected their first world titles.
In only his 24th pro fight Mosley won the IBF lightweight title with a clear points win over the unbeaten Philip Holiday, while in only his 12th pro bout De La Hoya won the less regarded WBO 130-pound belt with a 10th round TKO over the also unbeaten Jimmy Bredahl. From then on in both boxers continued going up and up.
Mosley stayed at lightweight until 1999, defending the IBF belt eight times and winning each fight with ease. However, it must be said, Mosley didn't meet any overly great names during his two-year reign. Wins over a faded John John Molina, Jesse James Leija and Golden Johnson, while adequate, don't make Mosley a great. What he was to do later on at welterweight does.
During the first half of the '90s, when Mosley was busy defending his title at lightweight, De La Hoya was boxing there too. Defending his WBO junior-lightweight strap on just one occasion, Oscar made the move to 135-pounds and destroyed a faded Jorge Paez to win his second WBO belt. A win over the once-beaten Rafael Ruelas in 1995, for the IBF belt Mosley was to win himself two years later, marked De La Hoya's first capturing of a "real" world title. Had "The Golden Boy" remained at lightweight he and Mosley would have possibly met at the weight some time around '98 or '99. But De La Hoya moved up to light-welterweight and won a world title at a third weight by despatching Mexican legend Julio Cesar Chavez in just 4-rounds in 1996.
It was a brief tenure at 140 for Oscar, though, as he soon moved up to welterweight (one defence at light-welter). A win over genuine great Pernell Whitaker marked Oscar's most meaningful victory to date (though he struggled to get the win, it must be said – being frustrated by "Sweet Pea's" boxing brilliance before collecting a somewhat charitable UD). An up from the canvas win over the unbeaten Ike Quartey also impressed and showed De La Hoya's willingness to take on risky opponents. But then came the controversial points loss to Felix Trinidad, and De La Hoya was beaten for the first time.
Meanwhile, Mosley was now a welterweight too. Moving up two weight divisions in late 1999, Shane set his sights on De La Hoya and a world title. Two tune-up wins later, Mosley finally got it on with his California rival. It seemed destined the two would meet and now, though Oscar had been beaten once, the super fight was on. As we know, Mosley won on points in a great fight that decided the WBC 147-pound belt Trinidad had vacated. Now who was the better fighter?
De La Hoya regrouped after his second defeat and won a world title at light-middleweight, his fourth weight class conquered. Then, in 2002, a great win over a zealous Fernando Vargas proved to be another Oscar highlight. One that would lead to a much anticipated return with Mosley.
Shane made three easy defences of his WBC welterweight crown, before running into old amateur nemesis Vernon Forrest. Well beaten on points and lucky not to have been stopped, Mosley suffered his first defeat as a pro. An immediate rematch wound up the same way. Going up to 154 so as to attempt to revive his career at elite level with another win over De La Hoya, Mosley's move proved a successful one. Once again out-pointing De La Hoya, Mosley was back on top. It seemed Shane had Oscar's number, even if the rematch was very close.
Since then the two men have continued boxing with mixed success. Oscar tried his hand up at middleweight – winning the WBO 160-pound belt with a controversial points win over Felix Sturm and suffering his only KO loss to date against Bernard Hopkins – while Mosley was twice beaten at light-middleweight by Winky Wright. With both men now past their best and well into their 30s, the glory days seemed over.
Mosley fluctuated between 147 and 154-pounds, earning so-so wins against a faded Fernando Vargas and a good won over Luis Collazo for the WBC interim welterweight crown, before losing in a brave effort against Miguel Cotto. De La Hoya, after a considerable layoff, came back to ice trash-talking Ricardo Mayorga and regain his old WBC light-middleweight belt. This fine win also earned Oscar a fight with reigning pound-for-pound king Floyd Mayweather Junior. A win would have added to his greatness like nothing else, but De La Hoya faded late and lost a close points verdict.
Now 38-5 and 44-5, respectively, Oscar and Shane boxed on and won their last fights but failed to look great in the process. De La Hoya beat the smaller Steve Forbes on points, while Mosley beat the bigger Mayorga via a last second KO. Their best days are well and truly behind them, but the two are still unwilling to hang 'em up. Oscar, in one of the most heavily hyped fights of recent years, will face Manny Pacquiao in December, and Mosley seems certain he will land a big fight at welterweight before too long.
Both men have had great careers already, but there is still more to come. And as to who has had the more accomplished career thus far, and as to who would go down as the greater fighter if they both retired tomorrow – though he twice lost when they met in the ring, this distinction must go to Oscar De La Hoya.