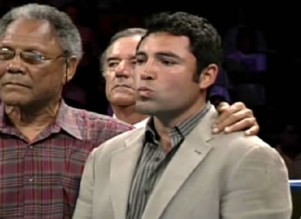 By Michael Klimes: When I first read the headline that Manny Pacquiao versus Oscar de la Hoya was official I exclaimed "Oh My God." The following train of thought was a concoction of Joe Pesci's "What the f*** is that?" and John McEnroe's "You can't be serious". Is anyone else furious? I look at the whole issue sardonically as we've seen this all before haven't we? The tragedy of the matter for me is I see two fighters who I have the deepest respect for about to demean themselves considerably, perhaps even irreversibly. It is very sad when real fighters become business celebrities and the slaves of money.
In our materialistic world where pretty much everything is measured by paper notes it is comforting for me to think that certain places such as music and literature can be untouched by greed and profit, a sort of secluded wilderness if you will. I like to believe there are some fighters who exemplify the ability to never sell out and remain true to a vision, an idea, a principle that fans should get value for money. I thought two of these fighters were Oscar de la Hoya and Manny Pacquiao. I was mistaken.
Their encounter is being marketed as the great finale to a year of very good boxing but I cannot see it this way. Oscar de la Hoya is thirty five, clinging onto a once magnificent career and is a light middleweight. Why can't he fight Sugar Shane Mosley or Sergio Mora? He seems to have been avoiding a real challenge as he has now moved away from Antonio Margarito. A long time ago de la Hoya was a warrior who took on anybody and everybody…he got paid extremely handsomely for doing it but he did it nonetheless. Pacquiao is the best fighter in the world and looked stunning against David Diaz. He, like de la Hoya imbues the word superstar with a new meaning and is a living icon…he may yet become a legend but Pacquiao has tarnished his reputation. He is already very rich, how much richer does he need to get? Pacquiao also has many opponents to choose from: Michael Katsidis, Edwin Valero, Joan Guzman, Juan Manuel Marquez, Nate Campbell and Joel Casamayor. You may say all these men are engaged with each other and that is true but is de la Hoya the only opponent Pacquaio can find for the end of the year?
Pacquiao and de la Hoya as a fight makes financial sense but not common sense as the size discrepancy is startling. The fight will transcend barriers but if it is and probably will extract the casual fan and drifting stranger from their foxholes on the evening it broadcasts, they will witness a Hollywood pantomime of the sport but not the actual sport. Why can't boxing have fights like Cotto versus Margarito, Vasquez versus Marquez, Pacquiao versus Marquez and Katsidis versus Casamayor generate a cross over appeal? If casual fans are tantalised more by de la Hoya and Pacquiao than the list just mentioned then they are not fans…they are just magnetised by the names and hype not the physical prowess of boxing.
So Pacquiao versus de la Hoya will go ahead and I leave you with one thought. The great Welsh poet R.S Thomas wrote about the lack of beauty in a world devoid of religion. As an atheist I do not necessarily agree with the that statement but Thomas explored the tension between a merely materialistic interpretation of human life and a religious perspective poignantly. In his final poem at the end of his last big collection Later Poems 1988-2000 he sums up the dilemma. I do not have the book with me in Edinburgh now but the the concluding line is something like, 'Planes soar into the air/but without the blithe spirits." De la Hoya and Pacquiao are not soaring but sinking.