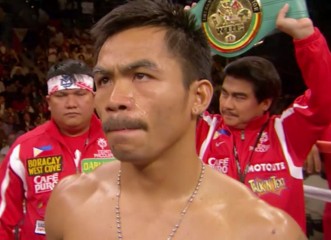 by James Slater – First of all, the fight was merely a much ridiculed possibility. Then the likelihood of the showdown actually taking place began to gather serious momentum, only for the match-up to appear to be off for good due to a breakdown in payment negotiations.
Well, a few moments ago, the on/off/on again "dream fight" between Oscar De La Hoya and Manny Pacquiao was officially announced. The bout will take place in Las Vegas on December the 6th, and at 147 pounds. It has not been made clear yet what the purse spilt will be, but some compromise has been reached. The boxers will wear eight ounce gloves.
This is not in any way breaking news, as all fight fans were aware that this fight was all but sure to be officially announced today (Thursday) when it was revealed that De La Hoya would be making a "big announcement" today. However, until a fight is indeed given the official seal of approval it cannot be taken as a 100-percent certainty. De La Hoya Vs. Pacquiao can now, at last, be taken as a certainty. Of course, this will not come as good news to a large number of fans.
Judging by the comments left on this web site alone, the "super fight" will be getting its fair share of negative reactions in the coming weeks/months. Is the fight a gross mismatch? Is De La Hoya risking looking like nothing more than a big bully by taking on such a naturally smaller man in his "Final" fight? Or is the match-up a genuinely intriguing one, one that conjures up memories of days gone by in the sport of boxing, when it wasn't so crazy for a featherweight to wind up fighting a middleweight?
One thing is sure, the fight will be a huge success financially and The MGM Grand in Las Vegas will be absolutely buzzing on December 6th. Already, some fans are asking themselves, 'will Manny be too quick for Oscar?' And, 'is there a chance "Pac-Man" will pull it off?' Pacquiao himself has said he is very confident he will win. A fearless warrior if ever there was one, the reigning lightweight champ has apparently stated he feels he will do to De La Hoya what he did to David Diaz last time out. A bold prediction to be sure, but in successfully getting Oscar to agree to get down to a 147 pound weight limit, "Pac-Man" may have gotten himself a big slice of help.
Remember, De La Hoya has not weighed as low as welterweight for some years now – 2001 to be exact. Will the effort of boiling down weaken "The Golden Boy" sufficiently enough to give the Filipino superstar a real chance? Though we are talking about a guy who stands at 5′ 10.5″ taking on an opponent who is four full inches shorter, the weight issue cannot be ruled out completely. Manny walks around at around 150 pounds or so, therefore welterweight MIGHT not be such a stretch for him. The problem is, he is fighting one helluva big welterweight in De La Hoya.
Despite Oscar's current age, if Manny can beat him it will have to go down as one quite incredible upset. The hype Vs. negativity war for this one should be quite something, too!
DE LA HOYA VS. PACQUIAO SET FOR DECEMBER 6
LOS ANGELES (August 28) – The wait is over and the fight is on. . .Olympic gold medalist and 10-time world champion "The Golden Boy" OSCAR DE LA HOYA will face current Ring Magazine No. 1-ranked pound for pound champion MANNY "Pacman" PACQUIAO on Saturday, December 6 at MGM Grand in Las Vegas, Nevada in a bout that will be produced and distributed live by HBO Pay-Per-View.
Presented by Golden Boy Promotions and Top Rank, Inc., the bout will be a 12-round, non-title fight contested at the 147-pound welterweight limit. This exciting and intriguing match-up pits two of the most recognizable and popular talents in the sport today in what will surely be the grand finale of the 2008 boxing calendar year.
"Manny Pacquiao is considered the best fighter in boxing today and I always want to fight the best," said De La Hoya. "I am glad we were able to make this fight happen because while Pacquiao is at the pinnacle of his success and has defeated all of the top fighters he has faced, I am going to show the world that it stops with me. December 6 can't get here soon enough."
"This is my greatest challenge," said Pacquiao. "When I take that walk to the ring to fight Oscar, I will carry all the people of The Philippines – the entire country – on my shoulders. I promise I will fight with all of my heart and that I will give everything I have. Like my trainer Freddie Roach says, I have what it takes to win the biggest fight of my life."
After several weeks of amicable discussions between De La Hoya's company, Golden Boy Promotions, and Pacquiao's promoter, Top Rank, Inc., a deal was struck this week ensuring fans around the world the opportunity to see this dream match-up.
Richard Schaefer, Chief Executive Officer, Golden Boy Promotions said, "This fight will have the whole world talking and will be a fantastic night for boxing. Oscar's career has always been defined by taking on the biggest challenges and fighting best names in boxing. This fight against a great champion like Manny Pacquiao is just another testament to his readiness to face the strongest competition and continue his legacy as one of the greatest fighters boxing has ever seen."
Hall of Fame promoter Bob Arum, Chairman of the Board, Top Rank added, "This fight is what all sports fans are looking forward to, a contest between two champions who come to fight and who are the most popular names in boxing today. Manny Pacquiao is taking on a major task in facing the legendary Oscar de la Hoya, but we at Top Rank are very confident Manny will handle himself extremely well."
Richard Sturm, President of Sports and Entertainment, MGM MIRAGE said, "MGM MIRAGE has hosted the greatest names in sports and entertainment and this event will certainly continue that tradition. We look forward to presenting one of the most exciting promotions in the history of boxing and there is no question this fight will have a major impact on fans worldwide."
Mark Taffet, HBO Pay-Per-View said, "De La Hoya-Pacquiao is a dream match-up which will capture the imagination of sports fans everywhere. It's the pay-per-view king vs. the pound-for-pound king and an event in which both fighters' popularity clearly transcends the sport."
Oscar de la Hoya has been a fan favorite and the most successful pay-per-view attraction in the history of the boxing. A 1992 Olympic Gold Medalist for the United States, de la Hoya (39-5, 30 KOs) is a champion in every division he has competed in from 130 to 160 pounds and has faced boxing's elite for over 15 years, including Floyd Mayweather, Julio Cesar Chavez, Bernard Hopkins, Shane Mosley, Felix Trinidad, Pernell Whitaker, Ike Quartey, Fernando Vargas, Arturo Gatti, Genaro Hernandez, Jesse James Leija and Hector Camacho Sr. In his fight against Mayweather on May 5, 2007, he fell short via a close split decision, but set records with the fight having the most pay-per-view buys and grossing the most revenue in the history of boxing. In his last fight against Steve Forbes on May 3, 2008 De La Hoya registered a dominating unanimous decision victory, winning nearly every round of the fight which took place in suburban Los Angeles at the outdoor Home Depot Center soccer stadium, another first for boxing's star attraction.
Manny Pacquiao (47-3-2, 35 KOs) is recognized by most knowledgeable observers as the best fighter at any weight in the world today. Pacquiao, 29, has held world titles in four weight divisions, winning the WBC flyweight world title two weeks before his 20th birthday in December of 1998, the IBF junior featherweight world title at age 22 in 2001, the WBC super featherweight world title in March of this year and most recently the WBC lightweight world title in his last fight on June 28 against defending champion David Diaz.
More information on the bout as well as a detailed schedule for a planned media tour will be distributed shortly.