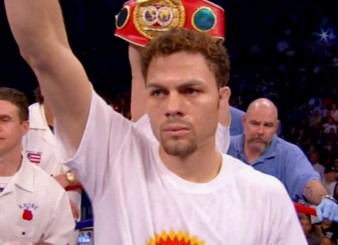 by James Slater: Both fighters are coming off a loss, both fighters have recently signed with a new promoter in Lou DiBella, and both fighters very much want to become world champion again. Well, according to BoxRec, Kermit Cintron, the former IBF welterweight champion and Lovemore N'dou, the former IBF light-welterweight champion, will meet in an elimination bout on the November 15th Jermain Taylor-Jeff Lacy bill.
This is an interesting fight, and a very good test for both guys. With the loser not really appearing to have anywhere to go, the stakes are high – with a shot at the IBF welterweight title very much on the cards for the winner also. For the 37-year-old N'dou from Australia, currently 46-10-1 (31), the fight will be his first up at 147 pounds. The clash with Puerto Rico's 28-year-old Cintron, currently 29-2(27), will also offer N'dou a shot at redemption after losing on points last time out against Paulie Malignaggi.
N'dou claims he won the IBF 140 pound title fight that took place on the Hatton-Lazcano card back in May, and he very much believes he can become a world champion once again. But in Cintron he will be meeting one of the single hardest punchers in the game, and a man who is aching to redeem himself also. Having only ever been beaten by one man, Antonio Margarito, the lethal punching Cintron remains a fighter to be very much respected. N'dou has never been stopped in any one of his ten losses, but could this change on November 15th?
In moving up in weight to face a younger, harder hitting and equally hungry fighter, the 37-year-old who has been in with the likes of Malignaggi, Miguel Cotto, Junior Witter and Sharmba Mitchell has taken as tough an immediate comeback fight as possible. For this he must be given credit, and so too must Cintron be praised. Having had surgery on his right hand following his second loss to "Tony," many people, this writer included, felt the 28-year-old would take a relatively safe opponent for his first fight back. No, N'dou is no big puncher, but he is a very fit and determined boxer. To my mind, Cintron must be made a slight favourite, but the fight is one that could conceivably go either way.
With both men knowing a loss could very likely end their career at top level, you can be sure nothing will be left in the locker room for this one. Whoever wins, they will have done very well. If N'dou can avoid being taken out by one of Cintron's bombs and is able to box his way to a points win (no way can I see N'dou stopping Cintron), he will have earned another shot at the title. Whereas if Cintron CAN take his man out in spectacular fashion and avoid being outworked and out-pointed, he will have earned his shot as well.
A good match-up and a tough one to pick, I lean towards Cintron – by late rounds stoppage.