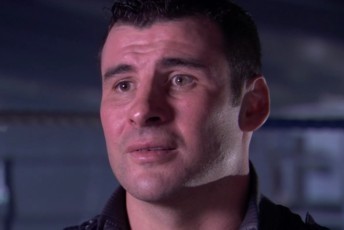 By Ted Sares:
One thing I learned from the '88 Olympics: It's not a question of if they can screw you over; it's a question of if they will. It's not the gold medal they took away from me. The medal doesn't mean anything. It's that they said I lost. That experience is well and alive in my mind.
–Roy Jones Jr
It would bother me to lose a title, but business is business and I want the biggest fights and the most money
–Joe Calzaghe
The highly anticipated Joe Calzaghe vs. Roy Jones fight has been rescheduled for Saturday, November 8, 2008 at the Mecca of Boxing, Madison Square Garden in New York City.
Joe Calzaghe (the WBC/WBO super middleweight champion with a 45-0 record) "plans" to fight one more time. He seeks to cash out on a mega purse against Roy Jones Jr. (52-4, 38 KOs). Some say he could fight better opposition like middleweight champion Kelly Pavlik, light heavyweight champion Chad Dawson, super middleweight champion Lucian Bute, or even cruiserweight champion David Haye at a catch weight. I don't buy that; I think Jones represents a dangerous and high-profile opponent who will put fans in the seats and make for a profitable PPV event.
Past records and level of opposition
Not as relevant here. Too much time has passed for these factors to be decisive,, though one must never overlook the fact that an astounding number of Jones's opponents have worn a world championship belt around their waste. Still, the greatness of both fighters is well documented and beyond dispute. The key here is whether Roy's "greatness" has eroded to the point where The Pride of Wales can handle him handily.
Weight
I do see the weight factor slightly favoring Jones who has fought at 175 and near 170 many times in his legendary career. However, another aspect of weight may be the nub of this analysis
Weight As the Wild Card
When assessing today's Roy Jones Jr, often overlooked is the debacle around his yo-yo type weight gain and loss after the John Ruiz fight and his terrible subsequent showings against Antonio Tarver (thrice) and Glen Johnson. I have always attributed these showings to those weight variations and will never, ever forget the drained, gaunt, hallow looking Jones who entered the ring against Tarver in their first fight which Jones barely won. For Ruiz, Roy was somewhere between 193-200 and it was all muscle. For Tarver, he was between 17-20 pounds lighter and he looked horrible. The way Chris Byrd looked against Shaun George in August simply affirmed my feelings as Byrd had the exact drained look after having lost 37 pounds in some seven months.
Jones now has fought once in each of the last three years and has improved each time out. More importantly, his body seems to have found itself at its normal and proper poundage.
Prince Badi Ajamu (2006)
After a shaky first round, Jones looked very good against Prince Badi Ajamu in July 2006, using a great body attack to beat The Prince going away for something called the WBO NABO light heavyweight title. Interestingly, the Prince, who until then has never really been in a bad fight, stopped Craig Cummings, 53-6-1, a few months later.
Anthony "The Tyger" Hanshaw (2007)
Then, in July 2007, Jones beat undefeated Anthony "The Tyger" Hanshaw for the vacant International Boxing Council light heavyweight title. While not looking as sharp as when he dismantled Ajamu, he scored a decisive UD over 12 rounds. Showing late round snap, he decked Hanshaw in the eleventh stanza with two right hand leads to punctuate his victory.
Felix "Tito" Trinidad (2008)
His last win over an aging Felix "Tito" Trinidad did nothing to dispel Roy's improvement. Dropping Tito twice, Roy stayed in the middle of the ring and won a convincing UD by scores of 117-109, 116-110 and116-110.
Bottom line: I submit Roy's body has now recovered from the damage caused by the fast gain and fast loss back in 2003. He is rested, healthy, fit and ready.
Calzaghe vs. Jones: The Prediction
Joe Calzaghe has been in against Mikkel Kessler and Bernard Hopkins, and while looking great against the undefeated Dane, he was somewhat less than compelling against the 43 year old "Executioner," but then few ever look good against Hopkins who give the word "ugly" new meaning. Joe is 36; Roy is 39. Both are headed to the Hall of Fame as slam dunks. Calzaghe outworks his opponents using superior stamina, rhythmic focus, great punch volume, and ring smarts. Against JonesYour browser may not support display of this image., he will need to put on pressure, utilizing his trademark smart flurries at the end of several rounds.
Roy can no longer move around the ring as he did in the days of old and has a propensity to hang on the ropes which could prove very dangerous if Joe traps him in a corner and turns on the volume as is his wont. Moreover, a 39 year old Roy may not be able to do anything about it, though Calzaghe must be cautious of Jones's snapping counter left hook off the ropes which could change the fight faster than you can say "Nonito Donaire."
However, even though his reflexes are clearly not what they once were, if he proves capable of fighting in the middle of the ring and if he does his trademark hit and run stuff, he may well frustrate Joe's ability to fight "his" kind of fight. Hopkins almost did it and I see no reason why Jones can't do better.
Yet, as is often the case when two great fighters meet, this fight has the potential to be overly strategic and cerebral and this could translate to something other than the exciting engagement most are hoping for. This one likely will be more cat and mouse than cat catches mouse.
In the end, I look for Roy to outsmart the smart Calzaghe with moves that will prove both new and frustrating. This will be no Hopkins slap and grab contest, as much as it will be a close UPSET decision for Jones giving him the perfect layer of cement on a great legacy. For Joe, fighting again outside the comfortable environs of Cardiff, it will mean he needs to fight on to achieve the right ending to his great career.
Of course, if Roy looks gaunt and drained coming in, all bets are off as he could be knocked cold and that adds juice to the action. The specter of Roy sprawled out unconscious was something simply unimaginable years ago, but that is no longer the case, though I doubt Joe has the pop to accomplish that. But I sense we may see more than just flashes of the legend that was Roy Jones Jr. And I will be more than happy to buy PPV to see which one it is.
Visit the author's web site at www.tedsares.com