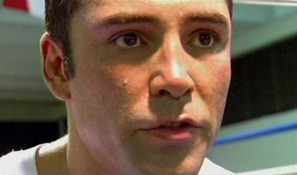 22.08.08 – By Vivek Wallace
Oscar,
On a weekly basis I've made it a habit to consistently 'call out' a different fighter or figure in the sport whose actions have created optimal room for judgment and analysis by fans who sit on both sides of the spectrum. The current negotiations for your pending fight with Manny Pacquiao have managed to stir up a ton of feedback, and in an open forum, today, I toss my thoughts into the proverbial 'hat-of-discretion' in my own eclectic way..
First and foremost, I'd like to go on record in saying that the fans and media of the boxing world have greatly appreciated and strongly admired watching the evolution of your illustrious career. It's been one helluva ride. Everything from the Gold Medal in the 1992 Barcelona Olympic games dedicated to your deceased Mother, to the countless Saturday nights where we got together with everyone we knew to watch you put on a show. We can remember with great pride, the epic battles against everyone from Pernell Whitaker and Ike 'Bazooka' Quartey, to Trinidad and Mosley, to Hopkins and Mayweather in more recent times. In many ways, no matter how stiff the odds appeared, the one thing no one can ever deny is the fact that you always put your best foot forward, and despite losing via TKO to Bernard Hopkins, in all of your fights, (that one included), you found a way to stay mathematically alive until the bitter end. Aside from that lone knockout on your record, there was never an occasion where any fighter could say that they defeated you decisively enough to nullify the possibility of a rematch. With a track record that stellar, one would think that it's nearly impossible for you to ever fall upon criticism too harsh, however, the challenge that most of us fans and media personnel have with you currently is the fact that after years of seeing such solid performances rendered night in and night out, it now appears that you've taken on a new spirit of sorts. In an era where we have an abundance of young talent anxious to blaze a trail in the welterweight and light middleweight ranks, it comes off as a bit selfish of you to exhaust every ounce of ink in the pens of boxing scribes globally who find themselves trying to keep up with the actions of a relatively inactive fighter; That fighter of course being yourself. What's even more troubling is the outright pre-calculation by you and your otherwise brilliant staff which has seemed to backfire at every angle. Consider this….
FIRST: You started your slow exit from the sport with a bout against Mayweather, which in the end, he walked away victorious. SECOND: After Ricky Hatton dispatched of Jose Luis Castillo, you started a new mission by reportedly contacting him – while making it publicly known that the two of you could sell out a stadium in the U.K. in a future potential showdown. Floyd Mayweather Jr. reappeared and derailed those plans as well. THIRD: You then redirected your attention back to Mayweather, who this time (reportedly) grew weary of negotiating tactics which would be used to diminish his chances of walking away with the larger purse in the rematch, despite the fact that he was the champion and had previously defeated you. FORTH: Trinidad was later called out, only to walk away for the same reason. FIFTH: You then stated that you wanted to face the winner of the Cotto/Margarito showdown. You threw your support to Miguel Cotto whom you publicly entertained with the intent to face. Despite going on record and saying that you'd face the winner of that fight, a thorough and dominating performance by Margarito seemed to make you change that tune a bit, which ultimately led to the decision to face Manny Pacquiao, who apparently has also gotten weary of those same reported negotiating tactics.
The name 'Goldenboy' had previously been quite appropriate, but in the eyes of Mayweather, Trinidad, Pacquiao, and now the fans, suddenly, the name 'Blackjack' is a bit more fitting. There are obviously many other names to come to mind, but what better word could be used to characterize someone who has a growing reputation for playing games at the 'table' while holding all the 'cards'? No one believes that Freddie Roach's comments about you not being able to "pull the trigger" is the reason you want a showdown with Pacman. No one believes the whole "I don't want to end my career by facing a fellow Mexican" story relative to a showdown with Margarito. (Especially now that you're said to be in possible negotiations with another one) – (Sergio Mora). Whether you know it or not, the 'golden' image you once worked tirelessly to create has suddenly began to fade to a mere bronze. You're way too big for this. You've worked way too hard for this. Don't allow a pure legacy to become tainted with a 'green' disposition. No one can talk down upon any man who attempts to optimize his earnings, but for once think about the fans. You've made more in one fight than most of us who've paid your salary (the fans and media) will in a lifetime. If this is in-fact your last fight, give the fans a night they'll never forget. Go out with dignity by facing a formidable opponent your own size, (ie. Margarito, Williams, Cotto, etc.); Or go out with dignity and honor by equaling the playing field at the negotiations table. You may be the bigger name, but you've only fought 6 times in the last 5 years, and lost 3 of them. Logic says that Manny brings just as much to the table, if not more. You're bigger, you have the greater reach, you have the longer tenure, and all the other advantages one could desire. That being said, how could you not logically find that a 60/40 split – (winner receiving that extra 20 percent edge) – isn't a fair way to go? That's honor and that's fair. Remember, this will be your final act in the ring…….
True enough, we never get a second chance to make a first impression, but also remember, it's often the final one that serves as the lasting one. What will your legacy be?
(Got Questions or Feedback:?: Write ESB's Vivek Wallace at vivexemail@yahoo.com or show some love at www.myspace.com/anonymouslyinvolved)