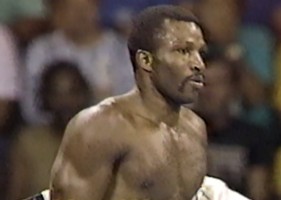 Interview by Shawn M. Murphy: Recently I spoke with former WBA Heavyweight champ Mike Weaver. Weaver started boxing in the Marine Corp and turned pro in 1972. He got his first title shot against Larry Holmes in 1979. Weaver gave Holmes an extremely tough fight, losing however by a TKO in the twelfth round. In 1980 he met WBA title holder John Tate. Losing by a wide margin going into the fifteenth round, Weaver would do the seemingly impossible, landing a perfect left hook to take the title. Weaver would lose the title to Michael Dokes in 1982, somewhat controversially, and lose the rematch the following year by a draw. He would fight for a world title one last time in 1985 against Pinklon Thomas but lost by an eight round knockout. Weaver retired in 2000 after a loss to Larry Holmes with a final record of 41-18-1 with 28 KO'S.
(SM) Mike how did your boxing career first get started?
(MW) I got started in the Marine Corp, partly by accident. I was at a club and I wanted to play a song on the jukebox. Anyway this guy was there to and he ended up pushing me out of the way and I pushed him back. He swung at me and missed, I swung at him and knocked him out. A few days later I was asked if I wanted to give boxing a try. I told them I didn't know anything about boxing. They told me the guy I knocked out was the heavyweight champ of the Marine Corp! That was about 1970.
(SM) What kind of amateur career did you have?
(MW) I didn't have that long of an amateur career. I won the Golden Gloves, had about eighteen or nineteen fights. I fought in the LA area as an amateur when I got out of the Marines in 1971. I won everything they had, Golden Gloves, everything locally I won it.
(SM) Tell me about the fight with Leroy Jones for the NABF title. A very close decision, do you think you won?
(MW) I know I won that fight. At the time Leroy Jones was a top ten fighter and I wasn't. He weighed 270 and I weighed 240, but I know I beat him.
(SM) In 1979 you got your first world title shot against undefeated Larry Holmes. Do you think he took you lightly and didn't train properly?
(MW) No that was an excuse. I didn't train like I should have, but he was in very good shape. That was his excuse for the fight.
(SM) Take me back to the John Tate fight. Your losing on all three cards going into the last round. Did you honestly think you had a chance?
(MW) Yea I did. Between the fourteenth and fifteenth round my corner told me that I needed a knockout to win. Before the fight some people at my church told me that I was going to win and become the Heavyweight champ of the world. Before the fifteenth round I remember saying Psalm 23. I said give me the strength and I will knock him out. I knew I needed a knockout and that's what I did.
(SM) Personally what did being the Heavyweight Champion of the world mean to you?
(MW) It meant that I accomplished my goals. I exceeded in a few things, but in boxing I reached the height of the sport.
(SM) In your first defense of the title you went to South Africa to take on Gerrie Coetzee. Why as the champion travel all the way over there?
(MW) I was always asked that, if I was the heavyweight champ, why not make him come here? I was the world champion so I fought all over the world. I never thought twice about going over there. A lot of people didn't want me to because of apartheid. I was offered good money to go.
(SM) Take me back to the first Michael Dokes fight. Were you hurt at all when they stopped it?
(MW) I was not hurt at all! Guys told me before the fight that Michael Dokes is going to come out fast and they will find a way to stop it. The referee Joey Curtis had also placed a bet on me to lose that fight.
(SM) What about the second Dokes fight? Did you do enough you think toget the decision?
(MW) Oh yea I thought I did enough. Again I'm fighting Dokes and Don King.So that's why they called it a draw and he got to keep the title.
(SM) You got one more shot at the world title, against Pinklon Thomas, what happened in that fight?
(MW) Really in that fight my best days were behind me. My legs were going bad at that point in my career.

(SM) You lost twice to Bonecrusher Smith. Why so much trouble with him?
(MW) He was a fighter who definitely hit hard, that's for sure. I was always a slow starter, I just couldn't avoid it in the first fight. I just couldn't get the punches off like I wanted to. In the second fight I did a lot better but just lost the decision.
(SM) How did you finally know it was time to quit?
(MW) Not too long after I fought Dokes I knew my career was on the downslide, that it was time to go. My best fight near the end was probably the last Dokes fight. I kept on fighting though but I should have retired then.
(SM) Who was the toughest fighter you ever faced?
(MW) The toughest were everyone who ever beat me. But the hardest puncher was Bernardo Mercado. We had sparred in the gym before we actually fought. He knocked me down in that fight. He wasn't the best I faced but he was the hardest puncher. I also fought a guy named Bill Sharkey down in some tournament in New York. That was one tough fight. He made me fight all the way down to the bell.
(SM) Any regrets looking back?
(MW) You know I guess I could say could we have done this and done that, but that's water under the bridge. But you know I reached my goal so really there is no regrets.
(SM) Do you follow boxing much these days?
(MW) I watch boxing but if you were to ask me who the heavyweight champ is I couldn't tell you. Now there is four or five champions out there.
(SM) After you retired what have you been up to?
(MW) I have been working for the US Postal Service since 1999.
(SM) Have you done anything with boxing like training at all?
(MW) I did work at a gym for awhile. I have been offered the chance to train fighters but I won't go back to that. When I retired I left boxing behind me.
(SM) Mike anything else you want to say?
(MW) I guess that I was just a fighter. That I always did my best. I had no excuse for the fighters who beat me, that's just how it was. I love what I chose to do and that was boxing.
(SM) Mike it's been a real pleasure to talk to you.
(MW) Thanks.
Editor's Note: Feel free to visit Shawn Murphy's favorite organization to learn more about it: www.retiredboxers.com