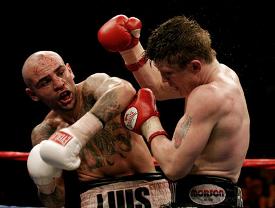 By Vivek Wallace, photo by D.M.Warr / DKP – After witnessing Antonio Margarito and Miguel Cotto display their value to the sports deepest weight division, many fans immediately began to assess the welterweight talent around them to see what chances for them truly exist. With so many key figures entered in that equation, it's a somewhat forgotten component that remains just as lethal, whispering from a closer-than-expected distance in the dark.
A slick southpaw with more ring intelligence than the average, Brooklynite Luis Collazo looks to use that element of surprise to sneak up, and ultimately tear down walls of lost recollection, allowing himself to rewrite an incomplete legacy that still lacks clarity in it's latest chapter.
After getting tons of email and questions from curious fight fans, I had a chance to talk 'fight game' with Luis Collazo. Here's how it all went down!
Vivek W. (ESB): I often get emails from fight fans about you or run into fight fans who mention you relative to the deep welterweight division. Tell us what have you been up to lately?
Luis Collazo: Just working hard, waiting for the next possible fight. I want to give the fans a Great outing with all the perks like always.
Vivek W. (ESB): Last weekend we saw arguably the best fight of the year. What was your thoughts on the Antonio Margarito/Miguel Cotto showdown?
Luis Collazo: It was a great fight. Cotto started good, Margarito broke him down in the later rounds. He basically broke him down like he breaks all his other oppenents down. Nothing new there.
Vivek W. (ESB): Do you think that victory over Cotto solidified Margarito as the 'man-to-beat' in the welterweight division?
Luis Collazo: Yeah I belive so. He proved himself.
Vivek Wallace (ESB): Most of us saw you do very well against Shane Mosley and better against Ricky Hatton; That being said, there's a possibility that we could eventually see a showdown between yourself and Andre Berto, who's also being rumored to meet Stevie "2 Pounds" Forbes. Tell us what you think about him and how you think a fight between the two of you would play out.
Luis Collazo: It would be a good fight, but personally, I think he aint ready for me yet. I think he's still a little green.
Vivek W. (ESB): I understand at one point you were doing some sparring with Paul Williams and it appears it helped him greately against Quintana. Did seeing him prepare so intensely for a championship fight help you in anyway?
Luis Collazo: Definitely! Working with another world champion motivates you. He rekindled my hunger to be a champion once again.
Vivek W. (ESB): Throughout your career you've campaigned at 147 and occassionally in the past at 154. Is there any truth to rumors circulating a little while back that you were considering the 140 pound weight class and if so, who would you be targeting?
Luis Collazo: There was talk about that after the Ricky Hatton fight but he didn't want the rematch so I stuck to 147.
Vivek W. (ESB): When you look at the very deep welterweight division, you have Williams with the WBO strap, Margarito with WBA strap, Clottey and Judah about to get busy for the vacant IBF strap, and young Berto with the WBC strap. With Mayweather gone and the welterweight division having so many different champs, do you think in a sense that the division is wide open?
Luis Collazo: Definitely! Everything is possible in boxing. You just need to be ready for the top guys when the opportunity presents itself. It's all you from there.
Vivek W. (ESB): Who do you see winning the upcoming fight this weekend with Clottey and Judah?
Luis Collazo: Well, if Zab trained the way he was supposed to, he could win with no problem. If he didn't put his all in the gym its going to show and it will be a long, ugly fight that he may not win.
Vivek W. (ESB): Before we let you get back to your sparring, are there any parting words for those fight fans out there anxious to see how the slick Luis Collazo stacks up against the current crop of welterweights?
Luis Collazo: I'll be back real soon. Thanks to all of my fans who have been supporting me through thick and thin. And thanks to eastside boxing. Also, my fans who want to stay in touch can drop me a line at www.myspace.com/loucollazo.
In closing, it's great to see the welterweight division with all of it's talent finally unfold. Despite the fact that there are already a few very formidable champs in the mix, it'll be interesting to see how the contenders ultimately contend. Luis Collazo appears ready to lead the charge. We at ESB wish him the best.
(Got Questions or Feedback: Contact ESB's Vivek Wallace at vivexemail@yahoo.com, 954-857-6858, or show him some love at www.anonymouslyinvolved).