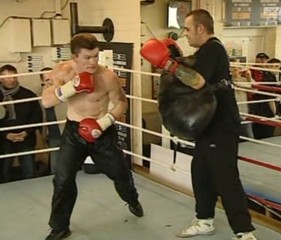 29.07.08 – by James Slater: As has been widely reported, a split between Ricky Hatton and his long-time trainer Billy Graham has been on the cards for some time. There were no ill feelings between the two men, however, and the reason for the split, as has been reported in the U.K today, was simply Graham's decision to retire from being a boxing trainer.
Graham ended the months of speculation himself, by announcing that this coming Saturday's fight, in the corner of British 100-fight journeyman Ojay Abrahams, will be his last. Ricky Hatton's father, Ray, paid tribute to Billy in the British media recently.
"Ricky and Billy had a meeting yesterday (July 28th), in which Billy admitted he was not going any further," Ray Hatton said. "It was quite emotional because they have been together for so long (eleven years). It's a sad day. Billy will always be remembered as one of the world's great trainers and to go out after a win in front of 58,000 people in Manchester (the Hatton-Lazcano bout) will be a fitting end to his career. But everybody knew Billy had been struggling in recent years with a few health problems and it was becoming increasingly painful for him to train Ricky. We knew the bombshell was coming and it was just a matter of when."
With Graham's amicable departure, Hatton is likely to be trained fulltime by Graham's assistant Lee Beard. The fighter will reportedly sit down with his team to discuss a permanent replacement in due course.
Next up for "The Hitman" is "The Magic Man," Paulie Malignaggi, of course. Will the trainer factor serve to hinder Hatton at all? Even he won't know for sure until the November fight is well underway. Having had a father figure like Graham looking after him for over a decade, knowing he was there to help him whenever things got hard going in a fight, Hatton may well find himself looking for Graham between rounds of future bouts. It was Graham who, due to having the complete trust of his fighter, got Ricky through the Juan Urango bout. Although he won commandingly on the cards, Hatton was under the weather going into that fight and Billy Graham helped his man through the virus-induced fatigue. This is just one of the examples of how Graham's assistance proved hugely beneficial to Ricky.
Graham also pushed Hatton in training like few other men ever could. With his famous "Body-belt" routine serving to get Ricky in tip-top shape, Graham and Hatton worked in total harmony together. As experienced as Hatton now is as a fighter, and as capable as Lee Beard is as a trainer/corner man, Billy Graham will definitely be missed.