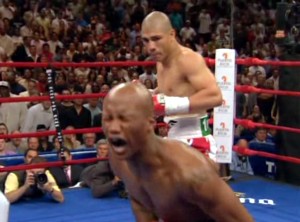 By James Slater: It would be scarcely believable if this coming Saturday's Joshua Clottey vs. Zab Judah welterweight title bout were even half as good as the fight we saw in Las Vegas on July 26th. Hell, the action Antonio Margarito and Miguel Cotto put on at The MGM Grand was hard enough to believe itself, such was its greatness. But in Judah vs. Clottey we may just have ourselves yet another excitement filled and extremely watch-able affair in a currently red-hot welterweight division.
Fighting for the IBF welterweight crown Margarito gave up so he could get the chance to rip the WBA belt from Cotto – which he did in sensational style, of course – Clottey and Judah clash at The Palms Casino in Vegas. Both men are hungry, too. "Super" Judah wants to get back to where he was a few years ago, when he was considered the main man at 147 pounds after having beaten Cory Spinks. While "The Hitter" Clottey has been aching for a second crack at a world title ever since his reasonably close December 2006 points loss to "Tony." Giving Margarito a tough fight for the first handful of rounds, before a hand injury compromised his chances, the 31-year-old who lives in The Bronx, New York surprised many.
On August 2nd, the styles of the two men should gel nicely to give us a fan-friendly fight. Southpaw Judah, from Brooklyn, New York, is often in good fights. Fast, holding punching power and, as he showed in his excellent battle with the then unbeaten Cotto last summer, possessing genuine heart, the 30 year-old is a man many once saw as a future superstar. Things didn't quite turn out that way for Judah, but here in 2008 Zab still feels there's time. A win over Clottey could pave the way for some big fights for him.
Clottey a far different personality from Judah isn't all that interested in being a star. He just wants to be a world champion. A tough fighter, both mentally and physically, Clottey also wants to be known as a great fighter – but the showbiz side of the sport isn't really his thing. Happy playing soccer – another of the Accra born boxer's passions – in the garden of his New York home, Joshua is a humble guy and a pretty private person. Indeed, the contrasting personalities of the two men from New York who will be attempting to knock one another out in a few days time is another element that makes the IBF title bout an interesting one.
With the majority of fight fans' eyes glued firmly on the happenings in the welterweight division right now, the timing couldn't have been better for the two men to be getting it on. Take August 2nd's fight as an encore to the majestic Margarito-Cotto fight if you wish, but take the time to tune in. I have a feeling this bout, while it won't surpass "The Battle" that decided the WBA version of world honours at 147, will be yet another great fight. With much toe-to-toe slugging involved, at least in the early rounds, before the inevitable fade by Judah, the action will be most enjoyable to watch.
Look for a fast start by the flashy Judah, before the harder man in Clottey takes over to either win a late stoppage or earn a clear points verdict. Who knows, this Saturday's victor may be next in line for the man who calls himself "The Tijuana Tornado." Talk about an added incentive to win!