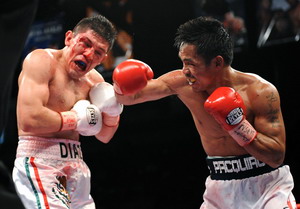 by James Slater, photo by Naoki Fukuda: Manny Pacquiao never put a foot, or a glove, wrong last night at The Mandalay Bay in Las Vegas. Utterly dominating the game but out-classed David Diaz for almost every second of the nine rounds the fight lasted, "Pac-Man" put the finishing touches to his handiwork at just after the 2 minute mark of the 9th. A perfectly delivered short left hand to the head sent fellow southpaw Diaz face-first to the canvas and the fight was over. The official time was 2 minutes and 24 seconds of round nine.
With his great win the 29-year-old Pacquiao made boxing history as he became the first Filipino fighter to ever win a world title at lightweight – picking up the WBC 135 pound belt with his destruction of the 32-year-old from Chicago. Also with such an impressive display "Pac-Man" proved beyond any doubt he belongs at the top of all pound-for-pound lists. For the record, Pacquiao improved to 47-3-2(36). Diaz fell to 34-2-1(17)..
There were a number of questions going into last night's fight. Would Pacquiao be as fast up at lightweight? Would The Filipino be as powerful? Would a natural lightweight be too strong for him? Well, guess what? With his superb showing last night, Manny Pacquiao made it clear: HE is now a natural lightweight. With his speed just as sizzling, his power – as the fight-ending shot from hell proved – just as awesome and his stamina and strength as extraordinary as ever, Pacquiao boxed perhaps as good as he ever has. His accuracy against Diaz, who admittedly is not the hardest guy in the world to hit, was also very impressive.
Basically, Manny could not miss Diaz with his right hand – when either throwing it as a jab or as a hook – and it was this accuracy that saw the Chicago man busted up badly very quickly. Eventually, as his face felt more and more leather, Diaz sported two bad cuts – one on the bridge of his nose, the other, far worse, over his right eye. This cut could well have prompted a stoppage, and indeed there were two time-outs called by referee Vic Drakulich so as to let the doctor inspect the damage. But the fight, which by the fourth and fifth rounds had all but turned into a slaughter, was permitted to go on. Diaz's chances of winning were hopeless, however.
But the defending champion showed amazing guts and refused to give up. Despite this effort he didn't come close to winning a single round. Taking a number of sickening shots flush in the face, Diaz was being given a hideous beating. Pacquaio's blazing hand speed and power were way too much for this never-say-quit fighter. The end when it came was devastating. A left hand that travelled a very short distance landed cleanly and the soon to be ex-champ went down hard.
Now an all-time great of the highest order, Manny Pacquaio has conquered his SEVENTH! weight division. How far can "Pac-Man" go? All this writer will say is, watch out the light-welterweights of the world!