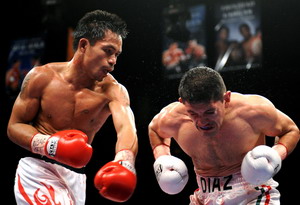 By Ted Sares, photo by Naoki Fukuda: Saturday represented a chance of a lifetime for David Diaz, 34-1-1, and he tried to make the most of it as he defended his WBC lightweight title against Manny Pacquiao
But unlike Pacquiao, Diaz is no legend. He is a Chicago blue collar type, almost old school, who has a boatload of ability and fortitude, keeps up the pressure like Jake LaMotta with crunching body work, and should never be taken lightly. Erik Morales and Jose Armando Santa Cruz both found this out. Diaz does everything well and possesses a stellar amateur background. Indeed, he had only lost one fight (to Kendall Holt).
However, Pacquiao has been in with opposition light years better than that of Diaz. Names like Marquez, Barrera, Morales, Larrios, Valazquez, Fahsan 3K Battery, Emmanuel Lucero, Lehlohonolo Ledwaba and many others dot his fine record of 46-3-2. As far back as 1998, he KOd the great Chatchai Sasakul in Thailand.. There are no Favela's, Montano's, Juan Polo Perez's or John Triggs on his recent record.
The Fight
Immediately, Manny's far superior speed came to the fore as he beat Diaz to the punch while mixing his punches beautifully. In the second round, while Pacquiao was rocking Diaz with sharp combos, Jim Lampley bizarrely was singing the praises of Diaz. My mute button quickly went into action and I now watched in silence but without the interference of some of the worse announcing I have ever heard. It was just awful.
The third stanza featured crunching shots to Diaz's head, though the Chicagoan landed a few decent body shots. Still, his face was breaking up and his left eye was cut. The fourth round showed that moving up to lightweight had no adverse effect on Pac-Man as he continued his legal assault and battery.
By the fifth round, it was crystal clear that Pacquiao was in a different class than Diaz as he began to pot shot the Champion whose bloody face began to look like it had gone through a grinder. For every shot Diaz landed, Manny landed several more.
The action slowed in round six as Manny appeared to be putting some energy in reserve for a subsequent charge which then came by way of a savage flurry at the end of the round.
As the seventh started, a TKO seemed a distinct possibility. The sharp and punishing combos continued and Diaz began to take on the appearance of a fighter who might have too much heart for his own good.
The eighth featured more left uppercuts from Pac-Man and Diaz had no answer. What part of white towel didn't Diaz's corner know? This fight needed to be stopped–either by referee Vic Drakulich or by Diaz's corner.
The ninth began with brutal pot shots as the fight took on slaughter proportions–and then Manny finally iced him with a short crunching left on the chin.
It was a stunning, brilliant.performance by Manny Pacquiao.
I had it 80-72.