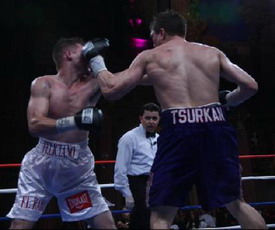 Bronx, NY – Apr 26, 2008 Ukranian born and Bronx resident Andrey Tsurkan (26-3 17KO) scored the biggest win of his career Friday night as he outgunned fellow tough guy Jesse Feliciano (15-7-3 9KO), scoring a TKO at 1:17 in the eighth round of a scheduled ten round Jr. Middleweight contest, at The Utopia Paradise Theatre in The Bronx, NY. The fight was televised live on ESPN2's Friday Night Fights.
The fight was as advertised, with both guys locking horns right from the opening bell. Both styles were mirror images of each other as the fighters stood at close quarters trading freely. Tsurkan landed a picture perfect right hand late in the round which dropped Feliciano for a short count and then followed up with crisp combinations which had Feliciano on rubber legs as the bell sounded ending the round. Feliciano came out strong in round two as the fighters once again engaged each other, both landing big shots. The fight went back and forth but it was clear that Tsurkan's punches were cleaner and crisper but Feliciano would always try and answer.. As the fight entered the eighth round, it seemed Tsurkan had built a clear lead. Midway through the round, with Feliciano refusing to take a step backwards and Tsurkan landing heavy and damaging blows, referee Benji Esteves called a halt to the fight as Feliciano was taking a lot of punishment due to Tsurkan's relentless assault. Everyone applauded Esteves' decision in stopping the fight, as Tsurkan was certainly inflicting damage on the game Feliciano, who has proven time and time again what a real warrior he is. This was a thrilling crowd pleasing brawl which had the fans in attendance on their feet throughout.
The semi-final eight round Heavyweight contest saw Poland's Albert Sosnowski improve to 43-1 (26 KO) with a fifth round stoppage of game Terrell "Baby Bull" Nelson (8-5 5KO). Sosnowski was making his American television debut. Albert showed poise throughout as he withstood an early assault from Nelson. Sosnowski landed the more telling blows as both fighters set a good pace. Sosnowski landed a beautiful right uppercut followed by a clean left hook which dropped Nelson in the fifth round. The end was in sight as Nelson arose and fought back bravely but referee Wayne Kelly stopped the fight at 0:52 of the fifth as Sosnowski landed numerous clean punches.
Undercard action was plentiful. The evening started off with Heavyweights Joe Hanks (2-0 1KO) and Corey Winfield (2-4 2KO) locking up in an entertaining four round bout won by Hanks 40-36,39-37 39- 37.
The second bout of the evening featured Middleweights Bryant Pappas (6-0 6KO) and Mike Terry (1-3 1KO). Both fighters came out swinging for the fences but Pappas' persistence paid off as he stopped the game Terry midway through the third round of a scheduled four round bout.
In a wild four round Featherweight contest Eddie Irizarry (2-0 1KO) thrilled his large contingent of fans stopping Jean Ramos (0-1) at the end of the first round. The action was frenetic from the opening bell. Irizarry dropped Ramos with a neat left- right combination but Ramos came back firing as he caught Irizarry with a huge left hook staggering into the ropes. Irizarry came right back and landed monster shots as Ramos went down again near the end of round and was unable to continue as the bell sounded ending round one. This one had the fans going wild.
In an upset Clarence Moore (5-3-1 5KO) avenged an earlier loss to hometown favorite Jon Schneider (7-2-1 5KO) knocking out Schneider at 2:48 of round two of a scheduled four round Cruiserweight bout. Schneider was impressive early but walked into short uppercut followed by a left hook which stunned him badly. Moore seized the opportunity and landed a vicious uppercut which put Schneider on the deck for the count.
Hot Welterweight prospect Raymond Serrano Jr. (5-0 3KO) won a hard fought four decision over journeyman Damon Antoine (7-24-1 3KO). Serrano, just 18 years old, displayed poise and sharp punching over the course of the fight winning by scores of 40-36,40- 36, 39-37.
The nearly sold out crowd was treated to a highly entertaining, action filled evening of boxing. Star Boxing head honcho Joe DeGuardia was thrilled by the evening's fights. "This was a throwback to the glory days of boxing. Each fighter who participated tonight came to fight and tried to win. I am very proud of the performances they gave all of us in attendance and those who watched on ESPN2."