28.04.08 – By Per Ake Persson: photo courtesy of frankwarren.tv — British prospect Jamie Cox, 5-0, kindly took time out for a short interview. Cox is managed and promoted by Frank Warren´s Sports Network. The 21-year old started out with Richie Woodhall as trainer but is currently trained by Paddy Fitzpatrick in his hometown of Swindon..
Q: When is your next fight?
A: I was supposed be on the on the undercard to Arthur vs Guzman May 3 in against Billy Smith but that show got postponed. As it looks now I fight next on the undercard June 21 in Birmingham where Amir Khan headlines. The May 3 would have been my first fight over six threes, the opponent was to have been Billy Smith, a very experienced guy.
Q: What did you do as an amateur?
A: I had about 95 fights, 16 losses, I represented England 25 times. I won the Commonwealth games in 2006 and the ABA title the same year.
Q: How come you started boxing?
A: I was a very active kid to begin with and my family were into boxing as it was. When I was eight my Dad took me to a gym and it was love at the first sight.
Q: Describe your style!
A: I´m tall for my weight division, a southpaw, I like to put pressure on my opponent, not stupidly marching forward but cleverly, I can fight going backwards too but I sure like to come to forward.
Trainer Paddy Fitzpatrick adds: Jamie is developing into a patient boxer / puncher, good hand speed, very good eyes, he´s a great student, listens well, he´s got no real flaws, just needs to develop how to control the flow of a long fight.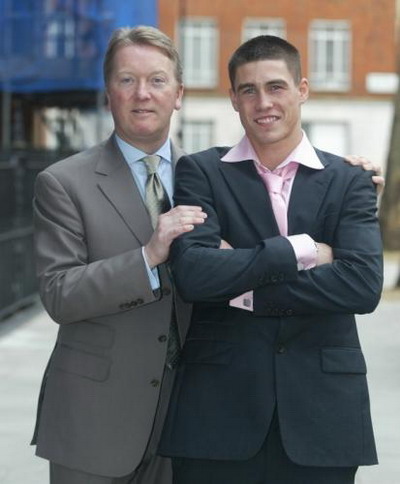 Manager Frank Warren makes no ifs and buts at frankwarren.tv: -Jamie Cox is a future world champion and one of the hottest prospects in England.
Q: Who´s your biggest inspiration?
A: I would say Miguel Cotto, I like his approach, very good fighter, also Floyd Mayweather and Erik Morales, in the UK I would say Richie Hatton.
Q: In the pros you have gone up all the way from jr welter up to jr middle, where´s your best fighting weight?
A: My best weight would be at 10st or 140 lbs but I am comfortable at welter.
Q: How does your training schedule look?
A: I´m a full time pro so the general schedule is a five mile run or interval workouts, every day at 3 PM I´m in the gym, warm up, shadowbox, work with Paddy on the pads for six to eight rounds then on the bags for 10-12 rounds. In Swindon there isn´t so much sparring available.
Q: What´s your goal?
A: World champion; I want to be the best there is.
Thanks and good luck!