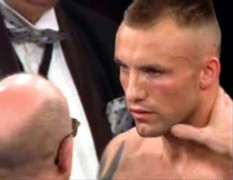 By Srithar Visuasam: The WBA has announced that Denmark's Mikkel Kessler (39-1, 29 KOs) has been elevated to mandatory challenger for 'regular' WBA super-middleweight champion, Australia's Anthony Mundine. After his narrow defeat at the hands of Welshman Joe Calzaghe in their unification mega-bout last November, the former dual WBA/WBC super middleweight champion Kessler will now be able to fight for Mundine's world title in his very next bout.
The move to fight Mundine may surprise many fight fans as it was originally assumed that Kessler would try head to the light-heavyweight division in a bid to gain a significant ranking by the WBA and fight for their recently vacated world title due to the retirement of their champion, Australia's Danny Green.
The decision to rank Kessler as mandatory would be largely considered as the reason for the withdrawal of his scheduled May 24 bout with Colombian KO artist Edison Miranda. Although the withdrawal of the bout came before the announcement of Kessler's new ranking status.
"Mundine is a very tough customer," Kessler said. "He comes to fight and I respect that. I look forward to another rugged match against him now. I think it's fair to say he's a fellow who keeps improving which is understandable since he switched to boxing after being a big star in Australian Rules football. He's not the type to run away from a challenge."
Although the bout with Mundine will not be considered as alluring to American fight fans than a bout with Miranda, the match-up will pit two of the top 3 current super-middleweights (the other Canadian Lucian Bute) in the division and should go a long way in determining who reigns on top at SMW after the departure of WBA super champion, WBC/WBO champion Calzaghe to the light-heavyweight ranks.
"I am more than ready to get back into the ring and to what I do best," Kessler said. "I asked my management team to seek out a world title opportunity. Now it is up to me to take a world championship belt. I don't plan on stopping at one but I will take each fight as it comes. I believe I am the world's best at 168 pounds and I would be thrilled to fight Joe once again. But he has business with Bernard Hopkins and I must focus on my next step which is competing for the WBA belt.
"I would like to thank Bettina and Mogens Palle and agent Michael Marley. I sent them on a mission, to get me a title chance, and now I've got it. I must, of course, also thank Executive Director Gilberto J. Mendoza Jr. and the entire WBA leadership for their careful consideration of my application to be the Number One, mandatory challenger. I had confidence in my team and they delivered the goods."
Mundine, 31-3 (23 KOs), has already had three successful defenses of his world title, since winning the vacant championship by 9th round KO against fellow Australian Sam Soliman in March 2007. With Kessler being his mandatory, it allows Mundine to gain redemption for his June 2005 defeat to Kessler in Sydney. In that highly competitive bout, Kessler won via UD with the cards reading 116-112, 117-113 and a far from accurate 120-108.
Since their previous bout, Mundine is 8-0 (5 KOs) and at the top of his game. The former Australian rugby star has now been in the professional fight game for nearly 8 years and a bout between the two potentially has SMW fight of the year written all over it.
The fight would be expected to occur later this year as Mundine already has a defense against Sam Soliman lined up for May 28th. It's anticipated that with Mundine's financial clout and champion status, the bout would be held in Australia.
A win for either of the two would set up the possibility of mega-fights with the likes of American Jermain Taylor, middleweight king Kelly Pavlik and even a bout with Calzaghe.