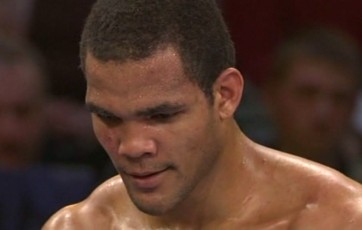 29.03.08 – James Slater: Tonight, in Germany, 32 year old Wayne "Big Truck" Braithwaite survived a first round knockdown to stop unbeaten up and coming Cuban southpaw Yoan Pablo Hernandez in three rounds.
Boxing for the first time since his 12 round points loss to Enzo Maccarinelli in Cardiff, Wales last July, the former WBC cruiserweight king picked up both the WBC Latino and WBA Fedalatin cruiserweight belts. "Big Truck" decked his man three times with big shots to the head in round number three, and after the third knockdown referee Jose Martinez called a halt to the action. The time was one minute and fifty-two seconds.
After having lost three of his previous four bouts, the former world champion, also a southpaw, may have revived his career. Big things were expected of the 23 year old Hernandez, yet tonight – apart from in the opener where he scored his knockdown – he was no match for the Brooklyn native. Looking fast and powerful along with anything but a finished fighter, the man Maccarinelli so comprehensively out pointed last summer was as fresh and sprightly as could be imagined.
Hernandez, a pro for less than three years, was simply overwhelmed almost as Braithwaite opened up with his power in the 3rd. An accomplished amateur who represented his country as a light-heavyweight at the 2004 Olympics in Athens, Greece, Hernandez was a big disappointment tonight. This is to take nothing away from the now rejuvenated Braithwaite, however. Expected to offer only a good test for the fast and youthful Cuban, "Big Truck" instead ran right over his man.
The win was the first noticeable one for the man born in Georgetown, Guyana. Not since his third and final WBC cruiserweight title defence win over Louis Azille back in April of 2004 has the 32 year old beaten a name fighter. Shortly after his points win over Azille Braithwaite lost his belt in a 12 round battle with Frenchman Jean Marc Mormeck. And after that bout Braithwaite was stopped in just four rounds by Guillermo Jones and it seemed his time at the top was pretty much over. Then came the clear loss to Maccarinelli, and "Big Truck" seemed to only have a future as a high quality trial horse. This is almost certainly what Yoan Pablo Hernandez was thinking going into tonight's fight. But, as he discovered to his cost, he was badly wrong.
With his good win Braithwaite improved to 23-3(19). The exposed Hernandez fell to 14-1(8). It will be interesting to see which road the "Big Truck" goes down next.