22.02.08 – Ahmet Öner and ARENA Box-Promotion are definitely on the fast track. In only one and a half years Öner rushed to the top of the German boxing scene and brought professional boxing back to Turkey. Now he's speeding up again with his first own show in the USA. In cooperation with "Decubas Presents" Hamburg based ARENA will host the "Night of the Olympians" at Xtreme Karting in Fort Lauderdale, Florida tonight featuring Cuban gold medallists Yuriorkis Gamboa (8-0-0, 7 kos) and Yan Barthelemy (4-0-0). The show will be broadcasted LIVE on ESPN 2's "Friday Night Fights"..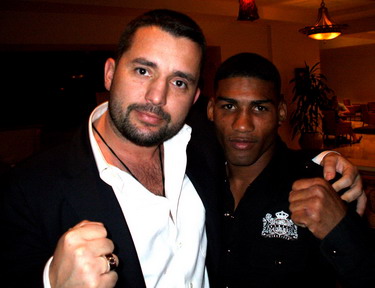 Öner: "This is a huge step for ARENA. I would even say it's history in the making – and I'm sure that it is only the first step of a long and successful journey. The whole organisation went so well that we will definitely be back in the US for more shows this year."
Barthelemy faces Antonio Conchero Diaz (9-8-1, 6 kos) from Miami and "El Ciclon de Guantanamo" Gamboa is going for his first title in his 9th pro-fight facing Johnny "Lumberjack" Edwards (13-1-0, 6 kos) for the vacant NABF junior lightweight championship.
Gamboa who is already rated on #8 by the WBC and #5 by the WBA after only 8 fights states: "This is a very important night for me. Yan and I got a lot of premature praise. We still have a lot to proof. I want to show the world that I am real champion."
The main event of the night is a high-class welterweight clash between Richard Gutierrez (21-1-0, 13 kos) from Colombia and Jose Varela (23-2-0, 16 kos) from Nicaragua. Gutierrez is rated on #10 by the IBF, Varela on #11 by the WBO. They are fighting for the WBC Latino championship.
All fights and official weights from Fort Lauderdale:
10 Rounds – Welterweight – WBC Latino Championship Richard Gutierrez (153 ¾) vs. Jose Varela (153 ¾)
10 Rounds – Junior Lightweight – NABF Championship Yuriorkis Gamboa (128 ½) vs. Johnnie Edwards (130)
6 Rounds – Bantamweight Yan Barthelemy (117) vs. Antonio Cochero Diaz (118 ½)
4 Rounds – Super Middleweight Ibahiem King (164 ½) vs. John Terry (167 ½)
4 Rounds – Featherweight Derrick Wilson (124 ¾) vs. Dan Calafell (123 ¾)
4 Rounds – Heavyweight Erik Leander (243) vs. Alejandro Duran (tba)
4 Rounds – Light Heavyweight Beibut Shumenov (176) vs. Cedric Howard (175 ¾)