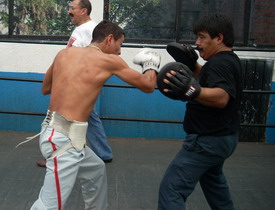 Mexico City, D.F. – The press gathered intently yesterday as Rafael Marquez (37-4, 33 KOs) hosted an open media workout to showcase his skills that he will display to eager fight fans and thousands watching Showtime Championship Boxing on Saturday, March 1 when he battles to regain his WBC Super Bantamweight Championship and Ring Magazine Belt title against current champion Israel Vazquez (42-4, 32 KOs).
Vazquez – Marquez III, which headlines an exciting night of world-class boxing action, is presented by Gary Shaw Promotions in association with Sycuan Ringside Promotions, Golden Boy Promotions and Romanza Boxing Productions. Tickets for this sure-to-be-classic battle are on sale. Tickets are priced at $300, $150, $75, $50 and $25 and may be purchased at The Home Depot Center Box Office, open 10:00 a.m. to 6:00 p.m.. Monday through Friday, at all Ticketmaster retail ticket locations, as well as www.Ticketmaster.com and Ticketmaster-Charge-by-Phone, by calling 213-480-3232. "The Final Confrontation" will be televised live on SHOWTIME CHAMPIONSHIP BOXING beginning at 9 p.m. ET/PT (delayed on the West Coast).
On Vazquez- Marquez II
"I messed up on the last fight. There were a lot of errors. They were mistakes that I made. Those mistakes, I paid a high price for, because I lost my world title.
"My team and I have been studying the mistakes I made in the last fight so that I won't get caught up in the same mistakes.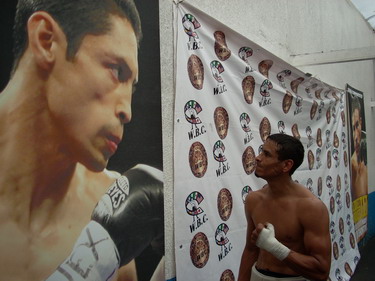 On Vazquez-Marquez III
"On fight night, I'm just going to get in the ring and fight intelligently. I'm going to fight how my team and I planned to do originally. This is the most important fight of my career because I can avenge my loss and once again be categorized with the world champions.
"This fight is going to have the same energy just as the past ones did. This time around the one difference is that I will fight intelligently. I didn't do that on the last fight. I didn't use my skills. Ultimately my skills and intelligence will help me to achieve this win.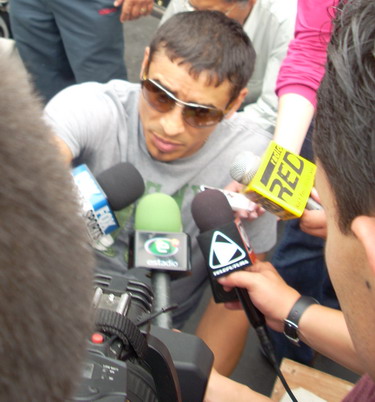 On training….
"I have been training since November. Were ready and just waiting for fight night. "
"My training for this fight has been the best preparation that I have received in comparison to my past fights."
On his relationship with Israel Vazquez out of the ring
"I only know him as a warrior inside the ring. I don't have a personal relationship outside of the ring with him. That is non-existent. He probably is a nice but that is not something that I have ever taken into account."
His message to Israel Vazquez
"Come prepared to fight. We owe it to the many fight fans that will be in attendance and I won't be there to disappoint them. I'm in excellent condition and prepared to go 15 rounds."
On Fight night
"I can tell you that I will walk away the champion with my arm held high in victory."
"I don't see it going the full 12 rounds – it will definitely end before that."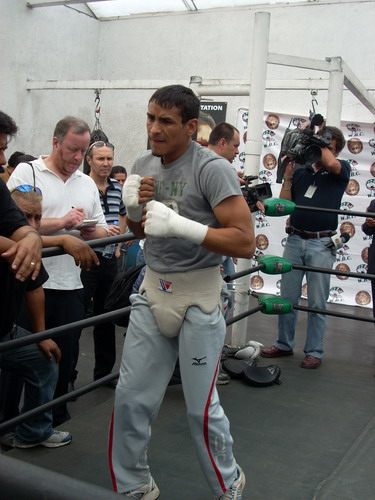 On the possibility of Vazquez-Marquez IV
This is the final match between me and Vazquez. There definitely will not be a fourth time around.
Final Comments:
"I am in excellent condition. When I get into that ring, it's going to be a battle."
"Vazquez is going to know that I am skilled and feel that from every direction."
"There is no room for sentimentality. My only options are to be mentally skilled and physically prepared 100% percent."
"We're going to give a great show on March 1. You can expect the same excitement of the past two fights, except on this one you will see to combatants using the best skills and fighting more intelligently but with more vigor."
"I'm coming to recover my title. There is going to be a lot of action. I'm trained to go in and go after what I came for…"
"The first fight was a win by KO for me, The second was a win by KO for him. Come the third, were both going in wanting to KO the other."
"We both learned a lot about each other boxing styles from the past 2 fights. On my part, you will not only see my skill and intelligence but my dedicated desire to win and persevere. This is going to be the fight of my life."